April Newsletter 2018

Sign Up to receive Dohne Newsletters – Click Here
Full Newsletter – PDF Copy
Council Report
International Dohne Merino Conference and Tours
This month Dohne Breeders from across Australia head overseas for the International Dohne Merino Conference and Tours in Uruguay, Chile and Argentina, safe travelling.
Ram Sales Results
Sale reports and photos on behalf of – The Land
February Sales
Alfoxton Ram Sale, Armidale NSW
70 rams sold to $3200 and averaged $1975.
Full Sale report – Click Here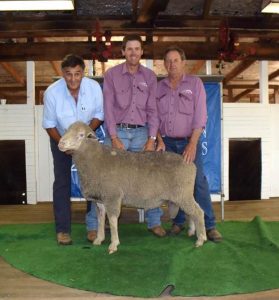 Top priced ram at 2018 Alfoxton Ram Sale sold for $3,200 to A & K Michel Lochallen, Warialda NSW.
Harewood Ram Sale, Armidale NSW
20 rams sold to $3300 and averaged $1040.
Full Sale report – Click Here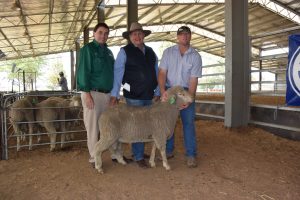 Top priced ram sold to Ken Payne, "Tullaview" Forbes NSW.
L to R Agent Greg Miller, Ken Payne and Harewood stud principal Justin Tombs.
March Sales
Tablelands Ram Sale, Armidale NSW
20 sold to $2500 twice and averaged $1215.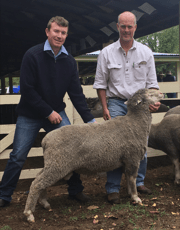 Top priced ram purchased by Bruce Toms from Stanthorpe QLD, with stud principal  Josh Frazer.
Australian Sheep and Wool Show 2018
Classes:
Print Copy – Click Here
Previous showing exhibitors
Class 1 – Single Ram 2 – 5 year old  – 1st, 2nd, 3rd
Class 2 – Pen of 3 Rams 2 – 5 year old – 1st, 2nd, 3rd
Class 3 – Pair – 2 sons of a sire or sire and son 2 – 5 year old – 1st, 2nd, 3rd
New showing exhibitors and/or small breeders
Class 4 – Single Ram 2 – 5 year old – 1st, 2nd, 3rd
Class 5 – Pen of 3 Rams 2 – 5 year old  – 1st, 2nd, 3rd
Class 6 – Pair – 2 sons of a sire or sire and son 2 – 5 year old – 1st, 2nd, 3rd
Class 7 – Champion single ram (classes 1 and 4)
Class 8 – Champion pen of 3 rams (classes 2 and 5)
Class 9 – Champion sons of a sire or sire and son (classes 3 and 6)
All classes to be judged on uniformity and trueness to Dohne type both subjectively and objectively.
Conditions of entry  – All rams must be
Registered with the ADBA
Current Brucellosis accredited
Bred by the exhibitor
Between 2 and 5 years of age
Maximum of 5 entries per stud prefix
Exhibitor to be a current financial member of the ADBA and Sheep Genetics
Shorn between 1st and 7th April 2018
$150 fee per ram
Data to come from the June 2018 2nd analysis
Entries close Friday May 4.
Fleece Competition (Dohne marquee)
3 Fleece – to be judged on quality and uniformity – Champion
18th Australian Fleece Competition – Click Here
For further information and expression of interest contact Murray Rogerson 03 5577 8248.
Sheep Week – 18 to 27 June
SHEEP Week will be returning for its second year in 2018, after a successful first year, and the event is expanding to nine days across Victoria, south-east South Australia, and further north into New South Wales.
http://www.stockandland.com.au/sheepweek/
Brett's Blurb (Brett Wilson, Dohne Data Manager)
Sheep Genetics Reports: Episode 4.
The fourth report from Sheep Genetics that needs investigating is the Reproduction Summary.
This report is complete review of reproduction records for your stud in the analysis and is used to review the quality of the reproduction data recorded.
This is normally a one page report with the results in the top half and some explanations in the bottom half. The report is normally displayed in Landscape view; however for this newsletter I have split the report so I can display it easier.

The first 5 columns of data are simple counts of the number of lambs, dams and different conception methods in the data for each year of birth.
The next 2 columns show the ewe fertility for each year as a percentage. No Dohne stud should lamb the maiden ewes at Yearling stage so that is always "0.0" The Adult column is what needs to be checked.
The Analysis Flags is Sheep genetics way of representing if the NLB (Number Lambs Born) and NLW (Number Lambs Weaned) data is being included in the reproduction analysis. You want this to be Y:Y (Yes for NLB and Yes for NLW) at the adult stage (we don't look at Yearling Fertility)

The right hand side of the report has another 13 columns of information.
The Preg Scan records are only used if lambing outcome is unknown. With full pedigree of lambs and inclusion of Dry ewes and Dead lambs Dohne breeders should have a complete listing of lambing outcomes.
Repro Dams is the count of dams in the reproduction analysis.
Ewes Missing is a count of ewes that were present in both the year before and the year after but not in this year. This is used to determine if you are missing Dam records.
The Next 8 columns of data have counts for the different Birth Types followed by counts of Rear Type.
Finally the count of ewes that have been excluded from the reproduction analysis due to a sire failure is listed. If a Sire has a problem we cannot blame the ewe for not getting pregnant so therefore is not included.
Important points of this report
Note this is a high quality dataset but the 2015 drop has an issue.
Notice the Ewe Fertility % at adult stage is 100% for the 2015 drop. It is not really possible to have 100% fertility.
Notice that the 2015 analysis flags for NLW and NLB are No and No. So due to a failure in the data these dam records are not be included. Illustrated by having "0" Repro Dams.
The question becomes what is wrong with the 2015 drop data. The answer is shown by the fact there are Zero Birth Type records of Zero. This means there is not a single dry ewe from the 2015 drop joining, that is not possible. The DAB lambs are included as shown by the 102 lambs with a rear type of Zero.

This stud is in the process of going through the mating records and sending me a list of dry ewes for the 2015 drop to fix this problem.

Interesting to note that in 2013 and 2014 there were 20 odd ewes in each year that are listed as missing but were mated the year before and the year after.
Also note that the 2017 drop has 168 adult dam reproduction records excluded because of a sire failure. The stud does not believe there was a sire issue and we are investigating the issue.
One last point I would like to look into is the issue of Rear Type. It has never been a requirement for Dohne Breeders to record Rear Type. We record Full Pedigree and Birth type but the analysis system does not work out Rear Type for us. If Rear Type is not supplied in the data the system automatically issues a rear Type of 0 for any DAB or DRY and a 1 for any live lamb, this is shown in the example for the 2013-2016 drops. The stud in this example has identified the value in reporting rear type and has started supplying that information as shown by the 456 Twin rear type in the 2017 drop data.
Next time I will continue to review the sheep genetics reports, till then happy data collecting.
Regards Brett