April Newsletter 2020

Sign Up to receive Dohne Newsletters – Click Here
Sign Up to become a Dohne Member – Click Here
Full Newsletter – PDF Copy
2020 Dohne Journal
The 2020 Dohne Journal is currently being printed and they will be available this month. All ADBA members will received one copy in the mail. Due to the current Coronavirus and most events been cancelled or postponed, extra copies of the 2020 Dohne Journals will not be distributed at events this year.
Ram Sale Results
Sale reports and photos on behalf of – The Land
Harewood Dohne Ram Sale, Armidale NSW
25 rams sold to $3700 and averaged $1140.
Full Sale report – Click Here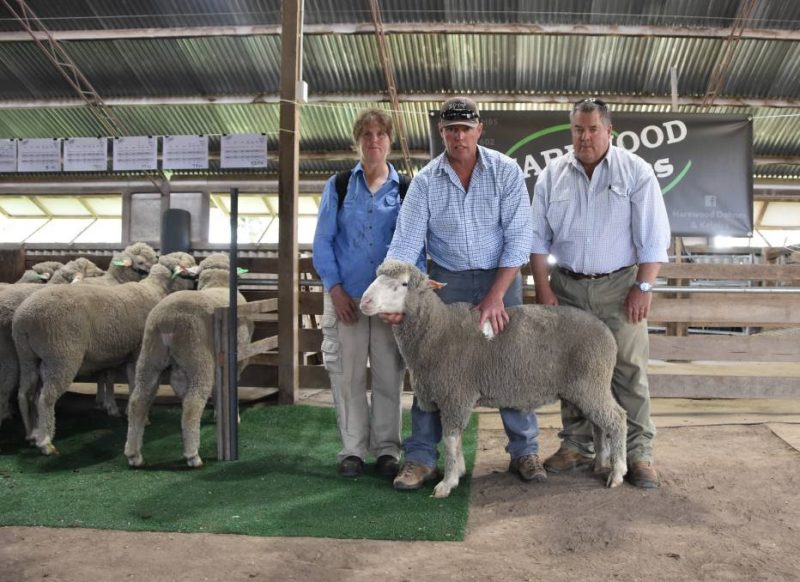 Top price $3700 ram with Purchaser Del Johnston, Amaroo, Emmaville, Stud principal Justin Tombs, Harewood and Purchaser Lachlan Johnston, Amaroo Emmaville.
Tablelands Dohne Ram Sale, Armidale NSW
19 rams sold to $1800 and averaged $1173.68.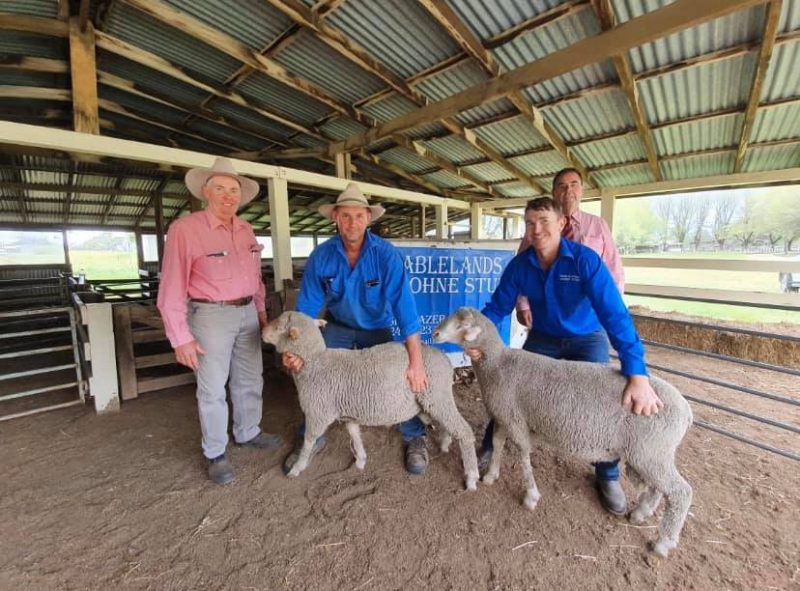 L to R Elders agent Wayne Jenkyn, Purchaser Trent Hall,  Tablelands Principal Josh Frazer and Elders agent auctioneer Brian Kennedy.
Balmoral Field Day Report
The 2018 drop AMSEA Balmoral trial progeny were on display at "Kooringal" near Harrow in Victoria on March 13th.
One Dohne Sire was represented in a total of twenty: Glen Holme 151450.
It was not surprising that his progeny were trait leaders for growth rates and Breech Wrinkle scores.
What also showed was their evenness of type and excellent body conformation, in particular their legs and feet, which was vastly different to many other groups.
This Dohne sire progeny group was average or above average for 3 out of the 4 Merino Select Indices.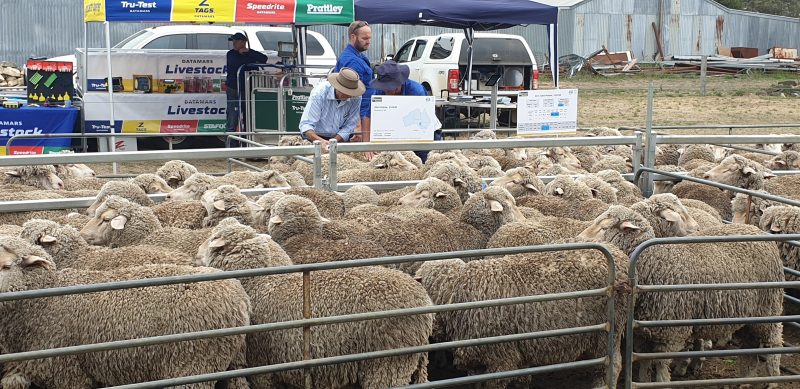 Hogget Fleece weights and quality measurements are still to come after they are shorn soon.
Visual Sheep Score (VSS) Booklet
An updated VSS booklet has just been released.
The booklet is free from the Dohne Association and if you want a copy in the short term get in touch with the office, Cameron Hills 08 8210 5229 or . Soon the association will be mailing out copies to all ADBA members.
Dohne ram breeders, ram buyers and Dohne sheep can get a great deal of value from the booklet. For example, critical Dohne type traits such as Body and Breech Wrinkle are described to an industry standard. Just understanding the language is very useful however ram breeders scoring and submitting this data to the Dohne Database can be a huge benefit to your sheep, your flock and the Dohne type.
There is absolutely no cost if your already electrically submitting data to the Dohne database.
When your scoring remember you can record half scores. You don't need to adjust for different situations. Score your sheep just as you see them.
If you want to see the booklet on the web – Click Here
Allan Casey