April Newsletter 2022

Sign Up to receive Dohne Newsletters – Click Here
Sign Up to become a Dohne Member – Click Here
Full Newsletter – PDF Copy
Australian Sheep and Wool Show
Fingers crossed, it looks as though the Bendigo Dohne Tent will be up and running again this year from July 15 to 17.
It is hoped that the new education based revamp prepared 2 years ago involving both Moama Grammar and Longerenong Agricultural College will be the take home feature.
The shearing period of March 15 to 30 has been nominated, 2 and 3 year old Sires will be used for the main events.
The Show Committee would also like to take the opportunity to acknowledge and thank the marquee sponsors whose support has been encouraging;
• Elders
• Nutrien Ag Solutions
• Fox & Lillie
• G Schneider Australia
• Sheepmatters
Murray Rogerson
Convenor, ADBA Show Committee


Ram Sale Results – Sale photos and reports on behalf of The Land
Tablelands Dohne Ram Sale, Armidale NSW
16 rams sold to $2600 (twice) and averaged $1387.
Full Sale report – Click Here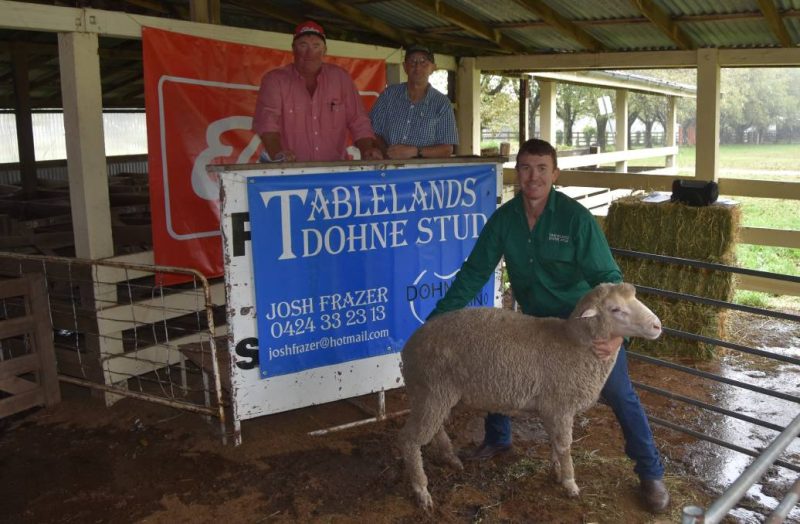 National Dohne Liftout – Taking Booking Now 
This year the Australian Dohne Breeders Association in conjunction with Australian Community Media will produce a Small Tabloid Liftout to be inserted across Australia through the ACM network with 75,000 copies printed. Inserted nationally across these ACM publications; QLD Country Life, Stock Journal, Farm Weekly, Stock & Land and The Land. Also, extra copies will be printed and distributed at field days across Australia as well. This Liftout will also run online across the ACM network and ADBA as a flip book.
Booking Deadlines – Monday 2 May 2022 – ACM is now taking booking. 
Advertise Required by – Friday 13 May 2022
Publication Date – Thursday 7 July 2022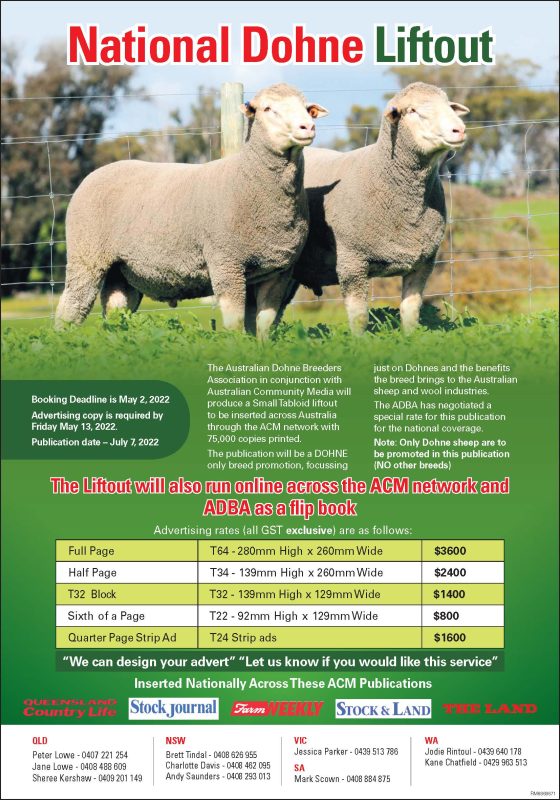 Preparing for the year ahead
In preparation for the year ahead, we urge all members to promote their sales and events on the ADBA website and social media platforms. The earlier you provide your sales and events the longer it will be promoted for. The association is also looking for general Dohne photos and videos to use on social media. Please email or text: Tanya Barton 0429 208 674.

Dohne Data
All members are reminded that 2021 drop weaning weight data should have been submitted by now, if you haven't submitted this data please do so asap. Also, Ewe Mating Lists for 2022 progeny should be submitted by May 2022.
Brett Wilson needs to check all Dohne data before submitting it to Sheep Genetics on the 7th and 21st of each month. To make sure your data runs in the analysis you require, you must have your data to Brett 3 business days before the analysis runs.