August Newsletter

Sign Up to receive Dohne Newsletters – Click Here
Full Newsletter – PDF Copy
Council Report
AGM
The Annual General Meeting of the Association will be held Wednesday 9 August 2017 in Naracoorte at the Naracoorte Hotel, 73 Ormerod Street, Naracoorte SA.
A sire day will be held in conjunction with the AGM at the Naracoorte Showgrounds.
Stud displays will commence at 12 noon, if you require further details regarding this please contact Allen Kelly 0409 018 943.
Guest Speaker – Richard Norton, Managing Director of MLA will be in attendance at the Sire Display, and will give a presentation from 3pm.
After the Sire Day, the AGM will be held at the Naracoorte Hotel (starting at 4pm), followed by a General Meeting, and then followed by a social dinner for all members able to attend.
If you are planning on attending the AGM can you please RSVP to Tessa Dawes 08 8210 5229
Membership Renewals
2017/2018 membership forms have been posted, along with the AGM forms.
Australian Sheep and Wool Show Report
An outstanding display of Dohnes attracted a huge crowd over three days through the Dohne marquee.
Although only four judging classes were conducted this year it still managed to attract a large crowd.
Congratulations to Koonik, Calga and Ulooloo whom took out all the major awards in the showing and Stephen Reddie of Aero Stud on winning the Champion Dohne fleece of the show.
A big thank you to our judges, Ian Bradtke from South Australia and Daniel Groves from Chile, our Stewards, Alistair Greenshields and Neville Tripplet, Don Mills and Neville Tripplet for setting up the marquee, Murray Rogerson for all his work behind the scenes and last but not least, all the exhibitors.
The Australian Sheep and Wool show is the premier all breeds Sheep event in Australia and the Dohnes presence is imperative. The sub committee is looking at ramping this event up and encourages as many breeders as possible to attend.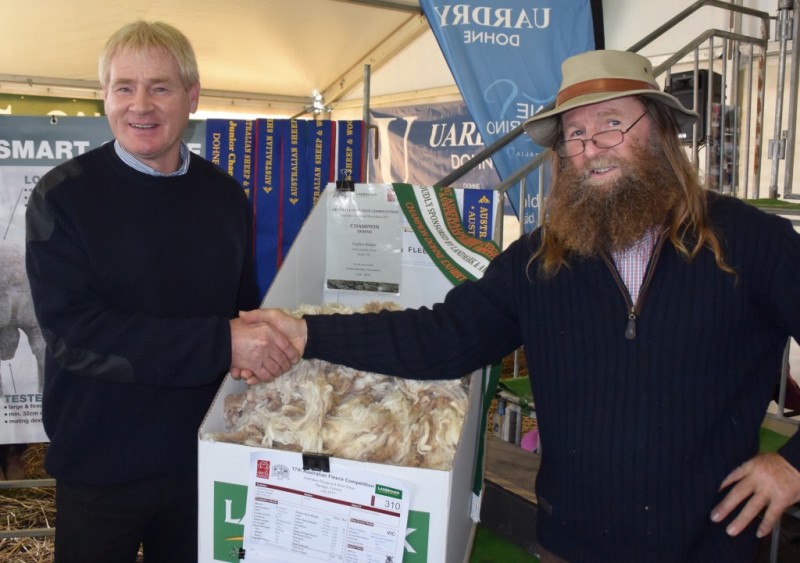 Aero Champion Fleece – Stephen Reddie and Murray Rogerson.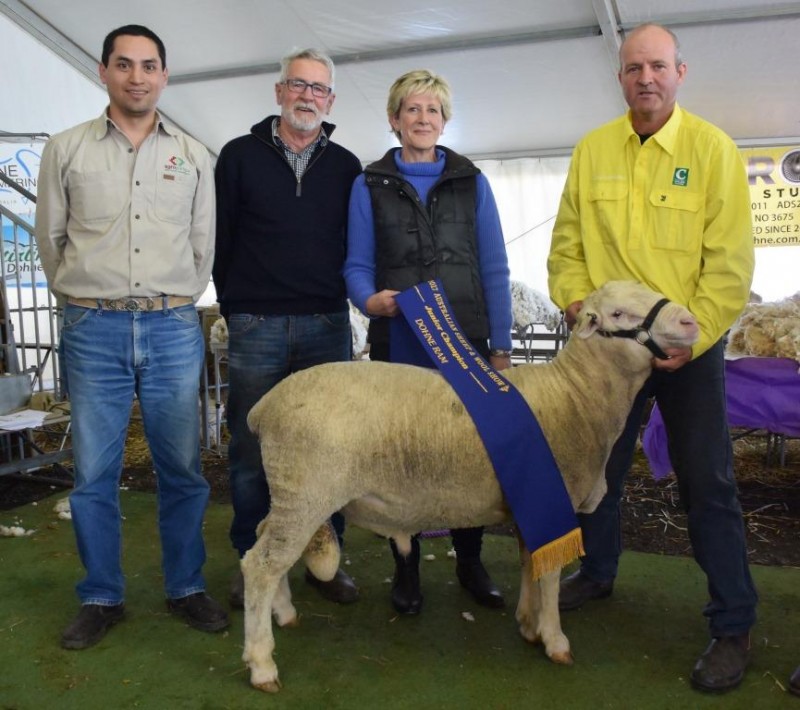 Calga Junior Champion Ram. – Daniel Groves, Ian Bradtke, Karen Mills and Calga Studmaster Jason Southwell.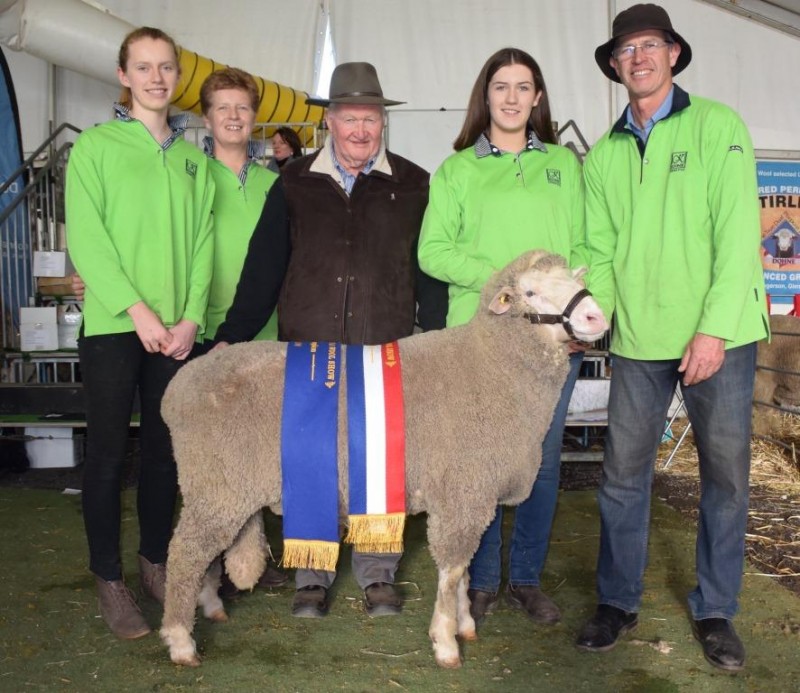 Koonik Grand Champion Ram – Cameron Family (Lily, Fiona, Isobelle, Darren) with Studmaster Bill Mildren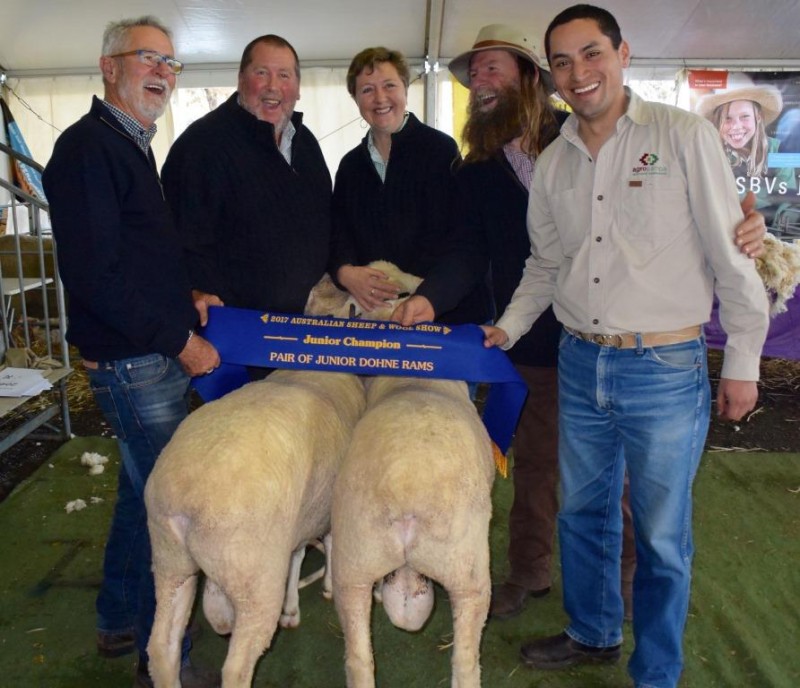 Ulooloo Junior Champion Pairs – Ian Bradtke, Murray Rogerson, Daniel Groves with owners Greg and Liz Hall.
Promotional Items
With upcoming field days and sales, it is a great idea to have Dohne promotional material on display to promote the breed.
Display Material: Dohne Handbook, Dohne Journal, Dohne Newsletters, A3 Dohne Posters (Set of 8)
Available to purchase are the A3 Posters (set of 8). Laminated $24 plus postage.
For orders contact Tanya Barton
8 Posters – Combined (all 6 traits), ASBV's, Easycare, Fertility, Maternal, Meat, Wool, Ram (Attributes)
Uruguay trip
Uruguay World Merino Conference Dohne Tour 2018
Merino Conference Monday 9 April to Saturday 14 April
Dohne Tour Monday 16 April to Friday 20 April
Preliminary Program – Click Here
The ADBA is seeking expression of interest from members seeking to attend by 1 September 2017.
(If interest is received from Members, the Association will endeavour to make contact with applicable parties to endeavour to organise group flights etc. Members will be liable for costs incurred.)
If you have any questions about this, please contact Tessa Dawes 08 8210 5229
Ram Sale
Ram selling season has started, so it is important to promote your big event. If you haven't already let Tanya Barton know your sale date and details please email her
Your sale event will then be promoted on the ADBA website and Facebook.
Paid advertising on the ADBA website.
• Advertise size 160 x 150 pixel
• Linked to your website or PDF
• Provide your own GIF advert or we can design one for you.
Book your advertising Click Here or contact Tanya Barton 0429208674 or
Brett's Blurb (Brett Wilson, Dohne Data Manager)
The Dohne newsletter now includes a monthly article from the Dohne database manager Brett Wilson. These articles are aimed at providing some tips and tricks that might help.
Data Cut Off.
There is still some confusion regarding the Dohne cut-off dates and when breeders need to send me data and when I need to have data sent to Sheep Genetics ready for analysis.
Sheep Genetics (SG) requires all data for analysis to be submitted to them before5pm on the 7th and 21st of each month, or the Friday before if the 7th or 21st fall on a weekend.
This is when I need to get the data to SG, I need the data from Dohne breeders three days prior to the SG cut-off to guarantee I can get your data into the analysis. Any closer to the SG cut-off I will make every effort to include the data but I will not always be able to as Dohne work is only a part of my current work load.