Bare breech for Wakool ewes
24th August 2017 Stephen Burns – The Land
Wakool district sheep producer Craig Basham said the decision to focus on breeding Dohne as the basis of his family's sheep enterprise was due to their bare breech, so he didn't have to mules.
Mr Basham along with his wife, Tammy, and son, Bradley, run 2000 Dohne ewes in a self-replacing flock alongside 170 cows on the 2630 hectare property, "Yallawa", which has been in the family since 1957 when his grandfather started share farming.
Prime lamb production had carried the family for many years with the traditional first-cross ewe joined to Poll Dorset rams preferred.
But before Mr Basham purchased the property from his parents in 2013, he had started to look for an alternative ewe base.
"I became disappointed by the low returns we were getting for our first-cross wool, so we looked for a more profitable type," he said.
"After considering other breeds, the Dohne were attractive for their bare breech, so we don't have to mules."
During the initial upgrading to pure Dohne flock, Mr Basham joined the Dohne rams bought from Double D Dohnes to his existing Merino ewes.
"The sheep are a nice square type which is what we want for our prime lamb production," he said.
"We are not concentrating so much on the wool as I want a naturally plainer body."
Mr Basham said he is now finding a little hard to buy sheep with bare breeches like those he started with as breeders are increasing the wool cut.
"We are cutting five kilograms fleece across the whole flock measuring 19 to 21 microns," he said.
"I think that is very good considering we have averaged above 130 per cent lambs over the past five years.
"You can't expect the ewe to grow a lot of wool and produce a lot of lambs.
Although Mr Basham said he received $40 to $50 a fleece for his wool, having lambs survive through to market weight is what he aims at.
"We can sell our pure Dohne wether lambs at a heavy weight straight off their mothers and the latest load of 600 lambs which also included some White Suffolk/Dohnes averaged $152 a head," he said.
"It is a good result especially knowing 500 were only four to five months."
It was an exceptional return, and Mr Basham said they were probably some of the better lambs he has bred.
"They were really nice square lambs which is what we aiming for," he said.
"Our target market is basically the local trade through the supermarkets, about 22 kilograms (carcase weight) and finished on improved pasture and irrigated lucerne."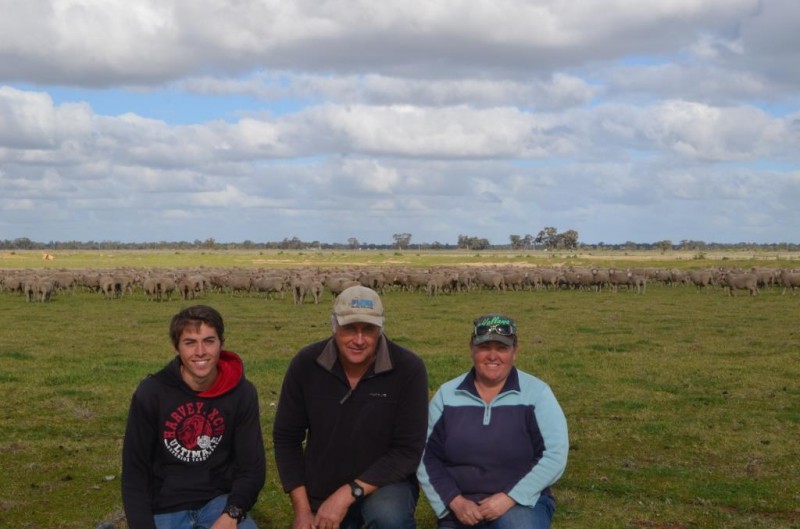 Bradley, Craig and Tammy Basham with their three-year-old Dohne ewes with lambs and on the point of being crutched. "The Dohne were attractive for their bare breech, so we don't have to mules,"Mr Basham said