Breed Trials Commence at Muresk
MURESK INSTITUTE
NORTHAM, WESTERN AUSTRALIA
CHARLES WASS
THE partnership between the Australian Dohne Breeders Association and Muresk Institute will be entering into its 6th year in 2020.
The idea was born from discussions between the two parties as a way of giving the breed more exposure to the next generation of agriculturalist who undertook studies at Muresk.
In achieving this objective over the past five years, the Muresk Dohne flock has become a valuable part of the commercial enterprise that is now supplying animals for industry led research that is undertaken at Muresk.
Farm Manager, Steve Wainewright, says the fertility and early growth are major benefits of the breed; 'The ewes have performed brilliantly under trying conditions this season.'
'We scanned 148pc with a weaning rate of 105pc in 2019 on the back of scanning 166pc and weaning 118pc in 2018. The lambs are born small by comparison to other breeds, but show excellent early vigour in recording weaning weights of around 30kg at 100 days over the past two years'.
The easy care nature of the breed has also been noted as a strength, as Steve says; 'The ewes hold onto condition really well, particularly through those challenging seasons'.
The plainness of the sheep is also adding to the easy care with the Muresk Dohne flock having ceased mulesing.
Farming businesses need transparency so the consumer can be confident that we're producing a clean and ethical product, so to have a breed that we don't need to mules is a big tick for us'.
Dohne wether lambs were used in a feedlot trial undertaken at Muresk in February 2019.
The lambs entered the feedlot at approximately 40kg and were fed for 5-7 weeks, before being sold over the hooks at 50kg live weight.
The lambs dressed out at 48pc to gross $165/head.
Curtin University Associate Degree students were involved in weekly weighing, observing the finishing ability of the Dohne, while gaining an understanding of the technology involved in collecting data in a livestock enterprise.
The breeding program of the Muresk Dohne flock will change direction in 2020 where a mob of 200 Dohne ewes will be run together with 200 Merino ewes.
The ewes will stay in the same mob under the same management for the entire season, only being separated for joining and lambing.
The objective of the work is to gain a better understanding of the production, profitability and ease of management of the two different breeds in this environment.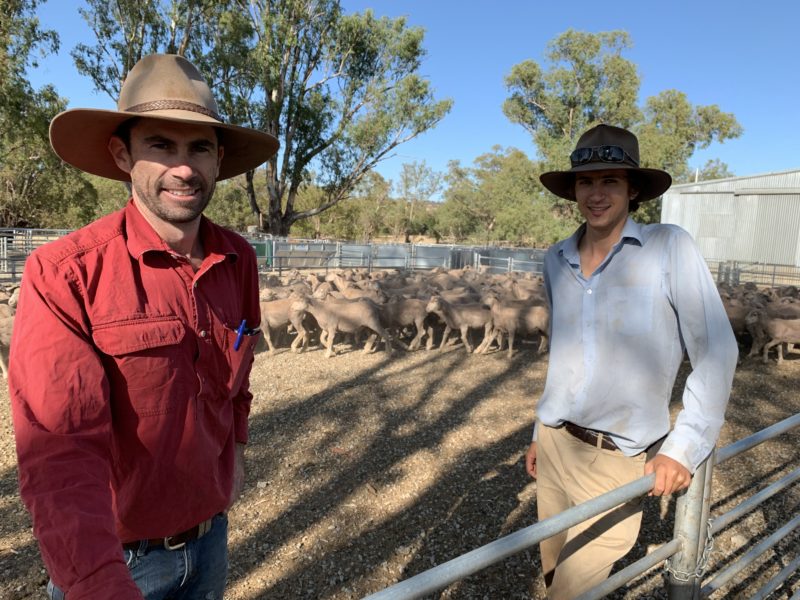 Steve Wainewright B.Ag, M.Sc; Farm Manager, Muresk Institute (left) and Cameron Broun; Farm Technical Officer were weighing Dohne wether lambs entering a Milne feedlot experiment at Muresk.