Changing the Face of Family Sheep Farm
Original article written by Nicola Wood, February 2019. Original photo courtesy of Robert Cross.
ROBERT CROSS
APSLEY, VICTORIA
"It wasn't a decision I took lightly, but the sheep impressed me, I'm happy overall and it's the best economic decision I've ever made."
'WYNWOOD' has run as a Corriedale sheep stud for most of its 73 years, but big things are happening for Robert Cross' family farm. Mr Cross is phasing out the Corriedale breed and the Dohne sheep will start a new legacy for Wynwood Pastoral Trust, as a now commercial operation. Mr Cross said, "It wasn't a decision I took lightly, but the sheep impressed me, I'm happy overall and it's the best economic decision I've ever made".
In 2007, Mr Cross was recommended the Dohne breed by his stock agent at the time, who spoke highly of their dual-purpose nature and ability to reap rewards across all areas of production,
including high-quality wool, carcass and fertility rates. Mr Cross said, "To start, I bought two rams to try them out and was happy with the lambs, so continued to buy them."
'Wynwood', a few kilometres out of Apsley in the Southern Wimmera, Victoria has been in Mr Cross' family since 1930 and placed in what is a traditionally prominent sheep breeding area. Running on 1000 acres of natural, grass-based pastures, the hardy and robust constitution of the Dohne was put to the test and ultimately succeeded. Mr Cross is now running 900 Dohne-cross
ewes and is in the process of converting to purebred Dohnes so as to continue benefiting from their versatile traits.
Before phasing out purebred Corriedales, Mr Cross ran both Corriedales and Dohnes simultaneously, allowing him to make a physical comparison of the two breeds and weigh up their
performances economically. Mr Cross said, "Over a three year period, wool cut from the Dohne averaged 1.9 times the value of the Corriedale, nearly doubling the value of the wool clip. Value of carcass weight saw $46.60 for the Corriedale versus $70.48 for the Dohne/Corriedale cross. Coupled with a 20- 25% increase in lambing percentage, across the board there was really no
downside in choosing to transition into purebred Dohnes."
The huge economic benefits provided by the Dohne that Mr Cross is continually impressed by can be seen particularly in the results of wool production. He said,
"Corriedale fleece produces on average 29.5 microns in comparison to Dohne-crosses which at 23.3 microns is a much finer and better quality product. Dohnes cut more wool and it nearly doubled in price, seeing it go from the approximate 500 to 600 cents you'd get from a Corriedale to 1,100 to 1,200 cents per kilogram for the Dohne/Corriedale wool"
Mr Cross is looking forward to reaching the point where he's running purebred Dohne ewes, which can then be put with purebred Dohne rams, continuing what will be the new face of Wynwood Pastoral Trust as commercial Dohne sheep breeders.
From experience for Mr Cross, Dohnes have robust attributes; they hold their condition well, either maintaining or growing on most pastures and cover all productive bases, making them a hugely
worthwhile transition.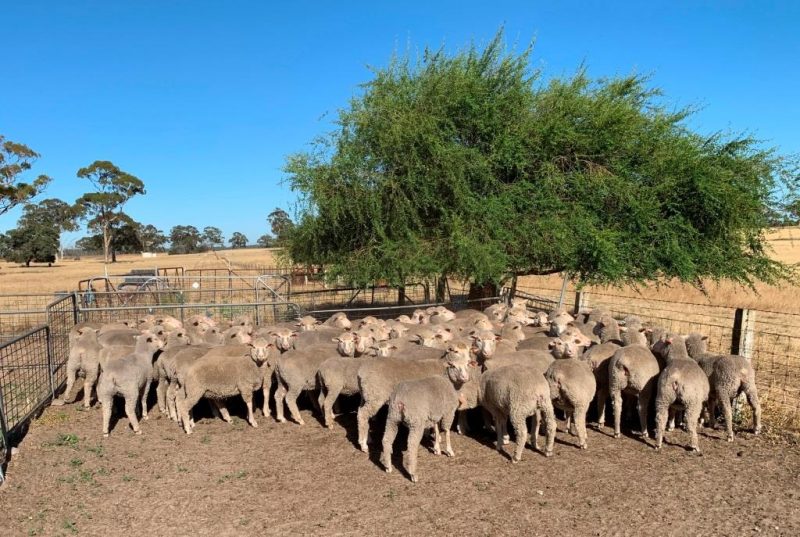 F3 Dohne Ewe Lambs May 2018 Drop.