'Cracking' sheep sale at Hay
Stephen Burns The Land
Brought forward by four weeks due to deteriorating seasonal conditions, the opening spring sheep sale in the Riverina saw values higher than expectations, with comment around the rails mentioning figures like "$30 to $50 better than we thought".
With 15,000 sheep offered at Hay last Friday, the sale was described as "very strong considering the season" by Landmark Hay manager Geoff McDougall.
"There were opportunities for buyers with feed to grow the stock out, but vendors were also happy with their prices," he said. "Most of the sheep were in good order and a credit to the vendors".
Strong interstate competition drove demand, with one agent commenting he was buying now because if it rains, supply will be restricted and prices can only be higher.
Top price was $202 paid for 482 May/June 2017 drop, Dohne/Merino ewes, November-shorn and Mt Alma-blood on account J.H.W Paterson and Son, "Hells Gate", Hay.
Greg and Helen Rogers, "Yarto", Booligal offered their annual draft of 811 one and half year ewes, Alma-blood and July-shorn: their top pen of 404 ewes sold for $189.
"It was a great sale as the sheep were a bit lighter than what we would have preferred given the dry season, but the agents gave us a chance to sell our surplus sheep earlier than normal and there was good demand from the south," Mr Rogers said.
Other excellent sales of young breeders included the McGufficke family, "Bunumbert", Balranald who sold 373 April/May 2017 drop, July-shorn Alma-blood Merino ewes for $190; 418 May 2017 drop, Woodpark Poll-blood and May-shorn sold for $180 for the Butcher family, "Bronte", Ivanhoe, and $176 for 240 May/June 2017 drop, Alma-blood and March-shorn ewes sold by Anthony Crichton-Brown, "Natue", Booligal, for $176.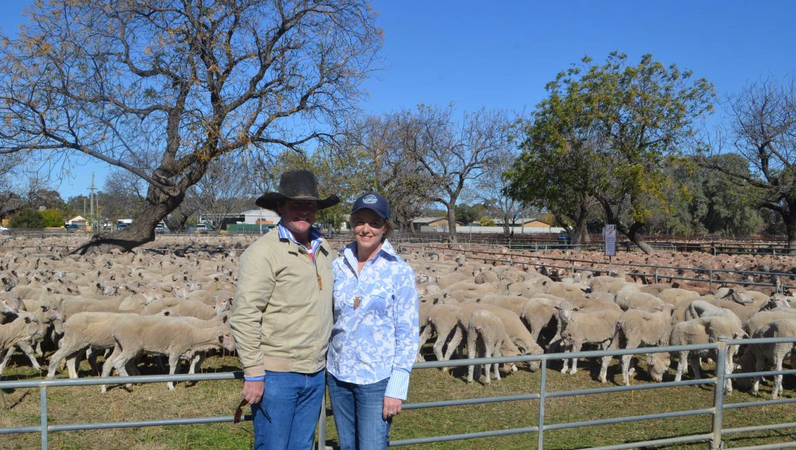 Robert Rogers and his partner Jess Palmer, "Yarto", Booligal, with a draft of 404 March/April 2017 drop, Alma-blood and July-shorn ewes that sold for $189 at Hay sheep sale.
Older ewes sold $190 when pen of 226 April/May 2015 drop, Bluebush-blood and March-shorn on account Anthony Crichton-Brown, "Toronga", Hay, to Gundagai-based restocker.
Among the wethers, Bob and Gai McEwen, "Kitcho", Oxley, sold 411 May/June 2016 drop, August-shorn sheep for $105.
Unshorn Merino wether lambs, April/May 2018 drop, Poll Pooginook-blood account Paraway Pastoral Co, "Ulonga", Hay, sold for $82 for the pen off 455, while pen of 134 White Suffolk cross February 2018-drop lambs and unshorn sold for $84.
Buyers from Ballarat, Bendigo, Nhill and Kerang in Victoria competed with SA interests from Bordertown and Keith; and local restockers from Griffith, Finley, Barellan, Wagga Wagga and Gundagai. Hay-based agents Elders and Landmark conducted the sale.