Crossing Pays Off for Panizzas
BERNIE & RACHEL PANIZZA
WILLIAM, WESTERN AUSTRALIA
THE DOHNE'S ability to adapt in diverse conditions has encouraged Bernie and Rachel Panizza to introduce the breed into their flock over the last decade.
Traditionally the Panizza family bred Merinos at Southern Cross, Western Australia, but decided to introduce Dohnes into their enterprise after Bernie went to a seminar where a South African speaker talked about the benefits of the breed.
" It was the breed's capability to suit various conditions that got me interested," Bernie said.
"I also heard that they could achieve high conception rates under adverse conditions."
Despite going into Dohnes mainly to fit in with the dry conditions of the Wheatbelt, Bernie and Rachel and their three children Sarah, Nick and Simon and Bernie's parents Horace and Sandra have since moved from Southern Cross to the higher rainfall areas of Arthur River and Williams.
They now run 4200 Dohne cross ewes across the two properties, which total 2313 hectares.
"We have since leased our Southern Cross property," Bernie said. "We have also been able to lease another three properties throughout the Williams shire, which has helped us increase our flock numbers over the last few years," Bernie said.
Three years ago the family only had 1800 ewes but since then they have bought in a large number of Dohne cross ewes.
"Most of those ewes had at least 70pc Dohne blood infused into them," Bernie said.
When it comes to mating their ewes, the Panizzas join 2700 to Dohne rams and the remaining 1500 to Suffolk rams.
"I select long-bodied, growthy rams that have wool that is not necessarily low in micron but has the ability to handle the wetter climates," Bernie said.
" I have found the Dohne and Suffolk rams over the Dohne cross ewes produce lambs that have larger carcasses."
The Panizza family has not only been impressed with their prime lambs but also with the conception rates, lambing percentages and mothering ability of their Dohne cross ewes.
Bernie said the best their Merinos achieved was an average of 80pc conception rate compared to the first year when they used F1 Dohnes and achieved a 115pc conception rate.
"Our Dohne cross ewes have reached as high as 127pc for lambing and last year we achieved 120pc under harsh conditions," Bernie said.
"The Dohne ewe is much hardier compared to the Merino ewe.
" It tends to be able to recover in tough conditions and has a better maternal instinct."
The family joins the Dohne rams to the ewes in January at a 1.5pc mating rate for a six to seven week period, while the Suffolks are joined at a 2pc rate in the middle of December.
Prior to the rams going in, the ewes are flush fed 500g of lupins a head every day over a 10-day period to stimulate them.
'We then pregnancy test all of the ewes 45 days after they have been mated," Bernie said.
The ewes which are scanned having twins are split from the main flock and given extra attention. However like most producers throughout WA, the Panizza family had a very late start to the season last year.
Fortunately for them, implementing lick feeders has helped reduce daily feeding and more importantly mismothering of lambs.
"We put all of the early lambing ewes straight onto the feeders after pregnancy testing and in a normal season our later ewes would just be fed on green pasture," Bernie said.
"The feeders benefited our early lambing ewes more, because during April and May there wasn't much feed around."
The Panizzas like to sell their lambs straight of their mothers as suckers, but unfortunately last year this didn't happen because the green feed wasn't there.
"We would normally sell our lambs during November and December but last season we had to hold on to them and sell the majority of them at 10 months of age," Bernie said.
The family sold the bottom line as forward stores in October to the Eastern States, while they fed pellets to the top third and when they reached 42-44kg liveweight they were sold directly to processors V&V Walsh.
As for the middle third, they were grown out on stubbles and sold through the Katanning saleyards to achieve a top of $144 a head.
In previous years the Panizzas sold their Dohne ram lambs on the export boat.
"Although we averaged $110 a head, in today's market I don't know if it's worth exporting them because the crossbred Dohne lambs fit well into the domestic market," Bernie said.
The family sells all of their Suffolk cross ewe lambs with the ram lambs while the young Dohne cross ewes are grown out and at 15 months of age are shorn and classed.
Bernie said all the lambs were shorn in November and the Dohne ewes were classed on their wool and body types.
"We cull out 25pc and keep the remaining 75pc for future breeders," Bernie said.
Bernie is a big believer in Dohne wool and feels it's on par with Merino wool.
"Our wool cut per hectare is not back and our Dohne micron is as fine as the Merino," he said.
"Our mature age ewes average 19-20 micron."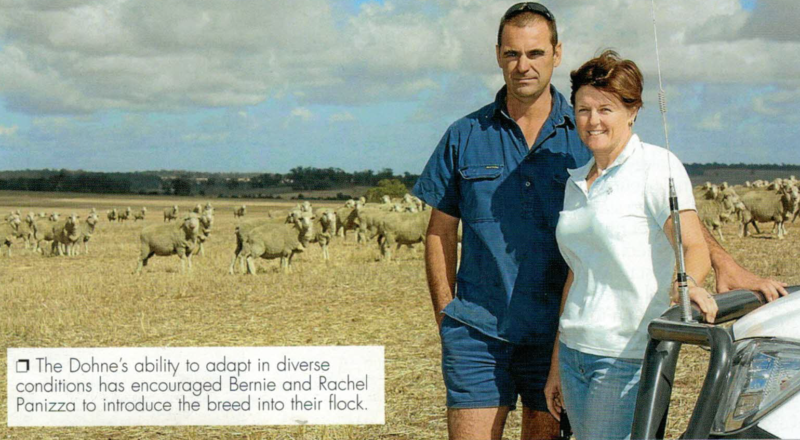 Original Article Published in the 2011 Farm Weekly Dohne Journal