Cunnamulla property looks to exclusion fencing
Lucy Kinbacher Queensland Counrty Life
28 May 2017
DURING her childhood Robyn Russell can remember 17,000 sheep running on her family's 28,327 hectare property, Charlotte Plains, outside Cunnamulla.
As kangaroos decimate what is left of the land and dingoes begin to move into the property unprotected by exclusion fencing just 4600 sheep and 180 head of cattle call Charlotte Plains home today.
It's a realisation that is hard to fathom for Ms Russell.
As the first sole female owner and manager of the property Ms Russell returned to take over the property in 2002 and spent the next four years alone trying to keep the property afloat during crippling drought.
Her husband, Reid, remained on their property near Charter Towers which was also in drought until a seasonal change warranted him to join his wife.
Traditionally a Merino property, she introduced South African Dohne sheep to build a flock with 19 micron average wool and also meat qualities if the season permitted.
The Merino Dohne cross is still proving successful today but now Ms Russell is hoping a successful application for exclusion fencing that will see them erect 76km of fencing will keep their genetics alive.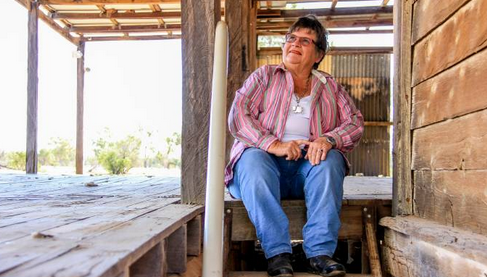 Charlotte Plains has been in Robyn's family for almost 100 years.
While for many the exclusion fencing is used to keep wild dogs from killing stock, Ms Russell said dogs weren't their major concern.
"The kangaroos are eating us out," she said.
"There are probably 20,000 roos jumping around on this property, that's no exaggeration.
"A few years back, 2013 or 2014, you could see the drought was so severe that…looking on the tree line you see these waves and that was hundreds and hundreds of roos jumping."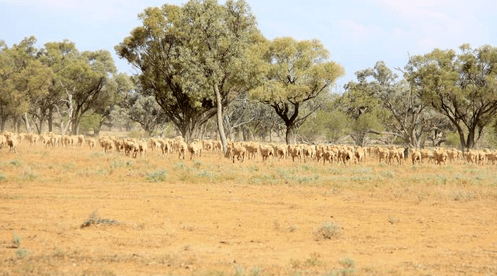 Sheep on the property, a week after shearing.
The property is facing its fifth year of drought with supplement feeding no longer an option but a must.
Ms Russell said she was hopeful a successful exclusion fence would allow them to look at other opportunities with feral goats and keep them as a secure income on the property.
"They just come on the property and all we have to do is muster and truck them," she said.
"We do have a couple of paddocks where we keep the breeders in and maybe we would introduce more in the future to keep it going especially as more fences go in."
Ms Russell still runs the property alongside one staff member, Michael Tisdell and other short term contract staff such as shearers.
The property also features a great artesian bore which tourists stay and visit.
Due to her two sons, Robert and Cameron, living in Brisbane and Toowoomba she intends on staying on the land for as long as she can.
Her husband Reid passed away in 2011 after joining her on the property about six years earlier.
Their love story began at Charlotte Plains and Ms Russell said she had wanted to carry on the property that he had a great affection for.
"(We met one day when) he was on his way to an interview further down the road and his dog jumped off and was lost and he came in here looking for his dog and my father offered him to stay for lunch," she said.
"I came home having just had a buster off a newly broke in horse and feeling a bit worse for wear and I went in to the dining room for lunch and took one look at him and thought oh he is alright."