December Newsletter 2017

Sign Up to receive Dohne Newsletters – Click Here
Full Newsletter – PDF Copy
Council Report
International Dohne Merino Conference and Tours
Pre-Tour and Conference, Uruguay
Monday 16 April to Friday 20 April 2018
Post Conference Tour, Argentina and Chile
Sunday 22 April to Saturday 28 April 2018
Preliminary Program – Click Here
Registration Form – Click Here
Please submit your registration forms to Tanya Barton
All Registration forms need to be in by 11 December 2017.
If you have any questions about this event, please contact Tanya Barton 0429 208 674
Ram Sale Results
Sale reports and photos on behalf of – The Land, Stock & Land, Stock Journal, Farm Weekly
September Sales
Calga Ram Sale, Coonamble NSW
94 rams sold to $4500 and averaged $1835.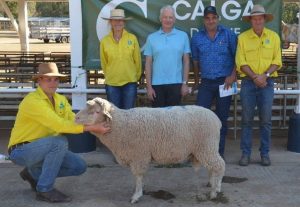 Sandy Pye holding the top priced ram and Principal Margie Pye, with Anthony Skinner Owner and Manager Jason Clake of Goorianawa Station, Bulgadie NSW with Calga stud master Jason Southwell.
Kardinia Ram Sale, Corowa NSW
57 rams sold to $4800 and averaged $1928.
Macquarie Ram Sale, Warren NSW
138 rams sold to $4500 and averaged $2266.
Full Sale Report – Click Here


The Walgett crew who all travelled to participate in the Macquarie Dohnes 14th annual on-property sale.
Glen Holme Ram Sale, Manoora SA
74 rams sold to $3200 and averaged $1324.
Full Sale Report – Click Here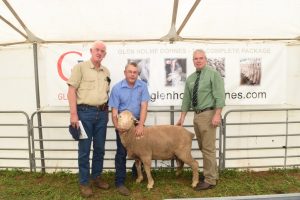 L to R: Adrian Behn from Riverton SA, purchaser of the $3,200 top priced ram  Allen Kelly, Leo Redden Landmark Riverton Auctioneer.
Coleslea Ram Sale, Leeton NSW
41 rams sold to $2000 and averaged $1110.
Denvale Ram Sale, Mount Barker WA
FULL CLEARANCE 60 rams sold to $4000 and averaged $1195.
Full Sale Report – Click Here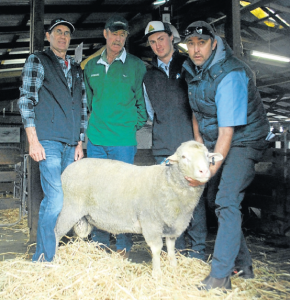 Top price buyer Ian Hanna (left), Koobelup stud, Katanning, Landmark auctioneer Charlie Staite, and Jacob Sounness and father Greg, Denvale stud, Mt Barker, with the stud's $4000 record price ram at the Denvale on-property sale at Mt Barker last week.
Noorla Ram Sale, William WA
72 rams sold to $2000 and averaged $1068.
Full Sale Report – Click Here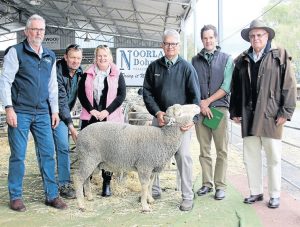 Noorla principal Jeremy Genders (left) with Gavin and Stephanie Penn, Treehaven, Bolgart, and Landmark Williams representative Peter Moore, Landmark auctioneer Michael Altus with the top-priced ram buyer Russell Lockyer, Treehaven, Bolgart, at last week's Noorla Dohnes ram sale in Williams.
October Sales
Uardry, DD and Calga Ram Sale, Wanganella NSW
156 rams sold to $3500 and averaged $1668.
Full Sale Report – Click Here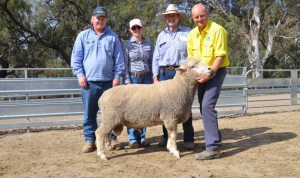 Edenhope's Hugh, Tess and Wayne Caldow with stud master Jason Southwell.
Koonik Ram Sale, Nurcoung VIC
65 rams sold to $4250 and averaged $1909.
Full Sale Report – Click Here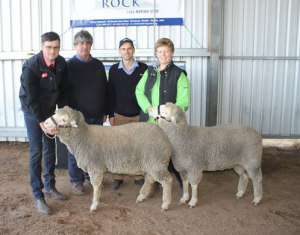 Roly Coutts, representing Glenora Pastoral, Richard Hobbs, Sunnyside Partnership, and his agent Jacob Davies, Rodwells Horsham and Koonik stud principal Fiona Cameron.
West Wail Ram Sale, Pimpinio VIC
31 rams sold to $1600 and averaged $861.
Full Sale Report – Click Here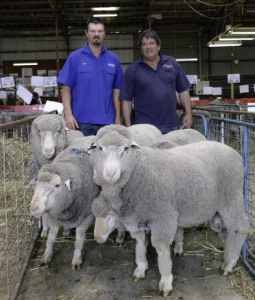 Volume buyer Ian Kyle (right) travelled from Bairnsdale, to purchase 10 Dohnes from West Wail. He is pictured with stud principal Luke Ellis.
Victorian Invitation Ram Sale, Ballarat VIC
34 rams sold to $3800 and averaged $1528.
Full Sale Report – Click Here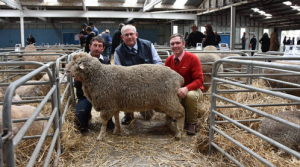 Don Mills, Kardinia, Mark Quartermain, Australian Wool Network and Elders' Nick Gray with the top priced ram.
Stirling Ram Sale, Glenthompson VIC
45 rams sold to $2500 and averaged $1145.
Full Sale Report – Click Here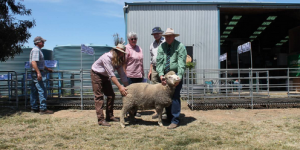 Stirling's Murray Rogerson with top price buyers, Stan and Judy Ellis, West Wail Dohnes, and Landmark agent Stephen Chalmers.
Brett's Blurb (Brett Wilson, Dohne Data Manager)
Sheep Genetics Reports
Sheep Genetics send breeders reports after new data is entered into the Dohne analysis and reports to all breeders an update twice a year. In the email send by Sheep Genetics there are five standard reports that all breeders get and two additional reports for data problems.
The reports are:
Database Summary
Genetic Trend
Individual Listing
Reproduction Summary
Sire Summary
Exclusions
Pedigree Problems.
Over the next few months, I will look at each of these reports and discuss what they can be used for.
I will start with the "Database Summary" and have copied an example below.

I have excluded some columns from this picture, they simply identify the flock and year for each of the lines of data.
Sex: Each year of drop is split into Males (M) and Females (F).
Born: This is the number of lambs born in that year for each sex.
Raised: Is the number of lambs that have been raised in the group.
Age Stages: Displayed are the 6 main SG age ranges and the count of lambs represented in each group.
0 months = Birth, this is used if birth weights of lambs are recorded.
3 months = Weaning, this is when most Dohne breeders take the Stage 1 body weight.
6 months = Early post weaning, we do not often use this age range.
9 months = Post Weaning. This is the current preferred time to undertake Fat and EMD scanning.
12 months = Yearling, this is when Dohne breeders mostly take Stage 2 measurements.
18+ months = Hogget and Adult measurements. Some later fleece measurements can fall into this stage.
Physical information: this area lists the common traits recorded and displays the number of lambs with data recorded for each.
DAB: This column lists the number of lambs in each group that have been listed as Dead At Birth. This is used for the reproduction data.
Pedigree: These three columns show the numbers of lambs with Sire, Dam, and Full pedigree.
This report should be used to determine if the data that is in the analysis matches what you expected.
Are there the correct number of lambs in each sex and recorded at each data capture point?
Do the age stages match with when you thought you recorded the data?
Are we capturing the DAB lambs in your flock correctly?
Is all the pedigree possible being recorded and analysed?
Next year will be a closer look at Sheep Genetics Reports, till then happy data collecting.