December Newsletter 2020

Sign Up to receive Dohne Newsletters – Click Here
Sign Up to become a Dohne Member – Click Here
Full Newsletter – PDF Copy
ADBA Office
Christmas break – The secretary's office will be closed for Christmas holidays starting Wednesday 9 December 2020 and reopening Tuesday 12 January 2021.
Dohne Analysis
There will be only one more Dohne Analysis this year, that will run on Monday 7 December 2020. Sheep Genetics will not be running the December 21 analysis for 2020.
Reminder to all members, when submitting data, please use the new Dohne Data Submission Request Form, Download New Version – Click Here.
2021 Dohne Journal
National Promotions has decided to produce a revamped high quality journal. One size advert, is being offered to members and that is 1/4 A4 page. These will be published early March 2021, and will be distributed to each state so that they can be promoted at next year's field days and sales.
Please return booking forms by Friday 11 December 2020 to
Adverts are not required until Monday 1 February 2021.
These booking forms were emailed to member on Tuesday 1 December 2020.
Ram Sale Results
Sale photos and reports on behalf of The Land, Stock & Land
Dimension Ram Sale, Gundagai NSW
27 rams sold to $1400 and averaged $956.
Full Sale report – Click Here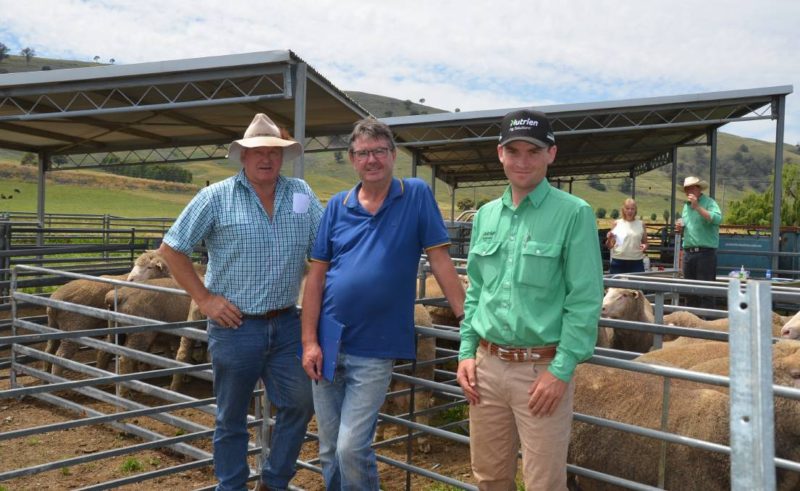 Reiland Angus' Mark Lucas with Dimension stud principal Dan Carey and Nutrien agent Ken Miall.
Stirling Ram Sale, Glenthompson VIC
21 rams sold to $1700  and averaged $1138.
Full Sale report – Click Here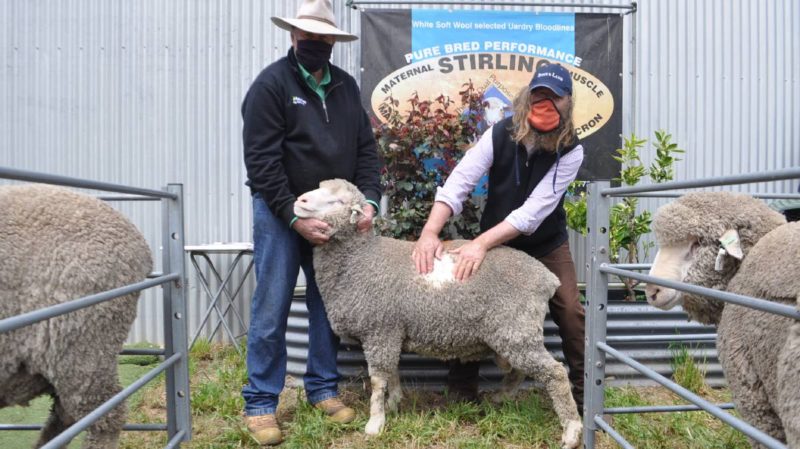 Stephen Chalmers, Nutrien, Kerang, holding the top-priced ram at Stirling Dohnes, with stud principal Murray Rogerson, Glenthompson.
Victorian Invitation Ram Sale, Ballarat VIC
27 rams sold to $5000 and averaged $1455.
Full Sale report – Click Here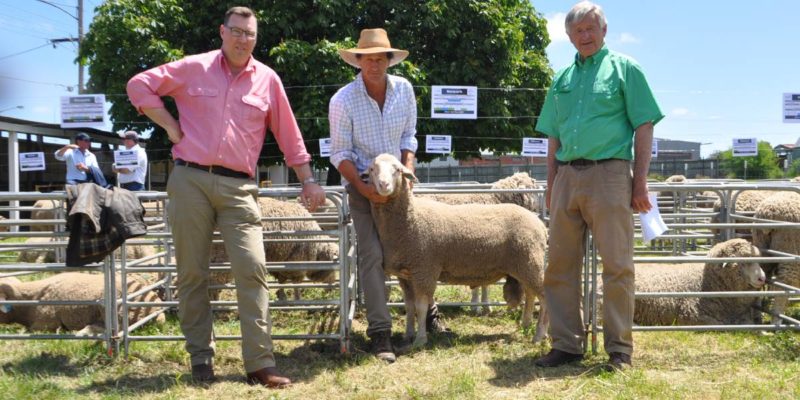 Elders Stud Stock Agent Ross Milne, Hamilton VIC, with Macquarie Dohne Stud Principal John Nadin holding the top-priced ram and Nutrien Stud Stock Agent Andrew Sloan, Geelong VIC.
States' Year in Review
Western Australia
With large numbers of commercial ewes and hoggets heading East; it had the potential to make ram selling a challenge in WA. A lack of stock water for vast areas and high prices being offered by producers in the East, made the decision for many quite easy to quit stock they may have normally kept.
Despite this, the results achieved by WA Dohne Stud Breeders was well in line with last year. Total offerings were down by approximately 30 rams and clearance rates averaged 78%, only 2% lower than 2019. Ram sales at auction averaged $1286, down less than $100 on last year, however the top price paid for a single ram was up. This honour went to Kintail Park, fetching $4700. Chirniminup cleared more rams than last year, and provided clients with WA's largest offering, being 194. Harold Park South had a large increase in their offering since the purchase of the Koobelup stud and sold both HH and IH prefixed rams.
All the best for a productive harvest; be that grain, wool or meat and a happy and safe festive season.
Rachel Browne, WA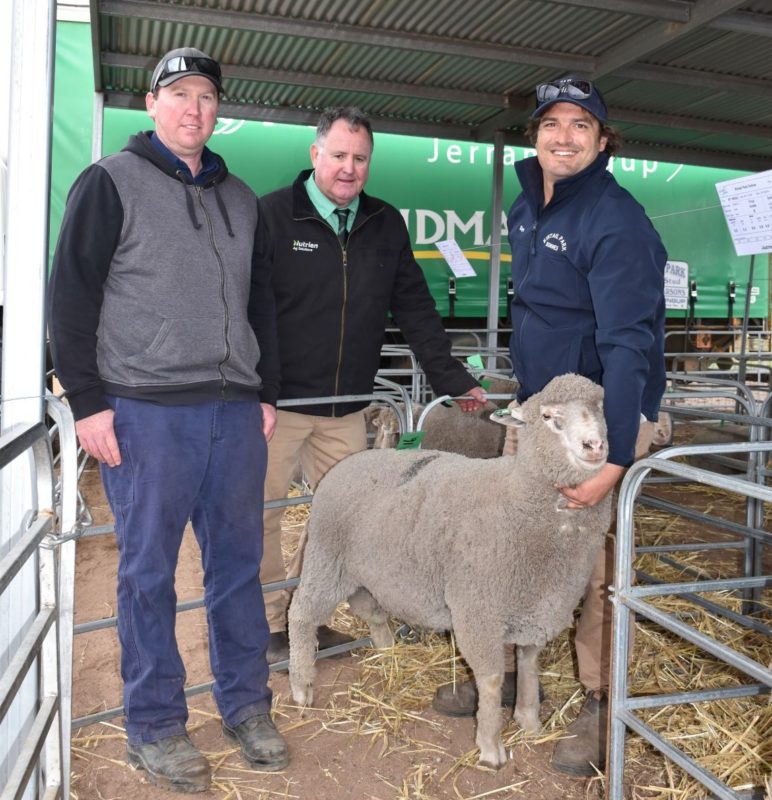 $4700 top price and average $1705 for Western Australia – Kintail Park
States' Year in Review
New South Wales Australia
2020 has been an interesting year I must say, with the onset of the virus things have been uncertain for many.
Agriculture as a whole though has come through without too many issues, wool is probably the worst affected commodity at this point, fortunately we produce prime red meat as well.
With most of the state receiving average or above average rainfall this year things are looking up for Dohne
Breeders, sheep of all ages are well sought after and returning big dollars back to growers. We have seen amazing increases in lambing rates this year with figures up around the 135% showing the fecundity of the Dohne is amazing.
This year has seen some fantastic sale results both on property and in commercial sales, congratulations to the Hughes family from Gullendah who have set a new on property auction record average for NSW of $3115. Gullendah also received the top price of $7500, well done.
Overall, NSW offered 639 rams with 566 cleared (89%) slightly up on last year.
DD followed the top average with $2783, Calga next with $2374, Macquarie $2101, most of our other studs' results were similar or slightly up on 2019 stats. Top prices were Gullendah $7500, Macquarie $5000, DD $4750, Calga $4000, Harewood $3700. Overall, another pleasing result for all Stud breeders.
I would also like to note that congratulations go to the Holt family from Coonong Station who sold 340 two year old ewes scanned in lamb for $438. Incredible result. I hope that these amazing prices are seen by all breeders in 2021 and the seasons hang in there to show off the incredible DOHNE breed.
Merry Christmas one and all.
David Berrell, NSW President.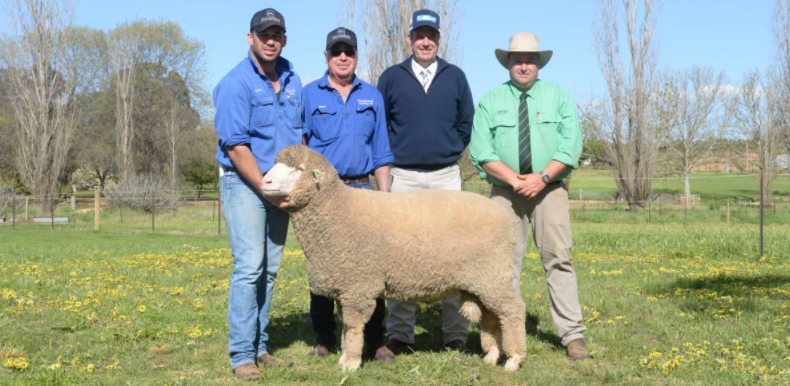 $7500 top price and average $3115 for New South Wales – Gullendah
Sheep Genetics Dohne Top Sire List
Sheep Genetics Dohne current Top Sire List as of the 1 December 2020.
Since the inception Sheep Genetics has displayed a top Dohne sire list. For accuracy and merit, standard requirements (default) are progeny from 2 or more flocks and 15 progeny in the current drop. The search engine enables breeders a wider individual search but the actual top sire list is the default setting.
www.sheepgenetics.org.au/Breeding-services/DOHNE-MERINO-Home