Developing countries behind INCREASING DEMAND
By VANESSA BINKS
DOHNE breeders who converged on Uruguay earlier this year were told the breed has a long-term future impacting sheep production on a global scale if producers remain true to the breed's genetic potential.
Australian Dohne Breeders' Association assessor Ian Bradtke, Jamestown, attended the International Dohne Merino Conference and said the impact of the Dohne breed within South American flocks was "quite remarkable".
The conference was held at the Durazno Rural Society and had 12 speakers from across the globe discussing industry topics, including ADBA president John Nadin and vice president
Rachel Browne.
The group visited sheep studs in Uruguay, Argentina and Chile including Nambi Guasu, La Pastoral, La Empastada, Coy Aike, Las Vegas, Rincón de los Morros and Carmen Mercedes.
A tour of Engraw Import Export, a producer and exporter of 19 micron to 34M wool clothing, was also a highlight for attendees, as was a visit to the Uruguayan Wool Secretariat's research and development station.
Mr Bradtke particularly enjoyed learning about the ethics of breeding Dohne Merino sheep from speaker and former South African Dohne Merino Breed Society director Cameron McMaster, as well as hearing details of the increased demand for wool and meat from developing countries.
"It was almost worthwhile just to hear Cameron speak because he pointed out that if sheep producers stick to what the breed was intended for and not try to change the breed into something it is not, it has a lot of future potential," he said.
"Cameron said Dohne sheep were a fully pedigree breed and were bred for a purpose. If producers want to put more wool on their sheep then do not use the breed because they
are designed to produce a quality prime lamb."
"They have the frame and growth to send lambs to market early and the moment we try to increase wool production it will cause lower lambing percentages."
Mr Nadin discussed the different breeds that suited South America and how the Dohne breed fitted within that.
"It was important for South American producers to hear about the breed's progression and I think they will use a lot more Dohne genetics in the future,"Mr Bradtke said.
"But again, it was about making sure producers use the animal for its genetic potential."
Mr Bradtke said the breed's popularity in the region had increased in recent years because of its easycare traits, in particular not having to mules lambs, and its suitability to mixed farming operations.
Also at the conference, CPA Ferrere's Alfonso Capurro discussed the new markets available for all sheep producers as the ability for developing countries to afford meat and wool clothes increased.
"He spoke about countries such as China and Russia who have become consumers with more disposable income, so therefore the demand for wool and meat is more widespread," Mr Bradtke Said.
Attending the conference also helped him to understand the diversity of sheep breeds in difficult environments.
"It shows with quality genetics a lot of production hurdles can be overcome," Mr Bradtke said.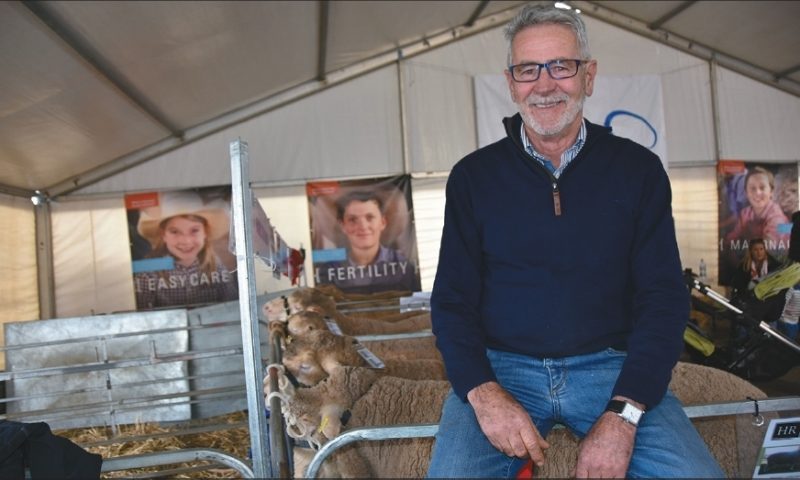 OPTIMISTIC OUTLOOK: ADBA assessor Ian Bradtke, Jamestown, believes South American sheep producers will increase their use of Dohnes in the future.
Dohnes help increase wool returns
SOUTH AMERICAN producers are looking for genetics to decrease wool micron, and Dohnes have the ability to make this happen, according to Jamestown-based sheep classer Ian Bradtke.
Mr Bradtke classed 2000 Corriedale-Dohne ewes at Louis and Alberto Carrau's property in Uruguay earlier this year as part of the International Dohne Merino Conference.
"The big advantage for South American breeders using Dohne genetics was the reduction in wool micron," Mr Bradtke said.
"Putting a Dohne ram over a Corriedale ewe had some producers seeing a reduction of about five microns, bringing the average wool micron from about 30M to 25M.
"A lot of producers are receiving an increase in wool return because of the decreased micron."
The Carraus' flock was classed on staple length, wool colour and frame. Mr Bradtke said the aim was to improve wool colour, muscling on the hindquarter and remove structural problems.
"It was great to see that there was not a big range of sheep, they were quite even, which showed the increased flock quality in South America," he said.