Dohne Ewes Make $438
Olivia Calver, The Land, Oct 2020
When the Holt family of Coonong Station at Urana received $438 per head for their scanned in lamb Dohne Merino ewes, they gave much of the credit to a marketing campaign run by 24-year-old agent Helen de Costa.
The ewes were sold in AuctionsPlus' weekly national sheep sale earlier this month and the $438 pen featured 340 two-year-old Dohne ewes, scanned in lamb with a White Suffolk.
The ewes were some of the 1990 Coonong sold in total, including two pens of six-year-olds, for an average of $314.
Ms de Costa of H Francis and Co said their marketing campaign had included a combination of social media and print advertising, along with getting the word out in their agent network.
Tom and Sophie Holt's son Tom, 14, even shot drone footage of the ewes for sale.
"We just blasted it everywhere," Ms de Costa said.
One of around four female agents working in the Wagga Wagga region, Ms de Costa has been with H Francis and Co for just over 18 months.
"There's even more women amongst the casual staff now, which is nice, times are changing," Ms de Costa said.
"I've been doing anything from being out in the yards, drafting, selling the stock, as well as being in the office and now I'm starting to pick up a few of my own clients now too."
Coonong Station is one of her largest clients, the Dohne Merino and Hereford breeders, running around 13,000 ewes and 400 Hereford cows across four properties, totaling around 28,700 hectares.
"I've been working with Coonong for around seven months," Ms de Costa said.
"We sold a few Hereford cows first and then recently we sold 74 Hereford feeder steers also via AuctionsPlus, which made up to $1810.
"They went to a grass fed operation.
"Then we went on to the scanned in lamb ewes."
Although Ms de Costa is reasonably new to the role of an agent, she has been working with livestock her entire life.
Ms de Costa grew up on a farm at Braidwood and worked as a vet nurse for five years while studying, she also runs her own cattle stud and competed in the Young Breeders Competition at the World Hereford Conference in New Zealand earlier this year.
"A combination of that all led me to want to go in this direction," Ms de Costa said.
Coonong Station's Tom and Sophie Holt said Ms de Costa had done a remarkable job for them, with the high of $438 for their Dohne scanned in lamb ewes their best sale result to date.
"There's a sense that she's working hard for us, she knows the sheep before she puts them in the truck, she's always in contact with us about opportunities," Mrs Holt said.
Mr Holt said they would have usually sold their ewes at the Jerilderie and Deniliquin sheep sales, but this year they went with AuctionsPlus.
"Shearing was delayed due to the weather, meaning we missed the Jerilderie sale this year so that's why we went with AuctionsPlus," Mr Holt explained.
Ms de Costa's next venture with Coonong will be selling the rest of their scanned in lamb ewes.
"At the last scan there was 56 per cent scanned in lamb," Mr Holt said.
"We're pretty certain that out of the 54pc scanned empty, probably 80pc will be in lamb, just because it was a long joining.
Then they will begin to look at the lamb market, which they will sell into over the next six months.
"Bendigo has been our biggest market for the lamb job, we aim for around that 55 kilogram plus mark, at about nine to 10-months-old," Mr Holt said.
He explained they joined in both June and October, but tried to hold on to their autumn born lambs for a little longer to avoid selling into the spring flush.
Mr Holt said they sent their surplus one-year-old ewes and five and half-year-old ewes to their Jerilderie property, to be joined to a terminal White Suffolk for their fat lamb operation.
"We've got the change over on the property happening at the moment," Mr Holt said.
"We started that avenue up in 2013 when we purchased the property, since then we've been taking off terminal lambs for the cash flow."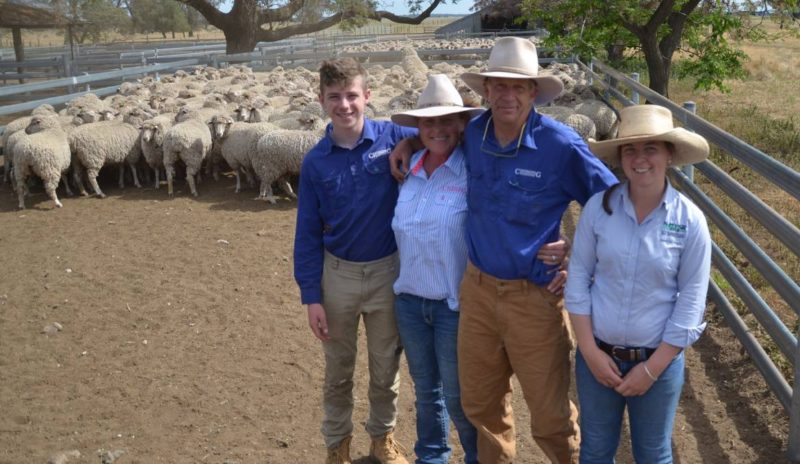 Tom, Sophie and Tom Holt, Coonong Station, Urana with their H Francis and Co agent Helen de Costa.