Dohne suited to Edwards' enterprise
By BOBBIE HINKLEY – Farm Weekly
RAY, Terri and Justin Edwards are strong proponents of the Dohne breed. Dohnes are well suited to the family's Ravensthorpe mixed sheep and livestock enterprise, the farm's heavy country and the no-fuss management system the family stands by.
Like most commercial farmers in the Ravensthorpe region, the Edwards family commits the large majority of its hectares (about 70 per cent) to a broadacre wheat, barley and pea program every year. But a relatively recent shift to Dohnes in the livestock side of the family business has seen the profit margins grow. The Edwards family has been farming in Ravensthorpe since the mid-1950s. For 50-odd years Merinos were the varietal and financial backbone of the business. But Dohnes came into the picture in 2007 following a spate of years in which Ray started to notice a decline in the farm's lambing percentages.
Achieving somewhere in the vicinity of 75-80pc became the norm – and that was in a good year.
Anecdotal evidence from friends and neighbours throughout the district suggested that others were achieving much higher figures using the Dohne breed, while also maintaining a solid wool
clip. Father and son pair Ray and Justin have seen a marked increase in their lambing percentages in the years since Dohnes were introduced. Since buying their first Dohne rams in 2007 from Rex Parsons' Jarramongup stud, Jerramungup, the figures have skyrocketed to more than 110pc. This year they marked 117pc.
Two years after their initial Dohne ram purchases Ray and Justin committed 100pc to Dohnes by buying their entire season's ram requirements from Kim, Colleen and Rhys Parsons' Kintail Park stud, just down the road in Jerramungup.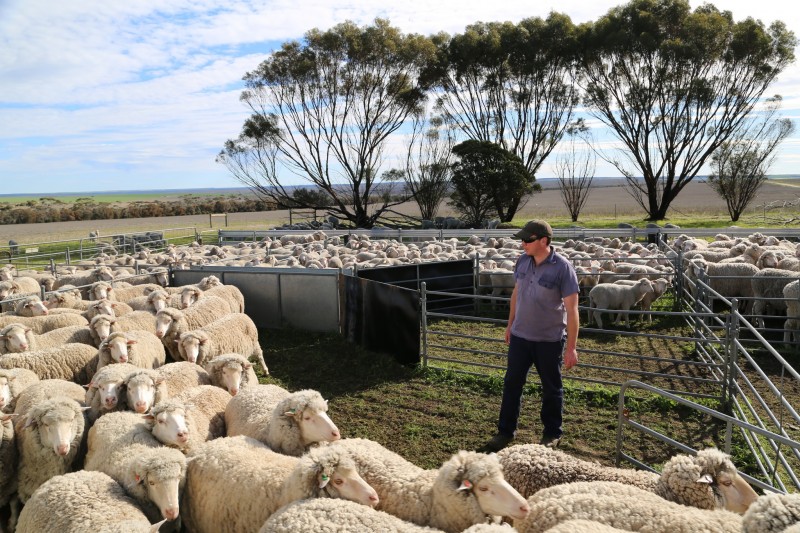 Justin Edwards walks through a mob of ewes and lambs at Ravensthorpe. Photos: Terri Edwards
By continuing to do so each year, the Edwards family has gradually phased out the traditional Merino genetics on its farm and replaced them with Kintail Park Dohne bloodlines – which are topped up by the purchase of a new team of Kintail Park rams each year.
"After a couple of years of using the Dohne rams over our Merinos we decided they were pretty good," Ray said. "Initially it was nothing more than a little dabble to see how the breed would stack up against our existing flock. "During those first few years we also sold all the progeny just to see how the lambs would perform in the prime lamb market."
It was easy for Ray and Justin to see that the Dohne performed in their business' favour and with that the last of the Merino genetics were sold and trucked off the farm last year in the form of a few lines of cast for age ewes. Now the Edwards family run about 1200 F1 to F4 Dohne ewes with the first of the farm's purebred Dohne progeny born this year. Rams go in with the ewes in December and come out in January after a five week joining period. Ewes start to drop their lambs from May 1.
"It's not a common lambing period in the area – different production systems in this region lamb from February to July," Ray said. "Initially we lambed earlier but we had a string of poor years where ewes were forced to drop onto bare paddocks.
"Now they lamb onto green feed – although there are some management issues that coincide with seeding. "However we don't like to let it get much later because we can have trouble with grass seeds thanks to the fact we have a lot of barley grass country down here." Each year's drop is sold as lamb.
About 30pc of the lambs are sold as suckers and the rest are kept through until after harvest when they're shorn and sold as lamb, depending on the season and feed availability. Ray said financially the farm does much better if the family can afford to hang onto the later lambs but sometimes it gets a bit tough over summer. Despite running a selfreplacing flock, Ray and Justin cull and sell off about 30pc of their ewe lambs.
This year all the farm's lambs were sold in the Katanning trade sale and averaged $109 despite being bare shorn. "I couldn't have been happier with that," Ray said. "We topped the Elders sale a couple of times plus got about $18 worth of wool off them." In the past Ray also sold lambs to abattoirs via Esperance but has found the market to be somewhat hit and miss.
In order to make sure their lambs are quality, Ray and Justin look to purchase big, solid and square rams each year.
But their keen eye for wool production means they also select rams with promising wool characteristics.
"The other plus is we never have any trouble getting anybody to shear them because they're plain bodied," Ray said. He said the season had been really good for sheep in Ravensthorpe so far, with plenty of feed available right throughout the district. "We've been lucky with the weather," Ray said. "We had a good start and are benefiting from the intermittent days of rain and sunshine.
"Given the kind of figures we're achieving at the moment I'd love to increase my sheep numbers but don't really have the ground or space to do so. "There are a few Dohnes around the area but it's still mainly Merinos and a number of types of British breed rams producing lambs for the prime lamb market. "Sometimes we're forced to run the Dohnes pretty hard for this area but that's the beauty of them – they're very hardy and quite adaptable.
"They have the ability to do a lot better on less tucker." The Edwards family's ewes go back onto stubbles after harvest as well as rotationally graze the farm's available and self-sown grass and medic pastures.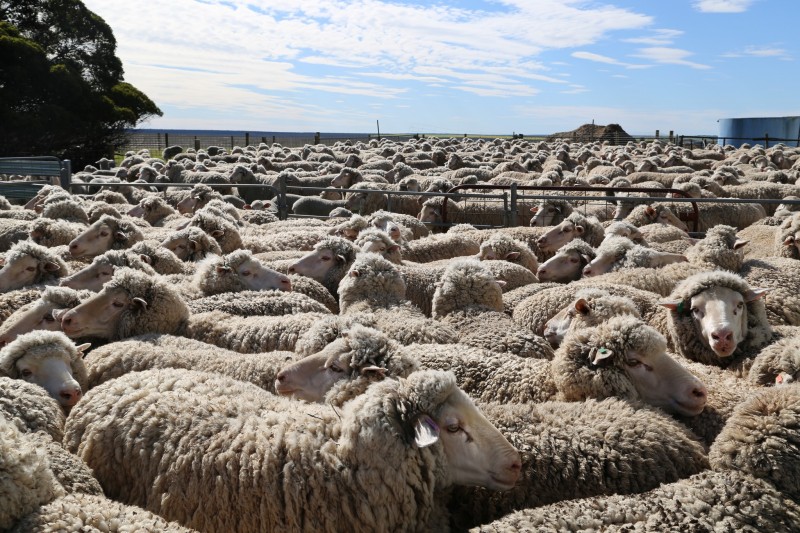 Mixed age ewes in the yards at Ravensthorpe.