Dohne the Platform for Productivity
IAIN GODDARD
SCHUTE BELL AGENT
INVERELL, NEW SOUTH WALES
WOOL and livestock specialist Iain Goddard has been in the sheep industry for 25 years, giving him a wealth of exposure to multiple regions across Australia and the levels of success producers are having with their sheep-based operations.
An advisor for agency Schute Bell, Mr Goddard has a client-base that covers South-East Queensland, the Northern Tablelands and the North-West Slopes and Plains.
Along with 30 years' experience as a sheep producer on his own family property 'Lone Pine' in Inverell, NSW, he is a well-established professional in the industry.
Experience and clientele combined, Mr Goddard has helped support many producers make on-farm transitions that will look to help them achieve maximum productivity and the best return off their livestock as possible.
The platform for making these transitions is for his clients to benefit from solid fertility – achieving a higher percentage of lambing ultimately gives you more lambs, more wool and generally more product to sell.
The Dohne as a breed is providing this platform.
"The regions I deal with daily are traditionally Merino-based areas, with very few crossbreds in the mix. In saying this, over the last few years the Dohne have really developed their fertility and size and as a result, a number of my clients
who have been of these traditional Merino breeders, have turned to the Dohne," Mr Goddard said.
"This shift has been largely due to the Dohne's strength in fertility and ability to produce a better first-cross lamb."
High fertility rates in a sheep is ultimately what will get production off the ground. This trait as a platform for what the Dohne can also achieve in meat and is only improving more with in wool, really emphasises their ability as a dual-purpose sheep.
Steering from a purely Merino operation to the sole running of Dohnes are Mr Goddard's client's Jim and Sue Currey, along with their son Mark, of 'Aberfoyle', Walgett, NSW.
Achieving higher conception, lambing and weaning rates without compromising in wool, the Currey's have had the results to show for it.
At their last shearing early this year, the Currey's Hogget Dohne ewes scanned 170% in lamb, cut 6.3kg of wool and averaged approximately 70kgs live weight.
The Dohne transition continued across Mr Goddard's client-base, including Peter and Sally Caskey at Inverell, NSW, who were originally running a cattle-based operation.
"Moving out of cattle, the Caskey's then initially got into Merinos. Exposure to the consistently high percentages of Dohnes scanning in-lamb that were presented across online auction services, has them now running only Dohnes because of their strength in fertility."
"The hard figures behind the Dohnes was enough for the couple to make the move," said Mr Goddard.
"What they're experiencing in first-cross lambs as well as the decent return on their cut of wool has proven the production value of the breed."
Holding their own in terms of fertility and body, whether a pure Dohne or first-cross, the breed is producing a superior lamb and therefore a superior product.
"They're primarily becoming the 'meat Merino'," said Mr Goddard.
"Having achieved traits in fertility and size, I believe a lot of studs are now placing a heavy focus on making them an even more reliable wool-producing breed – something that will solidify them as the to-go dual purpose sheep that won't see producers have to compromise."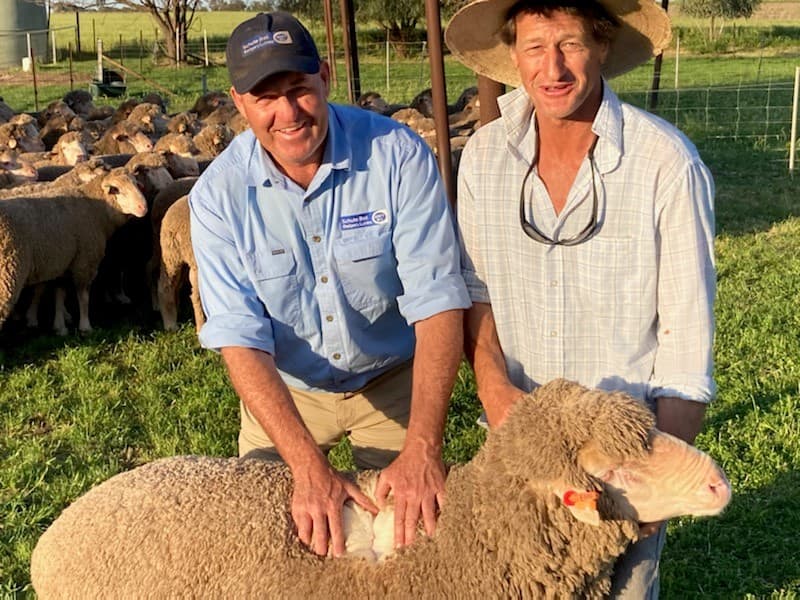 Original article written by Nicola Wood, August 2020.