Dohnes Close to 'Silver Bullet'
GREG MOIR
AMELUP, WESTERN AUSTRALIA
THERE is no silver bullet when it comes to the perfect breed of sheep, but when WA farmer Greg Moir, his son Darren and son-in-law Paul Richardson came across the Dohne,they knew they were close.
"Five years ago we were sick of relying on the wool industry and went looking for a dual-purpose sheep," Greg said.
"After searching high and low for the perfect sheep we soon realised there was no silver bullets for the ultimate breed," Paul said.
"Then we happened to come across a pen full of Dohne rams and we liked the look of them.
"We needed a breed that could basically look after itself and fit around our cropping program, and one of the best things about the Dohne is that they are a self replacing flock which was the main reason we decided to go into them ."
"When we started in Dohnes, they were being sold for good affordable prices and we wanted to get rams quickly, so it worked out well."
"When we started we thought bigger was better, but now we are buying better rams for the right reasons," Greg said.
"We've concentrated on breeding plain-bodied rams that have to look right. That's the beauty of the Dohne, if any lamb doesn't look right and has too much wrinkling or is too small then we will cull them.
"We don't produce any technical data, we use the old-fashioned way of just looking at them and if they don't look right then we get rid of them."
In addition to size and wrinkled skin, Greg, Paul and Darren cull the empty females, have a quick glance at wool and if the lambs aren't putting the weight on fast enough.
"We're trying to get a smooth-skinned sheep that stays fat on next to nothing to eat, we go through and cull them as a hogget as well," Paul said.
"We are also hoping to get a bare breech so we can cut out mulesing all together."
Other traits they select for are white wool, structural soundness with a big back end and avoiding any animals with dipping shoulders.
" Usually we go for the biggest, plainest rams we can find," Greg said.
"Our Dohne rams seem to have the ability to keep their condition and the lambs aren't born and try to die like Merinos," Paul said.
"Our only worry is triplets. We only pregnancy test the maidens each year, and plan to drop 2250 lambs this season; we have increased our lambing plan by about 400 due to the excellent market conditions for prime lamb at the moment."
Since shifting to the Dohne breed, Greg said they have seen an increase in their average lambing percentage by at least 1Opc to 15pc.
"We have always achieved good lambing percentages, even with our Merinos we were getting 90pc lambs on the ground, but now with the Dohnes we are getting 117pc which is quite a difference," Greg said.
"Pregnancy testing has had a huge bearing on our lambing percentages and management.
"This year we will drop our first purebred Dohnes and we will continue to produce lambs until our entire flock is pure Dohnes."
They currently have 2250 mated ewes, the majority of which are F3s, and 900 new lambs, 300 of which will be sold and the best 600 will be kept as breeders.
An added benefit of the Dohne is the fast maturing lambs, which means they fit better with the Moir family's overall operation.
"We want our sheep to fit in with cropping around here, not the other way around," Greg said.
When discussing the benefits of Dohnes in the meat and wool market, Greg said they have noticed a significant difference in price between the Dohne and Merino.
"The best thing about the Dohne is we can get a prime lamb price, not a Merino price, in the market place," Greg said.
"There's always a difference between the two. I think there's a lot more interest now in the wool from Dohnes, and we have to label the bales appropriately but that's not a huge issue," Paul said.
" It's still white wool, it tests exactly the same as Merino and it's slightly flatter but spins exactly the same as Merino. We haven't found any resistance on the wool floor, the only exception is it is a bit drier than Merino wool. We were fully prepared to lose weight on our wool but there wasn't much change, maybe only one kilogram."
The best thing about the Dohnes, in Greg's mind, is the opportunity to try something different.
"I love running sheep that none of my neighbours are running, we like to do things a bit different and the Dohnes work for us," Greg said.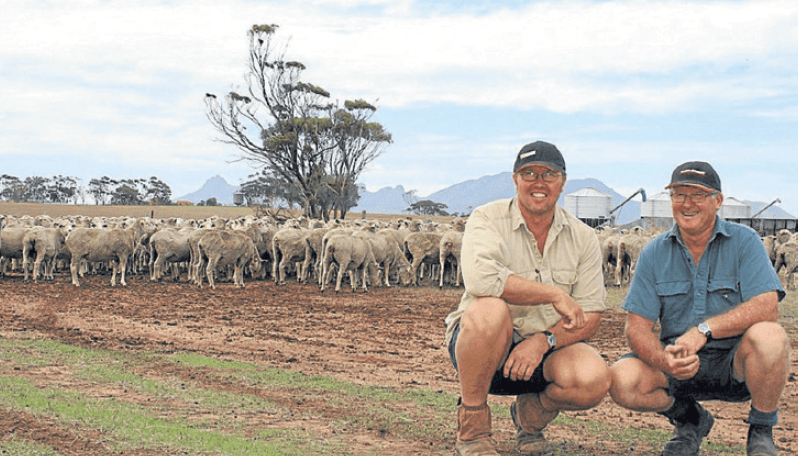 Paul Richardson (left) and Greg Moir, Amelup Estate, Amelup, WA, are very happy with their Dohnes after breeding them on their property since 2005.
Original Article Published in the 2010 Farm Weekly Dohne Journal