Dohnes Fit the Bill Perfectly in Wagin
Original articles courtesy of Kylie Nicholls and Aidan Smith, Farm Weekly, Western Australia. Original photo courtesy of Department of Primary Industries and Regional Development.
CLAYTON SOUTH WAGIN, WESTERN AUSTRALIA
"My breeding objective is to ultimately produce a ewe that can wean her own body weight in lambs at 15 weeks, as well as produce a 5kg fleece."
CLAYTON South, with partner Polly and sons Ky and Jarryn, run a 6500 head self-replacing Dohne ewe flock, on their 4900 hectares of owned and leased land at Wagin. They crop about 70 per cent of their property, sowing wheat, barley, canola, lupins and milling oats.
As one of the producer speakers at LambEx 2018, which was held in Perth, Mr South focused on the use of new technologies in his commercial sheep operation. "All the technology we are using has more than paid for itself in terms of ease of management," Mr South said. "Even in the good years it is still giving us benefits, but when the season is tight, we are able to make more targeted decisions based on an individual animal's requirements."
"With genetic gain in our flock, the ram is only half the picture, so if we want to go and source those high fat, high eye muscle genetics, that's going to drag our flock genetic gain up, but we wanted to make sure our ewe flock was pulling its weight as well." The core flock is managed for high fecundity with a premium placed on twinning ewes and the flock lambing percentage is between 100 and 120 per cent each year. According to Mr South, the technology is helping to increase flock fertility by providing important breeding information.
"Although we may not be getting any more efficiencies in throughput at drenching or weaning, we are gaining a lot of valuable data at the same time as undergoing our normal husbandry operations. The sheep handler has made the job less physical, having the sheep immobilised, and therefore less stressful and more enjoyable."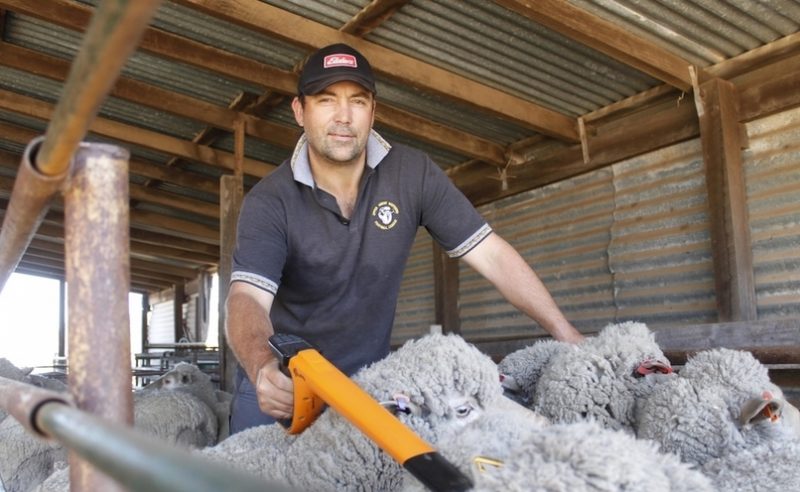 Wagin sheep producer Clayton South uses his EID stick reader to scan for information regarding his mixed-age Dohne ewe flock.
A tight joining period is employed with the rams going in for only 30 days. The ewes are then pregnancy scanned in April and foetal aged into early and late lambing and twin and single-bearing categories. Mr. South said that identifying twin bearing ewes was crucial to the flock reaching the objective. "Pregnancy scanning is essential – for us that is the best 80 cents I'd spend without doing anything else," he said. "Foetal ageing – that's been a game changer for us in terms of ease of management"
"At scanning, as the ewes go through the normal scanning box and three-way draft,their tags are read with the stick reader and an auto record board is used which has the different lambing categories pre-programmed so each ewe can be identified and her pregnancy status inputted directly into software on the laptop", Mr South said. "The ewes are then managed in their twin and single-bearing mobs until about four weeks prior to lambing when they are then split into early and late lambing mobs using the sheep handler and auto draft to read the tags and pregnancy status. This allows us to provide a more targeted approach to their nutritional requirements as we know exactly where they are in their gestational period. It also means we don't have 6500 ewes lambing at once, so our management and husbandry operations such as marking and weaning, are staggered. Dry ewes are culled immediately and late lambing, single-bearing ewes are moved to the terminal flock the following year."
The South family has also started collecting information on growth rates. In partnership with a neighbour, they have purchased a lamb weigh crate and scales so each lamb's tag is read and weight recorded at marking, then weighed through the handler at weaning. The ewe lambs are then run in mobs of up to 800 head, based on their weight categories.
"Lamb weighing gives information about the rate of weight gain for each animal and helps determine the lambs that aren't gaining weight so they can be pulled out of the flock," Clayton said. "The most important weights are the marking to summer drenching points as these show the performance of the individual animal. By removing the slower growing sheep from the flock, I'm hoping that faster growing ewe lambs will in turn produce faster growing lambs in the future"
A second and larger benefit from lamb weighing is the ability to mate the larger ewe lambs as hoggets. All of the ewe lambs are weighed to determine their weight in January, with those weighing more than 40kg drafted off and mated at 7months of age. "Ideally we are aiming to get around 50% of these ewe lambs into lamb. I understand they would be better mated at 8-9 months but then that interferes with the cropping operations on the farm. Apart from the benefits of getting extra lambs out of our ewe lambs, we're also finding these ewe lambs are more productive the following year as traditional maidens, both the ones that have lambs and the ones that are scanned dry as ewe lambs"
They have also purchased a barcode printer and scanner to record ewe hogget fleece weights at shearing. "Dohne ewes consistently produce 4-6kg high quality finer wools in the range of 18-22 micron, with no threat of contamination to Merino fleece. "While our focus hasn't been on the wool, we are finding huge variation of wool cut within the flock so it's the same as everything we measure. It's all about identifying our most productive ewes. We are cutting more wool per hectare now than we were with traditional Merinos", Mr. South said.
"Our aim is to have a highly productive easy-care sheep that doesn't require mulesing and can turn lambs off quick. The Dohne Merinos, with their high fertility, ease of lambing, excellent maternal quality, and wool quality, fit the bill perfectly."
Trial Using Sensor Collars to Match up Maiden Twin Ewes and Their Lambs
WE CALCULATED a gross margin per ewe using kg/lamb weaned & Fleece Weight & took into account all costs for each ewe for 12 months. One (ewe) raised three (lambs) – produced more than 90kg of lamb and 3.6kg of wool – which was a profit on that ewe of $227.
"No surprises, the bottom one failed to raise one (lamb) and still only cut 3.6kg of wool – she's cost me $16.40 to run around on my place for the year.
The average of ewes that raised 2 lambs was $122.85 profit per ewe. The average of ewes (scanned as twins) that only raised 1 lamb was $71.73 profit per ewe.
"The overall average was $85 per head – which was quite pleasing.