Dohnes improve market opportunities for Narromine producers
Ruth Schwager 20 Jan 2018 THE LAND
A SHIFT to Dohnes has led to improved lambing percentages and marketing opportunities for the White family at "Alvaholme", Narromine.
Patrick and Leanne White, in partnership with Patrick's parents Pat and Gail, made the change from a self-replacing Merino operation about six years ago.
About 1500 ewes, mostly third-cross Dohnes, are run on on the 1950-hectare property, alongside a large farming operation which includes another 680ha of leased country.
"Like a lot of people, we were running a self-replacing flock but we were a bit disheartened with the wool market and could see the opportunities with fat lambs, but we still wanted to stay in the wool market," Patrick White said.
"We dabbled in the Dohnes, then about five or six years ago we decided to stop joining to Merinos and join all ewes to Dohnes to have the opportunity to possibly market a sucker lamb, then target the heavier export markets. Fertility has picked up … up from 70 per cent in some years with Merinos to a minimum of 100pc with the Dohnes – and they're just better doers."
The family uses rams from Justin Tombs at Harewood Dohnes, Armidale.
"You can get a nice, chunky sucker out of them, and if the feed's available we can grow them right out – they can get big and heavy quite quickly."
Mr White buys up to 10 rams a year, and looks for rams with a good balance of meat and wool characteristics.
"Wool's still a big part of our operation – we came from a fine wool background and we're still averaging about 19-micron – so we're looking for good length and a nice bold crimp, and it's got to be a soft wool," he said.
"We've lost a little bit of cut but not much, and we're making up for that with the meat market."
Joining is in January for six to seven weeks, with a spring lambing and weaning in early November.
"We can definitely wean them a bit earlier than a Merino, and they'll go crop or lucerne, with grain feeders," Mr White said.
"The grain really helps get the weight up and takes pressure off the lucerne."
The Whites have an on-farm feedlot, finishing the lambs – which enter at 35 kilograms to 40kg – on grain for eight to 10 weeks.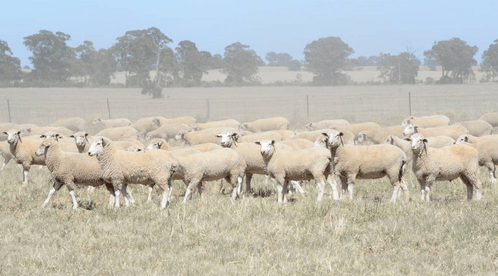 Eight to 10-month-old lambs at "Alvaholme", Narromine.
Lambs go wherever the money is, and have been processed at Murray Bridge in South Australia, as well as Melbourne, Cobram, Tamworth, Dubbo and Forbes.
"Suckers will go straight to Dubbo or Forbes saleyards if the market's there, but most are over the hooks. We also buy in a lot of lambs, so if we're paying big money for lambs, I like to have them booked in and know what I'm getting for them."
Continuing with wool has paid off with the strong prices.
"We're still getting terrific prices with the Dohne wool. We shore in late October, early November and the top line made more than 1200 cents a kilogram, and it was only seven months of wool, 71 millimetres to 72mm long. The bale average has been increasing. The last clip was about $1850 a bale, including crossbred lambs wool and everything, so that's fantastic."
The sheep and cropping operations work well together with the family growing wheat, canola, barley, oats, chickpeas and brassica.
"It used to be 100pc cropping, and now with the wool market and lamb job so strong, we're steering more towards dual-purpose crops," Mr White said.
"We've always grown oats, but we're looking at sowing other crops, like canola, early to get a grazing off it."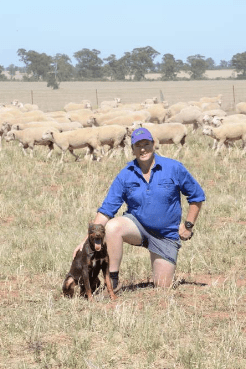 Patrick White, pictured with dog Lottie, made the shift to Dohnes from a self-replacing Merino operation about six years ago.