Dohnes Keep it in Cheque
Original article written by Xanthe Gregory, February 2019.
NICK SCHOENBERG, MARRABEL, SOUTH AUSTRALIA
"They cover both areas with the meat and wool, so it limits the risk side if anything goes wrong with the market."
THIRD GENERATION farmer Nick Schoenberg has found the Dohne sheep nothing short of great, particularly for his balance sheet. Nick runs a mixed farming operation in Marrabel, South Australia, with his wife Rachel and their three children.
From traditional Merino breeders to Dohne lovers, it has been around eight years since the Schoenbergs made the move to the dual purpose sheep, and he's impressed with their performance. "They've definitely put some good frame and eye muscle over the merinos," Nick said.
When wool prices dropped several years ago, the export hay cropper and sheep breeder diversified his flock of around 1000 sheep to get a bigger meat cheque. Since introducing the Dohne rams to his self-replacing flock he has noticed the benefits of the newer breed compared to the issues some traditional sheep face. "The Dohnes have definitely put some nice frame on our sheep and the growth rate is much higher than the merino," he said.
The sheep grow quicker, meaning Nick can sell off his wether lambs earlier than ever. "We seem to be a month to two months earlier selling off our wether lambs and classing our ewe lambs to sell off for meat too."
The Dohne are cheaper to run too. They haven't treated the sheep on their Mid-North property for flies in six years, saving some overhead costs because of the plainer breed.
"It saves us money and time, and gives us peace of mind not worrying that you should be around the sheep looking around for flies."
The dual purpose sheep means that Nick now grows high quality wool and a larger carcass. He explained,
"They cover both areas with the meat and wool, so it limits the risk side if anything goes wrong with the market."
Getting close to premium products has helped their family to fare well even during tougher seasons."Over the years you'll come out in front."
By saving on inputs and producing a more stable output, the tough Dohne has their business reaping the benefits. "The gross margins of the Dohne are definitely beating the Merino," Nick said.
Having faced a tough season, of only around 200 millimetres of rain last year, the sheep are performing well with less feed and only bore water to survive on. He said, "They're hardy sheep, they respond to the seasonal conditions and they're not sulking about it or anything."
In light of the drier season, they just sold some May drop 10-monthold lambs for $182: a testament to their performance on less.
For Nick and his family, the Dohne sheep are a perfect fit for their cropping farm.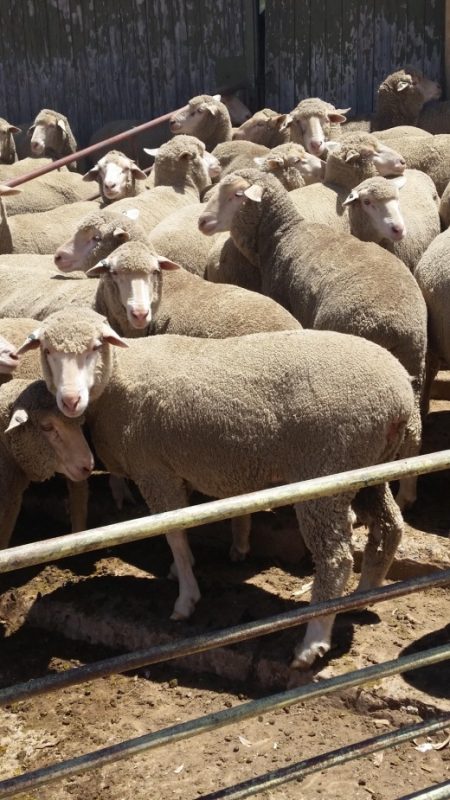 Nick Schoenberg's Dohne sheep