Dohnes: Key to Increasing Numbers
LUKE WELLS
WALLANDBEEN, NEW SOUTH WALES
INCREASED fertility, doability and lamb production are some of the benefits introducing Dohne genetics into the flock at Milbey, Wallandbeen.
Luke Wells, who manages the property for owners David and Kandee Thorn, is currently running 5000 ewes, and has been using Dohne genetics for the past four years, over a Merino base.
"We were after a plainer bodied sheep for the flies and to step away from mulesing, which we've done for the last three years.
"There's a small premium for the non-mulesed wool even though the wool job is pretty ordinary at the moment and we like the doability in the Dohnes, and that they produce a little bit more meat."
One of the biggest benefits of the Dohnes is increased production, which will come in handy as Mr Wells increases numbers to between 6000 and 7000 ewes over the next two or three years.
"We joined the ewe lambs at seven months of age to get the extra lamb and in the last couple of years we've had 85 per cent scanned in lamb as a ewe, even in drought.
"We haven't marked this year's ewe lambs yet, but we marked 130pc from the adult ewes.
"Last year's ewe lambs joined at 88pc and lambed at 86pc, so that was an extra 836 lambs."
Mr Wells said the Dohnes mature early and he's looking forward to seeing how they reproduce as seasons improve.
"It's all to do with bodyweight, so we wait until they're 45kg to 50kg.
"We didn't have to feed them prior to joining, but they get the run of the better pasture, predominantly lucerne, through late spring and summer.
"This is our first decent season for a few years now, and we're extremely happy with the fertility of the Dohnes."
Wool and meat traits are considered when selecting rams.
"We're focusing on a nice bright, white wool that'll handle a decent rainfall, we're in a 650mm rainfall area."
"We're also looking for something with a bit of meat, bigger bodyweight and lengthy sheep."
The flock has been able to maintain its 19 to 20-micron wool despite the shift to Dohnes.
"A lot of people say they go a bit broader but we haven't seen an increase in micron."
While wool cuts have dropped slightly to between 5kg and 6kg, the Dohnes manage the variable seasons better, which has come in handy over the past few years.
The extra carcase quality is certainly paying off with the good lamb market.
"We sold all our 2300 wether lambs this year to TFI (Thomas Foods International) for an average $223 a head," Mr Wells said.
"They were 26kg dressed and shorn in February, so they had a skin value of $9. The early lambs were finished on grain in lick feeders and the rest on grazing crop."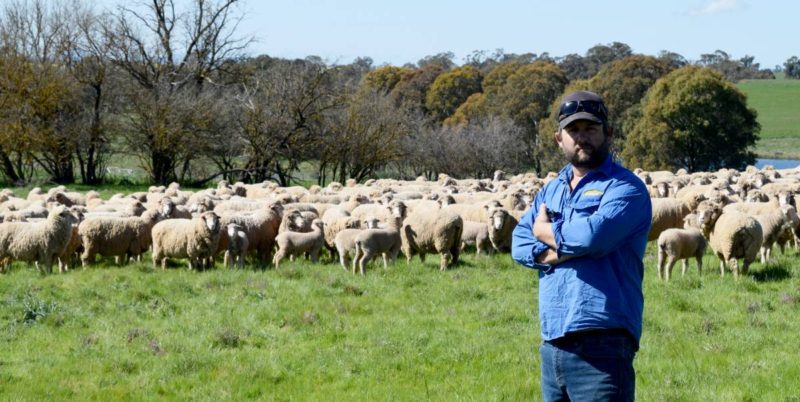 Luke Wells with his Dohne sheep, which have helped him increase fertility in the flock, while maintaining wool quality.
Original article written by Ruth Schwager, The Land, September 2020