Dohnes prove their performance in station trial at Coonong
By Kylie Nicholls The Land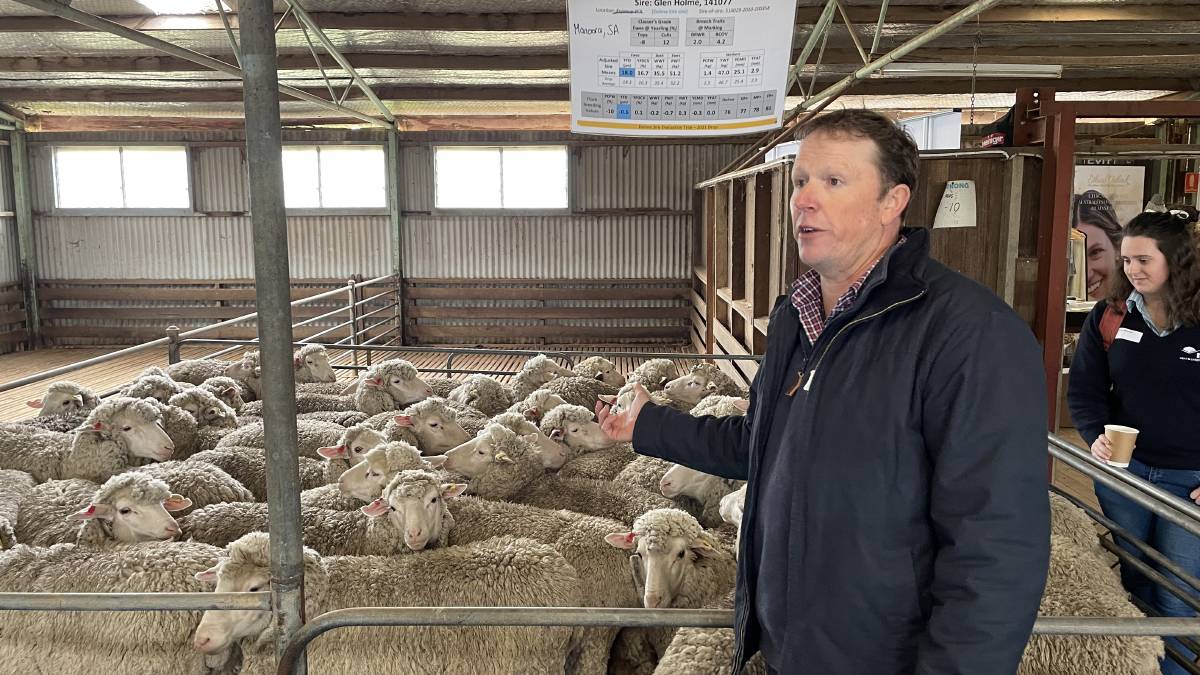 Ben Swain from the Australian Merino Sire Evaluation Association presenting results from the Coonong Station trial, Urana, NSW. Picture by Stephen Burns
Dohne sheep producers are embracing a range of technologies, including performance recording and genetic evaluation, to better inform their selection decisions and fast-track the progress of the breed.
In collaboration with the Australian Merino Sire Evaluation Association, Dohne stud breeders have established an innovative sire evaluation trial at Coonong Station, Urana, NSW.
There are nine Merino sire evaluation trials underway across Australia, with more than 130 sires participating in the program, and the Coonong trial is the only site using Dohne commercial ewes as the breeding base.
According to Australian Merino Sire Evaluation Association chief executive officer Ben Swain, the Coonong Station Dohne trial is also unique in the extensive range of information being collected.
"The Coonong trial is the most progressive site in terms of its research, all the progeny are genomically tested and data is being collected on meat eating quality and reproductive performance," he said.
"Five years ago, no-one was genomically testing sheep or assessing meat eating quality and reproduction, the Dohne trial is really at the forefront of the sheep industry when it comes to measuring these traits.
"They will have a very complete picture on each of the rams in the trial, there's really very little more that you could measure on a sheep than what they are measuring at Coonong.
"Having a Dohne ewe base also gives breeders an opportunity to assess the performance of full Dohne progeny."
Established by the Australian Dohne Breeders Association in 2021, the sire evaluation trial at Coonong comprises 12 Dohne rams entered from breeders in NSW, South Australia, Western Australia and Victoria.
Two Poll Merino sires that are linked across Merino Lifetime Productivity project sites and years and represent dual-purpose traits in the program are also being used. One Dohne ram is also a link sire in the Merino Lifetime Productivity project site at Balmoral, Vic.
A range of data has been collected and recorded on the ewe and wether 2021-drop progeny including wool traits, eye muscle depth, fat depth and body weight.
The wether portion was processed at Gundagai Meat Processors, NSW, with lean meat yield, carcase weight and meat eating quality evaluated.
The next phase of the Coonong trial is focused on reproduction traits. The ewe progeny were kept and joined, with their lambs on the ground now. Depending on available funding, the ewes will be mated for a second time.
"The ewes' reproductive performance will be evaluated, including conception rate, how many fetuses they have on board, how many lambs did they rear through to weaning and the weaning weight of those lambs."