Dohnes working a treat at Raywood
By Kylie Nicholls The Land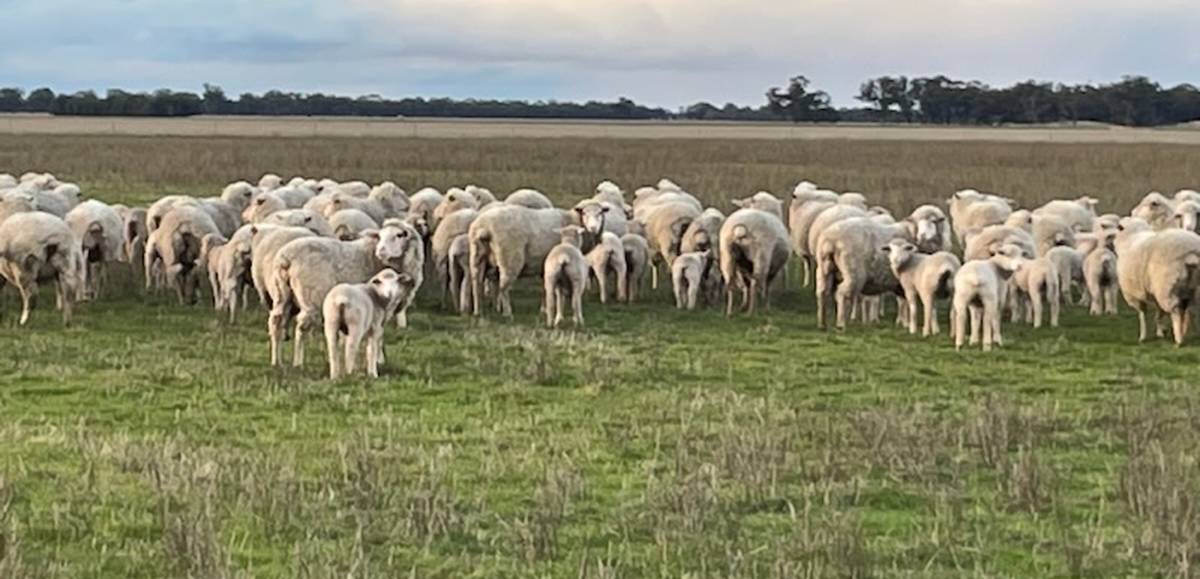 The Crapper family, Elysian Downs, Raywood, Vic, have been running a self-replacing Dohne flock for the past six years with excellent lambing results. Picture supplied
The dual-purpose attributes of the Dohne breed have given mixed farmer and livestock agent Mick Crapper, a significant boost in the fertility and productivity of his sheep operation.
Based at Raywood in central Victoria, Mr Crapper and his wife Margaret introduced Dohne sheep to their enterprise mix about six years and continue to be pleased with their performance.
Along with running his farm, Mr Crapper managed Rodwells & Co in Bendigo for more than 30 years and although now semi-retired, still has some local clients he looks after.
"I have been going to sheep sales for years and you can go somewhere like Hay and be paying $350 to $400 for replacement young ewes," Mr Crapper said.
"I was attracted to the Dohne breed for their dual-purpose traits and being self-replacing also made it more commercially viable.
"I've got a couple of clients who have switched to Dohnes too."
The Crapper family now run 800 pure Dohne breeders on their 600-hectare property, Elysian Downs, while their son Justin and his partner Jayne manage the cropping program.
Mr Crapper has been sourcing his Dohne rams from Darren and Fiona Cameron's Koonik stud at Goroke, Vic, with a focus on structure, wool quality and docility. He prefers to select rams by eye, before using objective measurements to better inform his decision.
"We look for a plain-bodied, moderate-framed size sheep that stands up well with an evenness of crimp throughout the fleece and nice, bright, white wool," Mr Crapper said.
"I'd rather go a little bit stronger in the micron than finer as it means I'll get a bigger frame and have a bigger lamb to sell."
The adult ewe flock currently averages 19 to 20 micron with a wool cut of about 5.75 kilograms a head.
All the ewes are joined in November for five weeks to start lambing from April onwards.
Although Mr Crapper generally doesn't pregnancy scan, he said the Dohne breed's fertility and mothering ability ensured high marking rates were achieved.
Current marking rates average about 125 per cent for the adult ewes and about 80pc for the ewe lambs which are joined at 10 to 11 months of age.
"But this season I did pregnancy scan as after the floods and the very wet spring we had last year, I was concerned about how they had joined up," Mr Crapper said.
"The numbers weren't as good as other years, so I rejoined any good young ewes and ewe lambs which were empty in March and they will start lambing in July."
The ewes are run on dryland lucerne pastures through the summer and will be supplementary fed good quality pasture hay during autumn, if required.
The lambs are weaned in September and then shorn in late October or early November about six weeks before sale time for presentation.
Mr Crapper will start selling the wether lamb portion from early February onwards through the Bendigo Livestock Exchange at about 55kg plus live weight. He has also grown them out and sold them over the hooks.
"Last year the tops of the wethers made $240 a head and averaged about $230/hd as autumn lambs and the year before they made similar money," Mr Crapper said.
"It's just weight and quality anywhere you go and the Dohne lambs stand up to the best of them."
Most of the ewe lambs are kept as replacements and classed on structure, particularly feet, wool quality and size.