Australian Sheep & Wool Show, Bendigo VIC – CANCELLED
July 16, 2021

-

July 18, 2021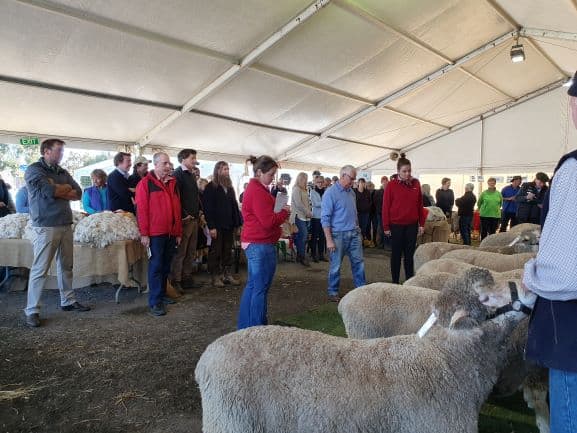 15 July 2021 – Following the state government announcement this afternoon, the Australian Sheep and Wool Show is cancelled for 2021. We are so very sorry about this and understand how much you have invested in your site and your presence at this event.
Australian Sheep & Wool Show, Bendigo VIC
Bendigo Showground, Bendigo VIC
16th, 17th and 18th July
The Dohne Marquee will be a buzz of activity for sheep breeders and interested visitors with a big showing of first class Dohne genetics all under the one roof.
Friday 16th July
8.30 am – Fleece judging – Tegan Falkiner, Elders  
9.45 am – Tech Talk, Fox & Lillie
10 am – ASBV explanation – Emma McCrabb, Sheep Genetics
10.30 am – Fleece judging overview – Longerenong Ag College
11 am – Fleece judging – Longerenong Ag College
12.00 – Lunch
1 pm – Sheep judging overview, Gary Simpson, Arcadian Wool  – Longerenong Ag College
1.30 pm – Sheep judging – Longerenong Ag College.
2.30 pm – Tech talk, Sheepmatters
2.45 pm – Longerenong Ag student judging explanation
3.30 pm – Awards ceremony …. Students & Fleeces
3.50 pm – Tech talk, Schneider Wool
4 pm – Informal within stud exhibitor judging – ADBA classer
5.30 pm – close
Saturday 17th July
9.30 am – ASBV explanation and fleece judging overview, Tegan Falkiner – Moama Grammar
10am – Junior Fleece judging – Moama Grammar
11.15 am Tech talk, Schneider Wool
11.30 am – Sheep judging overview, Gary Simpson – Moama Grammar
12.00 – Sheep judging – Moama Grammar
1 pm – Lunch
1.50 pm – Tech talk, Sheepmatters
2 pm – Moama Grammar student judging explanation 3.30 pm – Student awards ceremony
3.50 pm – Tech talk, Fox & Lillie
4 pm – Informal within stud exhibitor judging – ADBA classer
5.30 pm – close
7 pm – Informal member dinner
Sunday 18th July
10 am – Informal within stud exhibitor judging – ADBA classer
11.30 am – Tech talk
2 pm – ADBA AGM
4 pm – Close
Event Sponsors