February Newsletter 2018

Sign Up to receive Dohne Newsletters – Click Here
Full Newsletter – PDF Copy
Council Report
Council Face to Face
Council's annual Face to Face meeting will be held in Adelaide from the 13 to 15 February.Following the face to face some councillor's will be attending the Balmoral Lifetime Merino Productivity Project Open Day on the Friday 16 February. This event has seen the Dohne breed perform well in growth rates and eye muscle.
International Dohne Merino Conference and Tours
This event has been well supported with  36 delegates attending (15 Australians, 11 South Africans and 10 from Chile and Argentina).
It is not too late to be a part of this special event.
Registration Form – Click Here
Please submit your registration forms to Tanya Barton
Pre-Tour and Conference, Uruguay – Monday 16 April to Friday 20 April 2018
Post Conference Tour, Argentina and Chile – Sunday 22 April to Saturday 28 April
UPDATED Preliminary Program – Click Here
Syndicate Sire Pedigree
The 2017 Annual General Meeting of the ADBA approved the use of Syndicate sire matings for Dohne Stud flocks in addition to single sire matings that have been required in the past. Up to 30% of an annual progeny drop can be from syndicate matings. If you have any questions in relation to Syndicate sires mating please contact Allan Casey or Rachel Browne .
For more information on Syndicate Sire Mating – Click Here
Dohne Journal
Thank you to all members who have supported another high-quality journal this year.These journals will go to print on the 20 February, so that they can be promoted at field days and rams sales throughout the year and in addition to the upcoming International Dohne Conference and Tours in South America in April 2018 and Lambex, in August 2018, in Perth WA.
In a coup for the breed, Rachel Browne has managed to get the upcoming journal in each delegates gift bag (880) at this years Lambex.
If you haven't sent your adverts in please do so ASAP – Tanya Barton 
Australian Sheep and Wool Show 2018Classes:
Print Copy – Click Here
Previous showing exhibitors
Class 1 – Single Ram 2 – 5 year old  – 1st, 2nd, 3rd
Class 2 – Pen of 3 Rams 2 – 5 year old – 1st, 2nd, 3rd
Class 3 – Pair – 2 sons of a sire or sire and son 2 – 5 year old – 1st, 2nd, 3rd
New showing exhibitors and/or small breeders
Class 4 – Single Ram 2 – 5 year old – 1st, 2nd, 3rd
Class 5 – Pen of 3 Rams 2 – 5 year old  – 1st, 2nd, 3rd
Class 6 – Pair – 2 sons of a sire or sire and son 2 – 5 year old – 1st, 2nd, 3rd
Class 7 – Champion single ram (classes 1 and 4)
Class 8 – Champion pen of 3 rams (classes 2 and 5)
Class 9 – Champion sons of a sire or sire and son (classes 3 and 6)
All classes to be judged on uniformity and trueness to Dohne type both subjectively and objectively.
Conditions of entry  – All rams must be
Registered with the ADBA
Current Brucellosis accredited
Bred by the exhibitor
Between 2 and 5 years of age
Maximum of 5 entries per stud prefix
Exhibitor to be a current financial member of the ADBA and Sheep Genetics
Shorn between 1st and 7th April 2018
$150 fee per ram
Data to come from the June 2018 2nd analysis
Entries close Friday May 4.
Fleece competition (Dohne marquee)
3 Fleece – to be judged on quality and uniformity – Champion
For further information and expression of interest contact Murray Rogerson 03 5577 8248.
Blood Cards
Blood cards can also be used when submitted with a small semen sample; as per blood samples. This is particularly useful if a Sire has died, but some stored semen could be placed on the card and sent for testing.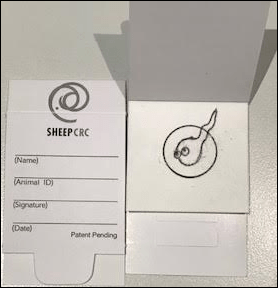 For more information contact Allen Kelly 0409 018 943.
Brett's Blurb (Brett Wilson, Dohne Data Manager)
Sheep Genetics Report: Episode 2.
The second report from Sheep Genetics that needs investigating is the Genetic Trend Report.
This report is a tool for all breeders to use to get an understanding of the studs results compared to the entire Dohne breed.
The top bar graph is a simple comparison of your studs' average index per year compared to the Dohne average. This is the broad view of performance using the current Dohne index.
Below the bar chart there are 8 line graphs. These graphs illustrate your performance compared to the Dohne average for each of the major triats.
The 4 line graphs on the left cover the meat traits of WWT, PWT, PFAT, and PEMD.
The top 3 graphs on the right side are for the fleece traits of YFD, YCFW, and YFDCV.
The last graph on the bottom right hand corner is for Reproduction (NLW).
The tables of data at the bottom are the actual figures for your stud and the breed that is graphed for each of the traits and the index.
There are 2 important notes regarding the Genetic Trend reports.
Your breeding objective may not be the same as the current Dohne index. This report is a guide to your performance, but you should look closely at each of the individual traits to ensure you are achieving your objectives or those of your clients. Some breeders will focus on the meat traits while others chase wool performance and a small group are working hard on reproduction. Focusing on certain areas may affect the overall performance picture but you could be achieving your goals.
The final image on the Genetic Trend report can be found in the bottom right hand corner. This simple table illustrates the linkage of your flock to the rest of the breed. All Dohne flocks should have linkage (Yes) for Fleece, Weights, and Carcase. We achieve this perfect linkage result by following the Dohne bylaws, collecting full pedigree, birth data, and the two stages of performance data. However only a few studs would have Reproduction linkage, and this is the area we need to work on. I need all the dry ewes and dead lambs, accurate birth records and rear type and we need to build this data over a few years to achieve Reproduction linkage. WEC (Worm Egg Count) is a concern for some studs but not all.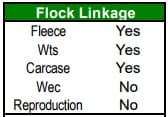 Next time will be a close look at the Individual Listing report, till then happy data collecting.
Regards Brett