February Newsletter 2019

Sign Up to receive Dohne Newsletters – Click Here
Full Newsletter – PDF Copy
Muresk Institute: Voluntary Contribution
The ADBA would like to acknowledge the outstanding voluntary contribution that Ian Hanna, Rhys Parsons, and Rachel Browne have made toward the betterment of the Muresk Institute.
The Association is fully behind encouraging the skill development of the next generation of Australian farmers, and believes that their exposure to the features and benefits of the Dohne breed will help not only these young people in their careers but also in the ongoing strengthening of the breed as well. The Association would like to express its gratitude to the important role that ADBA members have made to the Muresk Institute through involvement with its Advisory Committee or in assistance with the On-Farm program.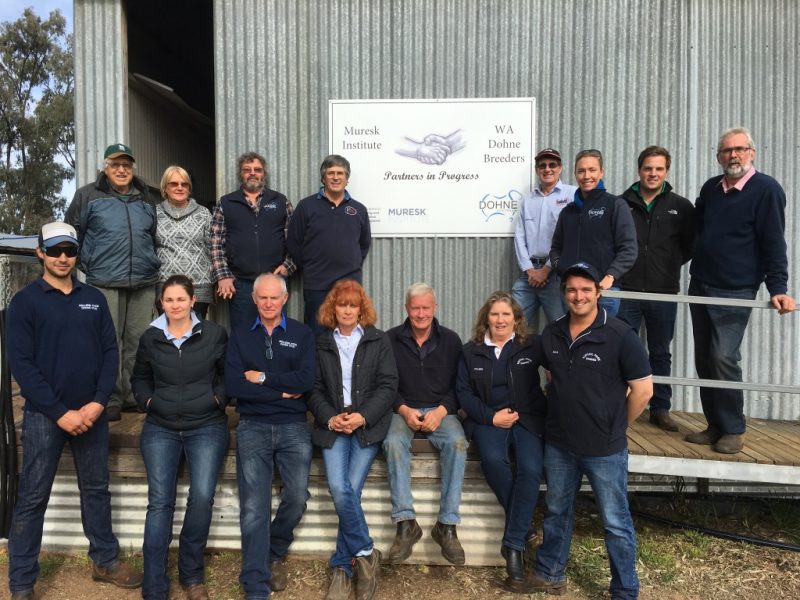 Western Australian Dohne Breeders at Muresk Institute with the late Cameron McMaster and his wife Rhoda.
Councils' Annual Face to Face Meeting
Council will conduct the annual face to face meeting on Sunday 24 to Tuesday 26 February in Armidale. This provides the opportunity for sub committees to present researched recommendations to council. If any members have topics/issues that they would like council to address at this meeting please email Cameron Hills .
Council extends complements of the season and best wishes for the year ahead to all members. Our thoughts in particular, go out to those in severely drought affected areas.
2019 Dohne Journal
Thank you to all members who have supported another high-quality journal this year. Like last year these journals will be distributed to each state so that they can be promoted at field days and sales.
If you would like to advertise in this edition and haven't booked yet please contact Tanya Barton asap 0429 208 674
Adverts need to be submitted by Friday 15 February.
Please email your advert to
2019 Australian Sheep and Wool Show
Marquee Fleece Competition
Show Ram Judging including a state of origin competition
Charity Lamb Auction
People's Choice Judging Competition
Guess the weight of the Wether Lamb/s Competition
Helmsman Sire Sale
Exhibitor Guidelines
Show rams must be machine shorn on 1st & 8th March 2019.
Only 2 and 3 (2016 & 2017 drop) year-old show rams shall be accepted for judging.
A maximum of 4 show rams per stud
Judging Criteria
50% subjective
Conformation 20%
Type 15%
Wool 15%
50% objective
PWT 10%
YCFW 10%
PEMD 10%
PFat 10%
YFDCV 10%
All classes to be judged on uniformity and trueness to Dohne type both subjectively and objectively.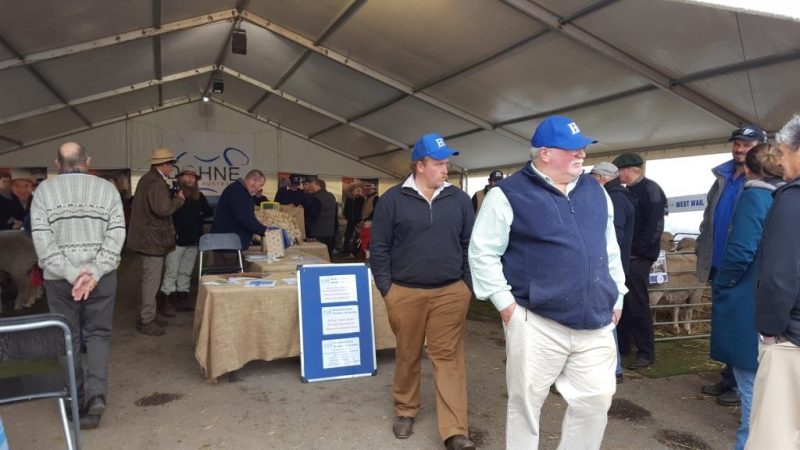 2018 Dohne Marquee at the Australian Sheep and Wool Show, Bendigo VIC
Preparing for the year ahead
In preparation for the year ahead, we urge all members to promote their sales and events on the ADBA website and social media platforms. The earlier you provide your sales and events the longer it will be promoted for. The association is also looking for general Dohne photos and videos to use on social media. Please email or text: Tanya Barton 0429 208 674.
Timely Data Submission
Brett Wilson needs to check all Dohne data before submitting it to Sheep Genetics on the 7th and 21st of each month. To make sure your data is submitted in the analysis you require, you must have your data to Brett 3 days before the analysis dates, i.e 4th and 18th of each month.