First Muresk intake celebrates graduation
PETER LEE Farm Weekly
20 Apr, 2017 10:08
It was a team effort involving Muresk, Charles Sturt University (CSU), Central Regional Tafe, an advisory committee, a lot of individuals, plus the secret element – Royalties for Regions (RfR) – and they all came together as the first cohort graduated from Muresk last week.
The Bachelor of Agricultural Business Management (BABM) is awarded by Charles Sturt University (CSU) and the course is run in partnership with Central Regional TAFE on the Muresk Campus, with the 2017 graduands starting their course at Muresk in 2014.
The Head of School of Agribusiness, Professor Christine Storer, welcomed a large crowd of students, staff, parents, sponsors and well-wishers as the first group to graduate under the new arrangements with CSU received their degrees.
Only 10 students were in the first cohort to graduate, with numbers of graduates expecting to double next year, but all were Western Australians and from areas as widespread as Morawa, Westonia and Denmark.
All graduates are already employed, two of whom are studying for teaching qualifications, one is doing honours, while two are involved in operating family businesses.
As always, Muresk graduates end up in a wide variety of professions, with one new graduate, Meckering farmer Jodi James, already involved in the innovative "Lamb in a Box" initiative that markets their lamb into Perth.
Another graduate, Louise Fraser, developed the business plan for the family business, the Bakers Hill Pie Shop.
Curtin University, when it was the owner of Muresk, was always concerned about the cost of operating a remote campus, whereas CSU, which is centred in Wagga Wagga, specialises in them.
Not only does CSU have a presence in Brisbane, Sydney, Canberra and Melbourne, it operates in many regional centres through the east coast and now in WA.
One of the features of CSU which makes it such a perfect fit for Muresk, is its history of close involvement with the industry it serves, with the list of sponsors and donors demonstrating its success in this aspect.
Although gratefully acknowledged, the use of RfR remains in the minds of those who are concerned about the future, for Muresk does not yet have the numbers of students needed to make the courses viable.
The funds transferred so far to Muresk are referred to as "transitional funding", not a problem in itself, but it is yet to be seen how long the government as "owner" of RfR will continue with its financial support.
It is unreasonable that an enterprise of the size and potential of Muresk should have to rely on a political source of funds, especially when faced with a government that is both short of money and also reassessing the operations of the RFR.
But the awards celebration in 2017 concerned itself with celebrating its first cohort of graduates and its anticipation of more celebrations with more graduates in the years to come.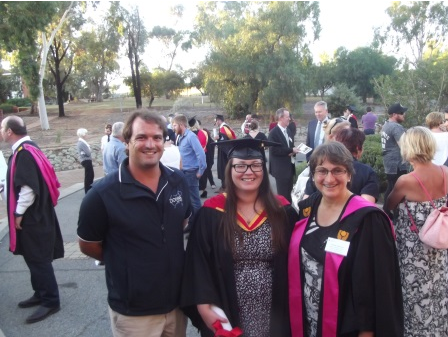 Relaxing after the awards presentations were Rhys Parsons (left), Dohne Breeders' Association, Kateland Jury, graduand and Wendy Dymond, Agribusiness lecturer.