George Hamilton of Farmer George lamb at Mudgee focuses on holistic management practices
By NICOLA BELL, The Weekly Times September 15, 2016
THE holistic management practices George Hamilton has implemented on his farm have hit the right nerve with city consumers.
The approach is improving the bottom line of his business, the ecology on his farm and his quality of life.
George, his wife, Tracy, and their adult children, Madie, Angie and Pat — who all help out in their own way — operate Farmer George, a boutique paddock-to-plate lamb business from a 248ha property near Mudgee in centralwest NSW.
Having farmed on the property for 30 years, George has completely changed the business model in the past six years.
The Hamiltons run 580 ewes, which are mostly Dohne ewes crossed with Dohne and White Suffolk rams to produce prime lambs.
George said he was in the process of changing to black Suffolk rams over the ewes to produce a second-cross lamb for the Farmer George brand.
The brand started after George's friends in Sydney complained about the lack of quality fresh lamb available in the city.
He then began selling and delivering lamb to his city friends.
One of his friends had already nicknamed him Farmer George. The name stuck and the business grew from there.
"Madie thought we needed to be more professional about it, so she developed a website and it took off," George said.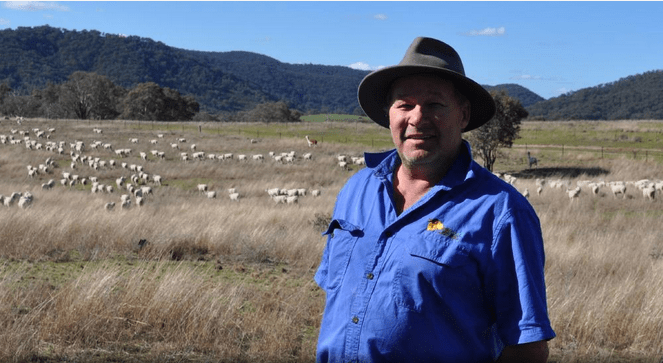 George Hamilton runs Farmer George Lamb, a boutique paddock-to-plate lamb business at Mudgee in NSW.
MARKET WATCH
INITIALLY the lamb was ordered online and delivered once a month to Sydney and surrounds by George himself.
But this changed when the Carriageworks Farmers' Market, in inner city Eveleigh, asked Farmer George to participate.
George said they started attending the market once a month but the reception was so good they've attended every Saturday for the past 18 months.
As well as attending the farmers' market, they sell cuts of lambs through online orders.
Most of the lamb is sourced from the Hamilton's property but to ensure consistent supply George buys lambs from local farmers who produce lambs in a biodiverse way.
Lambs are processed at a local abattoir, the meat is butchered by a Mudgee butcher then packaged in cryovac to ensure freshness.
Lambs are grown to 18-22kg carcass weight for slaughter.
George said quality and fresh taste were what set his lambs apart.
Others must think the same — Farmer George lamb was recognised with a delicious Produce Awards this year for its lamb rack.
George said the concept behind Farmer George was to "keep it simple, keep it fresh, keep it wholesome", something which is carried right through from the paddocks.
NATURAL INSTINCT
GEORGE did a holistic management course and has been practising holistic management and cell grazing practices since 2000.
The entire 580 ewes are run together and are moved through a cell grazing program involving a new paddock every two to three days.
A grazing planning chart helps guide a full recovery of grasses in the growing period, with the mob not going back to graze a paddock for about 60 days.
"We monitor the feed and know six months in advance how much feed we will have," George said.
George said he had 44 paddocks ranging in size from 2.4ha to 4.8ha. The smaller paddock size helps sheep graze down a whole paddock.
"In large paddocks sheep graze in certain spots, but when they are confined to a smaller area they go looking for feed," George said.
Lambing occurs in September and George said he doesn't wean lambs, which are left running with the main mob until they are ready for slaughter.
TUCKERED OUT
SUPPLEMENTARY feeding is rarely carried out and only occurs if the ewes really require it during lambing.
The main native grasses include wallaby grass, red grass, kangaroo grass and microlena.
Water for the paddocks comes from a main spring-fed dam, and solar pumps take water from the dam to a tank then to a trough in each paddock. Waterways have been fenced off to repair erosion damage.
George is trialling pasture cropping and has planted oats at the edge of some paddocks to allow more air for the native grasses.
He no longer sprays out a paddock or ploughs it.
"Holistic management has changed my attitude and way of thinking," George said.
"It is great to have a different outlook instead of being a high-input business and eating out paddocks. I have few inputs and plenty of grass.
"If I was a doctor and doing things like they did in the '50s, '60s or '70s, I'd be locked up, so why are farmers still using the same practices?"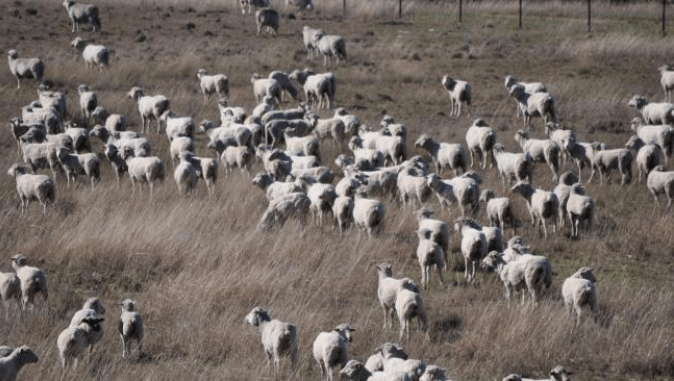 George Hamilton started his brand after friends in Sydney complained about the lack of quality lamb available in the city.