GET IT DONE WITH A DOHNE
WITH the Australian sheep industry better placed than ever before, there isn't a better time for sheep producers to be in Dohnes.
And some producers who haven't converted to the breed may be asking why they should? There are several answers as to why it can be 'done with a Dohne'. Through environmental and commodity factors, the country's sheep numbers have been decimated to the lowest level since the early 1900s.
The industry is calling on producers through programs and media to increase the country's breeding flock to more sustainable levels. This can be 'done with a Dohne' due to the breed's superior fertility traits.
This means it is not uncommon for the breed to record lambing percentages of up to 150pc and producers to wean 0.5 more lambs per ewe than their Merino counterparts.
On the other side of the coin, sheep meat, wool and breeding ewe prices, although fluctuating across the country, have remained strong and producers with a breed of sheep that covers all these bases can take advantage of the strength of these markets with the one breed. This can all be 'done with a Dohne'.
The highly fertile Dohne is a true dual purpose sheep. Selective breeding over seven decades has resulted in an animal which is not only very fertile, but also has ease of lambing, good mothering ability to produce lambs with high growth rates and excellent muscling, which are suited to the domestic and the export lamb markets.
The quality of its meat is unsurpassed and carcasses have proven to be top quality when judged against many other breeds in competitions throughout Australia. Purebred Dohne ewes can produce four to six kilograms of high quality, 18 to 22 micron wool similar to the tradition of the great Australian wool clip.
Dohne ewes also command a premium in the saleyards as purebred and crossbred Dohne ewes can be run as a selfreplacing, meat-wool enterprise, eliminating the need to buy in replacement or traditional first cross ewes as with other prime lamb breeds.
The first Dohnes bred in South Africa in the late 1930s were bred out of a need to produce a dualpurpose sheep that helped producers cope with the rigours of a harsh environment and changing market demands, something that Australian producers have experienced in the last few years.
While the breed may have been developed in South Africa, today Dohnes are surviving and thriving in a range of environments from pastoral areas with a 150mm annual rainfall through to the southern areas of Australia and even New Zealand where producers receive up to 1000mm of rain or more.
Along with being versatile in terms of the environments in which they are run the breed is also very versatile in terms of the other breeds of sheep it can be crossed with to achieve superior results due to the hybrid vigour of the cross.
Producers have reported excellent outcomes using the breed over a variety of sheep from small frame, fine wool Merino ewes through to first cross Border Leicester, Coopworth and Corriedale ewes.
When used over traditional Merinos, Dohne producers report achieving better lambing percentages, higher weaning rates, less body wrinkle and better milk production.
Producers using them over Coopworths and Corriedale ewes are seeing a drop in micron, an increase in lambing percentage and a decrease in mature ewe weight, leading to higher stocking rates.
The value of an extra kilogram or two of wool is easily surpassed by the benefits of higher lamb production and other laboursaving efficiencies of running Dohnes.
Producers who have already recognised these benefits of the Dohne breed and made the change were able to capitalise on these strong markets over the last 12 months and have set themselves up to do the same in the future.
This publication promotes the Dohne breed with a strong commercial focus. It highlights commercial producers and their stories of moving to the Dohne and the resulting successes, so you too can get it 'done with a Dohne'.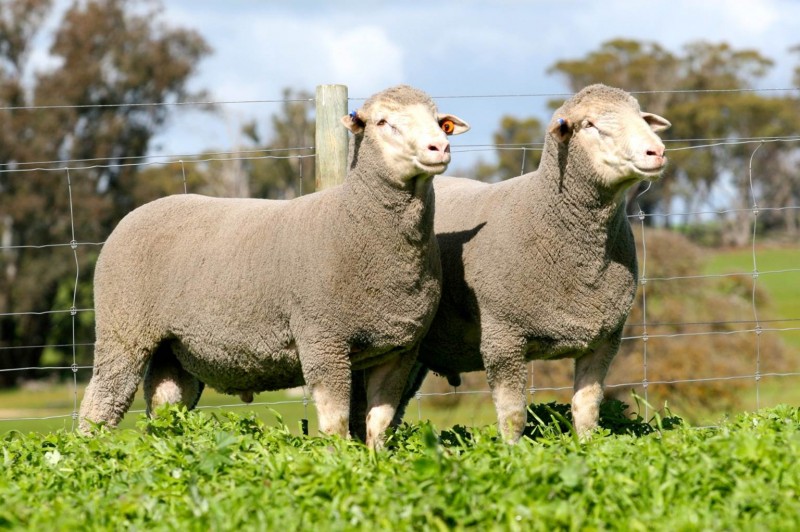 Dohnes are run in pastoral areas of 150mm rainfall to 1OOOmm rainfall areas in southern Australia. The quick growth of Dohne lambs, higher than the average lambing percentages of Merinos and the Dohne's ability to hold body condition in tough times along with the production of quality 19-21 micron wool are just some of the attributes that sets this breed apart. The Dohne can and is a totally self-replacing breed, reducing the risk of introducing disease and lice and reducing the cost of buying in ewes.