Graziers Rethink Wool Clip Purpose at Coonong Station
SOPHIE & TOM HOLT
COONONG STATION,
URANA, NEW SOUTH WALES
WHEN Coonong Station wool failed to meet its reserve price at auction, property owners Sophie and Tom Holt turned their focus to value-adding the product.
The Holts always dreamed of spinning their own wool and as one door closed, another one opened.
Fourteen bales of Dohne clip were in limbo as the couple considered their options.
After some research, the couple contacted two Victorian processors who were able to help prepare the wool for a spinner on the Mornington Peninsula.
The decision to value add their wool hailed from their commitment to run an ethical and sustainable operation which follows environmentally sustainable land management practices.
"We plan to spin them into blankets, knee or a baby blanket, and because we're so proud of how our wool has grown, we want to see if people are interested in buying a woollen blanket made in Australia from our sheep and our story," Mrs Holt said.
Coonong Station is the largest accredited Responsible Wool Standard grower in Australia, a set of guidelines established by the European Textile Exchange.
The Holt family have owned the 28,000-hectare Riverina property at Urana, NSW, since 1971 and run about 32,000 Dohne, non-mulesed sheep.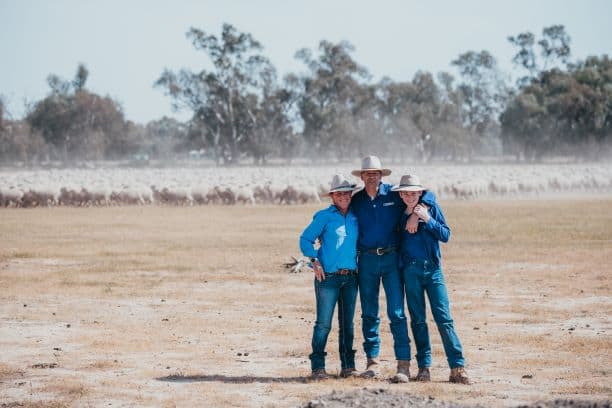 Sophie and Tom Holt, with son Thomas on their Coonong Station property.
The one-metre by one-metre blanket will retail between $220 to $297 and will be spun without any special finishes or dies, only a light wash and comb.
However, the process of spinning the wool required the assistance of two Victorian processors – an industry which has contracted in recent years.
The wool was scoured at EP Robinson, Newtown, a family-run business and one of only two wool scourers in Australia, and one of only two carbonisers in Victoria.
Managing director Jim Robinson, whose late father founded the business in 1980, said prior to coronavirus, there had been a slow but steady increase in producers keen to value-add their wool.
"Some are looking to produce a yarn for sale and some are even producing clothing themselves," Mr Robinson said.
EP Robinson employs about 40 people and exports about 90 per cent of its wool to countries like Japan, Korea, Europe, the UK and India which are not equipped with early stage processing facilities.
The company supports wool traders and also offers a service to producers like the Holts who are looking to have their wool processed on Australian shores.
But Mr Robinson said the growth of China as an early stage processor, a reduction in Australian wool and the effect COVID-19 has taken on the wool industry was mounting pressure on Australian processors.
"Back in the late 1990s there would have been 100 million kilograms of wool that was scoured in Australia per annum but now there's only about four or five million kilograms," he said.
"There's been a huge reduction in the wool clip – we're at our lowest national clip in 100 years – and the rise of China as an early stage processing centre has made the job quite difficult."
During the pandemic, the company has reduced its operating capacity and placed its workers onto the federal government's JobKeeper package.
Mr Robinson said this was largely due to a downturn in demand.
"The world will still need wool so it's a matter of time and I'm cautiously optimistic that given time, we will recover, but there's challenges for sure," Mr Robinson said.
From EP Robinson, the wool was sent to Cashmere Connections, which do top making and dehairing, at Maddingley, Vic.
Owners Trisha and Charles Esson founded the business in 2003 in response to a lack of cashmere processing facilities in Australia.
But over the years, the Essons have diversified their business due to a shift in market expectations, equipping themselves to process alpaca and sheep wool.
Mrs Esson said she had noticed a movement in the last five years by woolgrowers who were keen to value add to a portion of their wool.
"We've got customers from South Australia, New South Wales and Victoria and this is where the fibre comes from to be processed," she said.
"We'll process anything from one bale lot through to a few tonnes of wool."
Mrs Esson said one of the biggest mistake producers made was using the "wrong wool for the wrong purpose".
"Coarse wools are really good for outer wear whereas your fine wools with no prickles are good for next to skin wear," she said.
"If the producer is thinking about value adding and producing something for the consumer market, they really need to start with the end product first and know that the end product is something that they can sell.
"There's not much point in producing something that nobody wants and they need to believe in it because often farmers are not the best marketers."
Mrs Esson said the Coonong Station wool was easy to process.
"It was just amazingly soft to handle with just a hint of a lustre. It had a lovely drape so when it goes into some sort of knitted or woven product, it will look lovely," she said.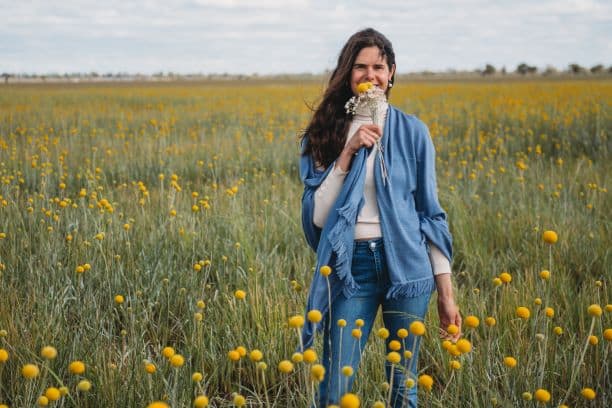 Maria's modelling the Coonong Station Dohne Wool wraps, 100% Coonong Station Dohne Merino Wool, natural plant dyed, spun and knitted in China with Xinao who purchases a lot of Coonong Station Dohne Merino Wool. Humane Certified, Coonong Station are the first wool producer outside of US to be Humane Certified.
Original article written by Bryce Eishold, Stock & Land, June 2020