Hoof and hook competition remembers well known farmer
Taylor Jurd Western Magazine 1 June 2017
The annual Dubbo Show All Breeds Prime Lamb Hoof and hook competition is a much loved event, that allows local and regional breeders to showcase their best lambs.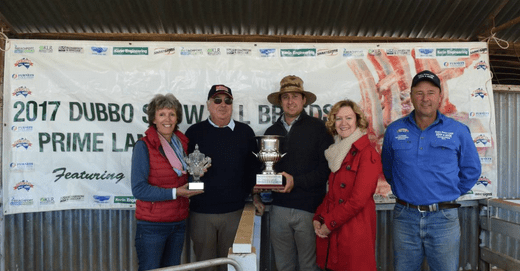 Peter and Margot Hughes, Gullendah Stud, Baldry, with Joe and Karen Hyland, Hyland Dohne Stud, Geurie and Hoof and Hook committee member David Armor. Photo: Taylor Jurd
It is run by a committee of dedicated people who strive each year to not only give these breeders the opportunity to compete, but also encourages young people interested in the industry to enter.
The committee were saddened to hear of the passing of well known Guerie sheep farmer, Peter Hyland earlier this year.
In 2016 Mr Hyland competed in the Hoof and hook competition and won champion pen on the hook.
In a way to pay their respects to Peter, his family and Hyland Stud, the Hoof and Hook committee decided to name this years Champion Pen of Dohne Lambs on the Hook in his name.
​Committee member David Amor said Peter was a well respected man.
"Everyone knew Peter one way or another… in a way this award was a chance to honour his memory," he said.
The Peter Hyland Memorial Trophy Champion Pen of Dohne Lambs on the Hook was awarded to Pete and Margot Hughes, Gullendah Stud, Baldry.
The lambs were bred by Peter, Margot and Andrew Hughes and are pure Gullendah Dohne blood, and were bred on their commercial property "Ardell" at Baldry.
The Hughes's pen of Dohne lambs placed 5th in the export class on the Hook out of approximately 40 entries of Allbreeds, and as a breed, the Dohnes had 3 pens place in the top 10 in the export Hook class.
Mr Amor said this years event attracted 90 pens of 6 lambs made up of many different breeds such as Dohne, Poll Dorsett, White Suffolk, Aussie White, Dorper, Merino, Coolalee, Border Leicester, Dormer, PrimeLine.
The charity auction was a record success with 43 lambs offered to sell to a top of $3400 for a single lamb from Josh and Maree O'Connor's Champion Pen.
The sale grossed a record $27,000 to average $613 with 19 different charities receiving some well deserved funds.
Mr Amor said this years competition was a great day, with blue skies for the strong crowd of over 200 people.
"The committee would like to thank all of our generous sponsors with a special thanks to Fletchers international of Dubbo for their continued and very generous support," Mr Amor said.
He hopes next years event will see even more entries.