HUGO VERA "INTEREST IN ACQUIRING DOHNE GENETICS GROWS EVERY YEAR"
By La Prensa Austral Saturday, May 5, 2018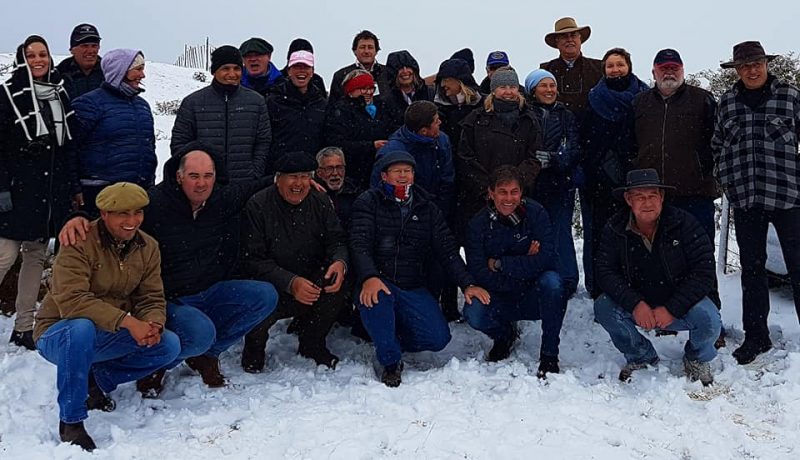 This week and after participating between April 7 and 15 at the 10th international conference of the breed, in Uruguay, the owner of Ranch Josefina toured the region with some thirty experts from South Africa, Australia, New Zealand , Uruguay, Argentina and our country, members of the nascent entity.
Between April 7 and 15, the 10th Dohne Merino International Conference was held in Montevideo, Uruguay, an activity organized by the breeding society of this breed in the mentioned country and whose purpose was to encourage the participation and interaction of producers and technicians. from Australia, New Zealand, South Africa, Argentina, Peru and Chile, who made in this context several technical tours and visits to renowned farms in this area of the South American continent.
Dohne in Magallanes
"In Magallanes there are currently 10 breeding farms of purebred and we estimate that at least 12% of the Magallanes sheep has some degree of this blood," said Vera, stressing that this sheep stands out for its fine wool of high quality and high percentage of lambing, together with a significant weight in lambs at weaning.
Vera added that it is precisely these elements that give special value to the breed and it was in this context that together with thirty producers and breeders from South Africa, Australia, New Zealand, Uruguay, Argentina and our country – members of the nascent Federation-, made last week an exhaustive tour at the regional level.
This was an instance in which the producers could learn about the experiences of raising Dohne Merino in Magallanes, in order to gather information and outline new steps in the productive field. "The interest to acquire reproducers of Dohne increases every year and in the visit that they made to the region, the foreign producers verified the excellent adaptation of this sheep to the local climate, propitious for its development and delivery of products – carnivora and lanar (meat and wool) – of high standard.
One of the activities of the visitors included the visit to the estancia Fortuna -located on the Y-71 route, kilometre 34 of the Porvenir district, in Tierra del Fuego-, where they were received by its managing director, Rodrigo Filipic Gallardo, who gave this positive summation. "The Dohne breed comes very strong and is increasingly required for the quality of its meat and wool, something that goes hand in hand with what the world market demands. Every year genetics are brought, either in embryos or live animals, and more studs are being associated with Australian studs, which allow more bloodlines to be brought to the area. "