July Newsletter 2018

Sign Up to receive Dohne Newsletters – Click Here
Full Newsletter – PDF Copy
Council Report
Australian Sheep and Wool Show 2018
Thank you to all studs that have entered Sheep in the Dohne marquee at the 2018 Australian Sheep and Wool Show. A record (13) number of studs are attending in what is the largest and most prominent Sheep show in Australia.
On Friday there will be an informal dinner at Bunja Thai Restaurant at 7pm, all are welcome.
Judging times;
Group of three fleeces – 1pm Friday 20th
Ram judging – 10am Saturday 21st.
Champions – 2pm Saturday 21st.

Annual General Meeting
The AGM of the ADBA has been set for Saturday, July 21 in Bendigo, to coincide with the Sheep and Wool Show. Members are invited and encouraged to attend. The Shamrock Hotel will be the venue, with the AGM roll in at 6.30pm for a 7.00pm start. A selection of finger food will be provided and bar facilities are available for those who would like refreshments. Please RSVP to Cameron Hills for catering purposes. Accommodation will be the responsibility of the individual.
For more information contact Cameron Hills 08 8210 5229
International Dohne Merino Conference
At the International Dohne Merino Conference in Uruguay, there were guest speakers from across the globe. Most of these presentations are now on the ADBA website.   Conference Presentations
One of the guest speakers was Cameron McMaster from South Africa. Cameron's presentation was on "The Ethics of breeding Dohne Sheep".
The Ethics of breeding Dohne Sheep
Having been involved in a lifetime of sheep breeding with many breeds in many countries I have, after 50 years of close involvement with the Dohne breed, become convinced that it is the most productive sheep breed in the world.
Empirical and anecdotal evidence over my entire career has proved this in South Africa. It was well known in the latter part of the last century that Merino breeders could double their income in three sheep generations with Dohne rams. Evidence in other countries has emerged in recent years to support this claim.
For instance, in motivating an application for funding of the Dohne project in Peru, Dr. William Vivanco compiled a diagram illustrating the potential of different breeds of sheep for fine wool and heavy lamb production. Dohnes are clearly in the leading position. (see Birth of a Breed page xi).
Full Presentation:
Conference Paper   Conference Presentation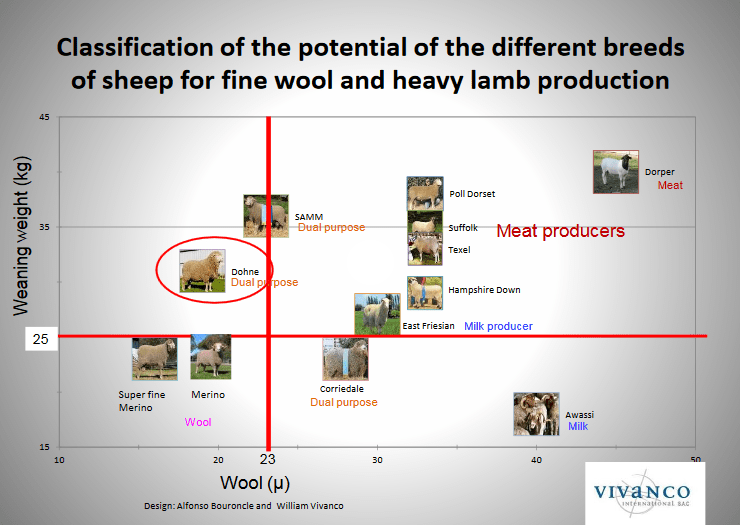 Sheep Week Report
Photos courtesy of Nathan O'Sullivan, Stock and Land.
Day 3 – On Farm Corowa NSW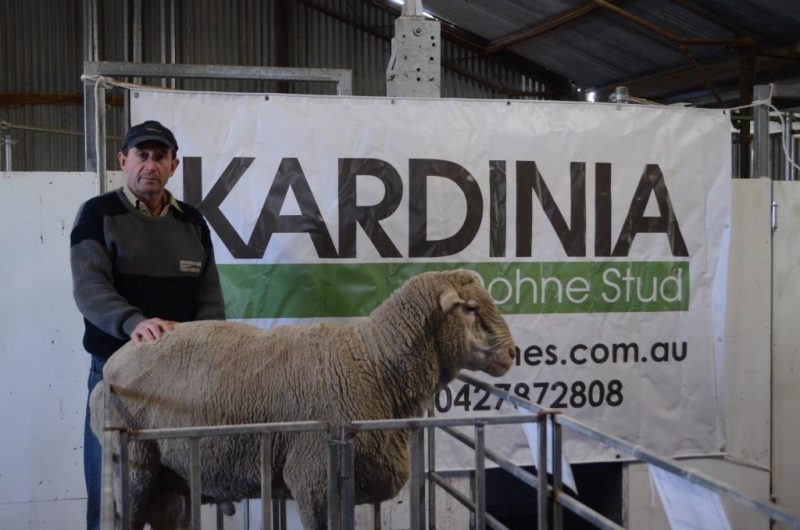 Don Mills, Kardinia Dohne Stud, Corowa NSW
Day 4 – On Farm Glenaroua VIC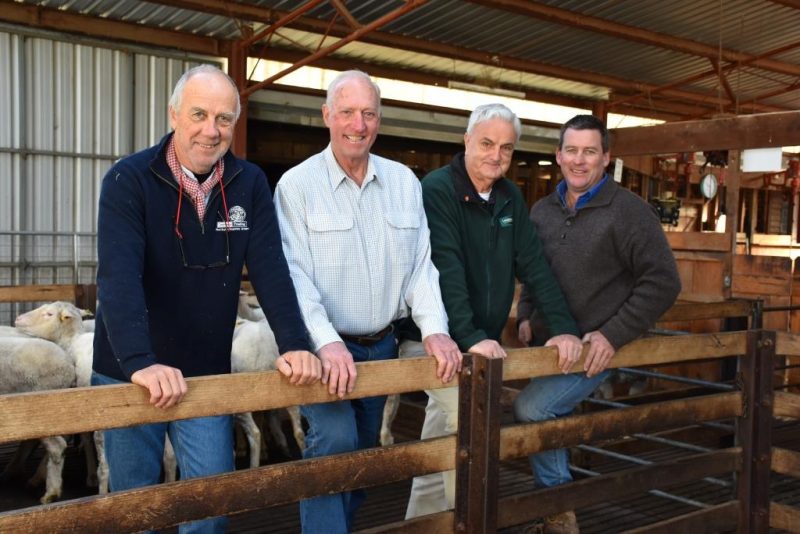 Glenaroua Dohne Stud Display – L to R Techwool Trading north-east wool manager Keith Roberts, Glenaroua stud principal Alistair Greenshields, with Ray Atwell and Leigh Arandt, Landmark.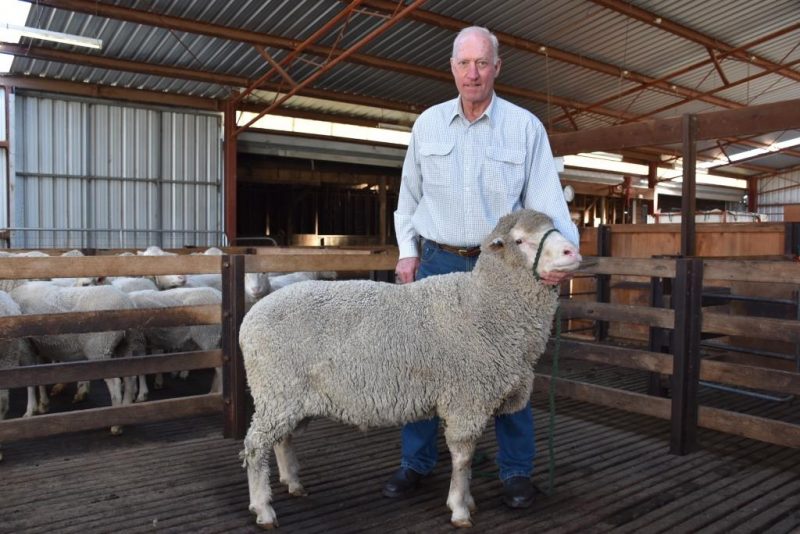 Alistair Greenshields, Glenaroua Dohne Stud, Glenaroua VIC
Day 5 – On Farm Glenthompson VIC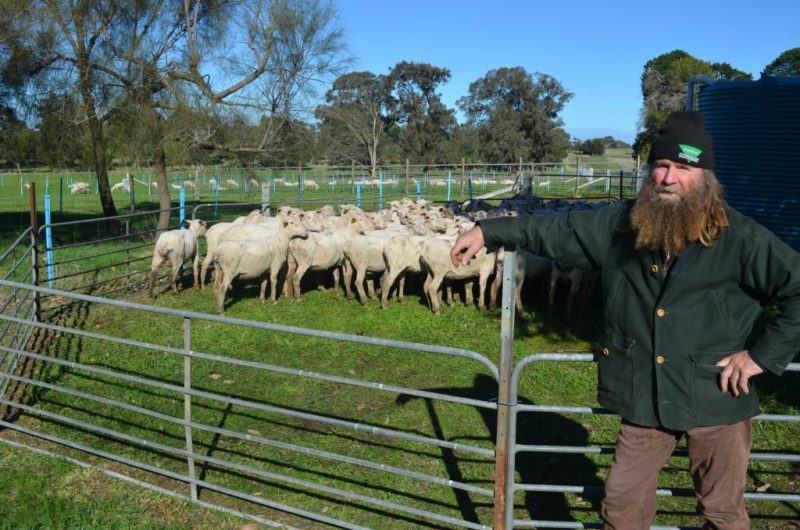 Murray Rogerson, Stirling Dohne Stud, Glenthompson VIC
Day 7 – Group Display St Arnaud Showgrounds, VIC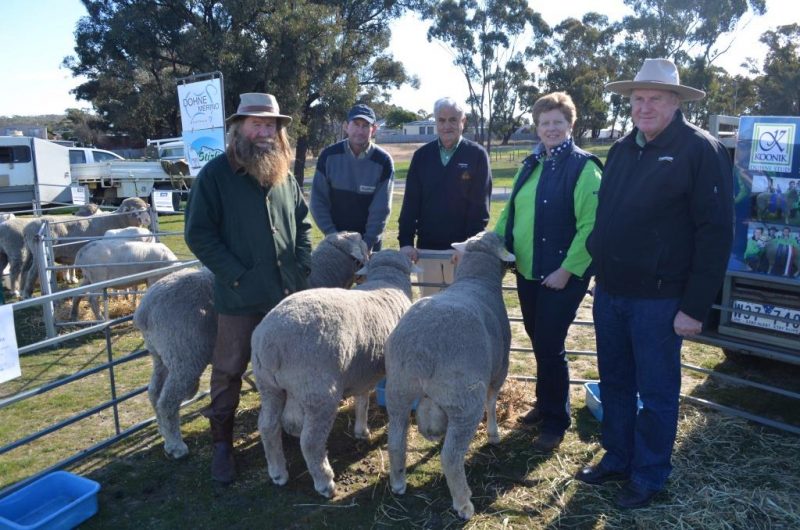 L to R – Murray Rogerson (Stirling), Don Mills (Kardinia), Ray Atwell (Stud Stock Manager Landmark), Fiona Cameron (Koonik) and Steve Chalmers (Stud Stock Landmark).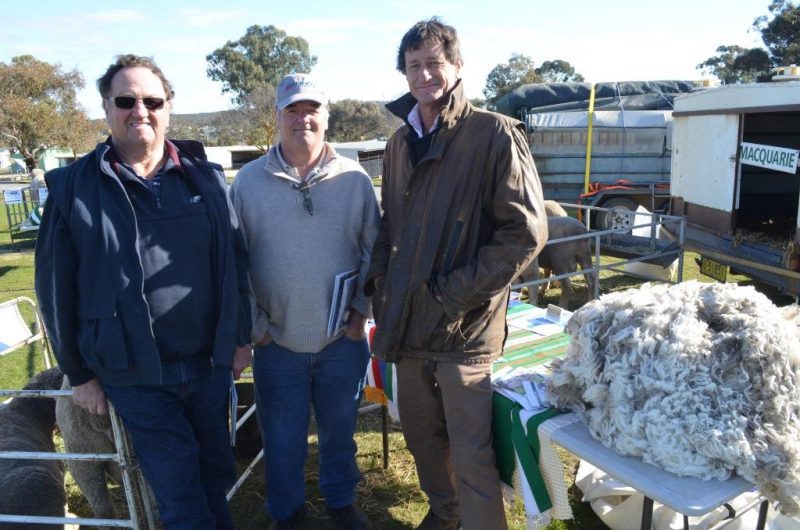 L to R Max and Ian Pilgrim with John Nadin (Macquarie).
Day 7 – On Farm Nurcoung VIC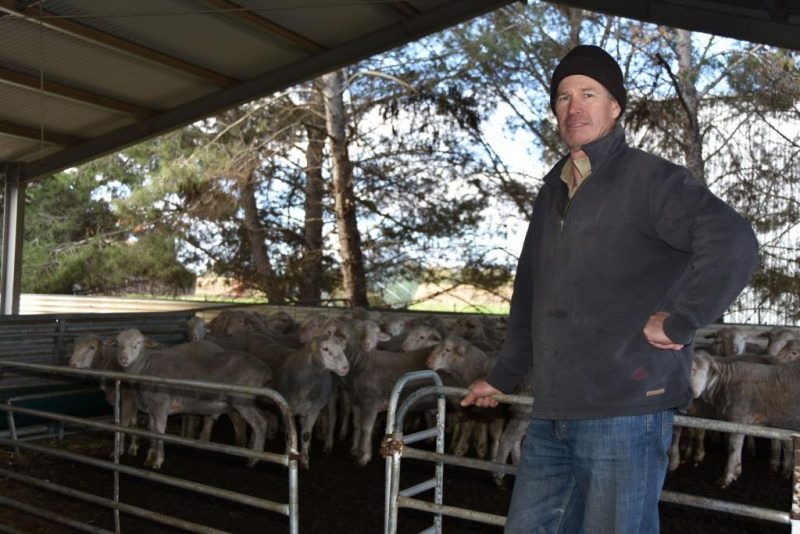 Darren Cameron, Koonik Dohne Stud, Nurcoung VIC
Day 8 – Group Display Penola Showgrounds SA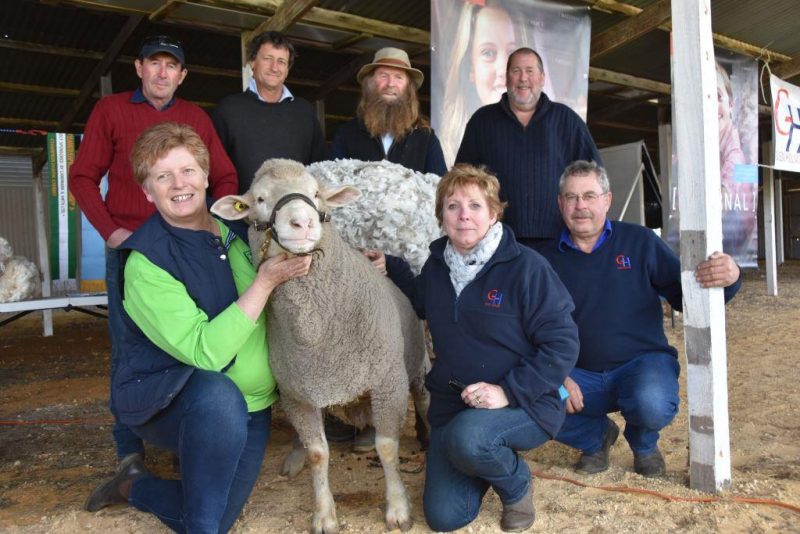 L to R – Fiona Cameron (Koonik), Don Mills (Kardinia), John Nadin (Macquarie), Greg Hall (Ulooloo) Allen and  Joy Kelly (Glen Holme).
LambEx
Western Australia studs Chirniminup, Far Valley, Kintail Park and Mollerin Rock will be on site for LambEx 2018 at the Perth Convention Centre August 5th to 7th. With combined sites, along with the ADBA Business Hub and Muresk right next to them, it stands to be an impressive display.
If you're attending LambEx, be sure to stop by.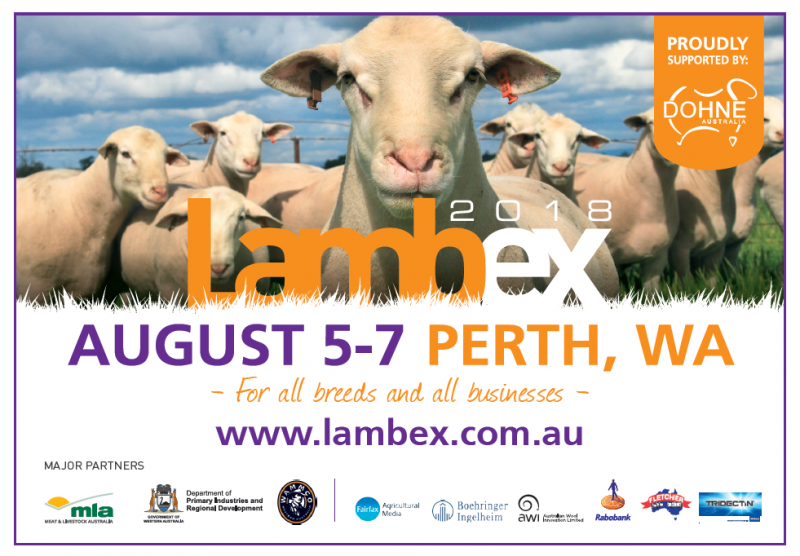 Sheep Genetics Upcoming Regional Forums
Western Australia
Katanning – 10 July
Moora – 12 July
Registration for these is via the Sheep Genetics website. www.sheepgenetics.org.au
Brett's Blurb (Brett Wilson, Dohne Data Manager)
Dohne data submissions have slowed again, please remember the 21 of July analysis I will be in Spain representing Australia in my shooting for that analysis run. I fly out of Sydney on the 19 of July, any data to be included in the July 21 analysis needs to be submitted to me prior to the 17 of July.
Sheep Genetics Reports: Episode 7 the final report.
The Seventh report from Sheep Genetics that needs investigating is the Pedigree Problems report. Not all studs have data excluded from the analysis and may not get this report. If you have not seen one of these reports that is a good thing.
This report is summary of the data for your stud that is excluded from the analysis due to pedigree issues.
This is a very simple report but keep an eye on it looking for issues in Pedigree that need to be fixed. An example of the report displayed below.
The report is broken into sections based on the year of drop, this is shown in the first column of data. Also listed the 16 digit ID of the lambs in question.
The rest of the data explains the reason why the data has been excluded.
The most common reason for the data to be excluded is multiple lambs to the same dam with different Sires or different date of births.
There are other examples, if you cannot understand what the problem is, send me an email.
Important Note: DNA testing for pedigree shows it is possible for lambs to be born to the same Dam from different sires. If you use DNA to determine pedigree, make certain you let me know in your data submission. In this case, I make a comment in the data for each lamb listing "DNA Sire". Then the SG analysis will accept the pedigree.
This is the final Brett's Blurb for a while. I will take a break and concentrate on data management. If I find a topic that needs discussion or somebody asks for a relevant topic to be discussed I will do another Blurb in the future.