July Newsletter 2019

Sign Up to receive Dohne Newsletters – Click Here
Sign Up to become a Dohne Member – Click Here
Full Newsletter – PDF Copy
Linkage
For Dohne breeders, linkage is a valuable tool for benchmarking their flock. It also contributes to the accuracy of the ASBV's generated on their animals.
In moving towards having genomics assist in the evaluation of our flock, is may be helpful to look at some ways that good linkage can be achieved. These need not be costly.
Using a Sire that has been used in another flock either through purchasing semen for an AI program or by buying a 3 or 4 year-old proven sire is an excellent method of improving linkage.
Providing semen from one of your sires for the Reference flock is another.
Participation in a Sire Evaluation trial is another. AMSEA runs these across many sites in Australia.
Offering proven Sires for sale to other studs is helpful.
Where cooperation works for the individuals involved, sire sharing achieves the end goal of linkage.  This may be through purchasing in shares.
Note:- Linkage is not achieved by purchasing a young, untried ram. The reason is that they have not been used in more than one flock.
Sheep Genetics Regional Forums
Sheep Genetics staff are keen to discuss content of their 2019 Regional Forums where ADBA members are encouraged to attend;
11th July 2019 – Perth Western Australia
Please refer to the Sheep Genetics website for further details.
Annual General Meeting
The AGM of the ADBA has been set for Saturday, July 20 in Bendigo, to coincide with the Sheep and Wool Show. Members are invited and encouraged to attend. The Shamrock Hotel will be the venue, with the AGM roll in at 6.30pm for a 7.00pm start. A selection of finger food will be provided and bar facilities are available for those who would like refreshments.
Please RSVP to Cameron Hills 08 8210 5229for catering purposes.
Australian Sheep and Wool Show
The Dohne Marquee will be a buzz of activity for sheep breeders and interested visitors with a big showing of first class Dohne genetics all under the one roof. Thank you to all studs that have entered sheep in the Dohne marquee.
Studs Represented;
Victoria – Glenaroua, Koonik, Stirling, West Wail
New South Wales – Calga, DD, Kardinia, Macquarie, Uardry
South Australia – Glen Holme, Ulooloo
Sponsors; Elders, AWI, AWN, Central West Genetics, Fox & Lillie Rural, Sheepmatters, Landmark.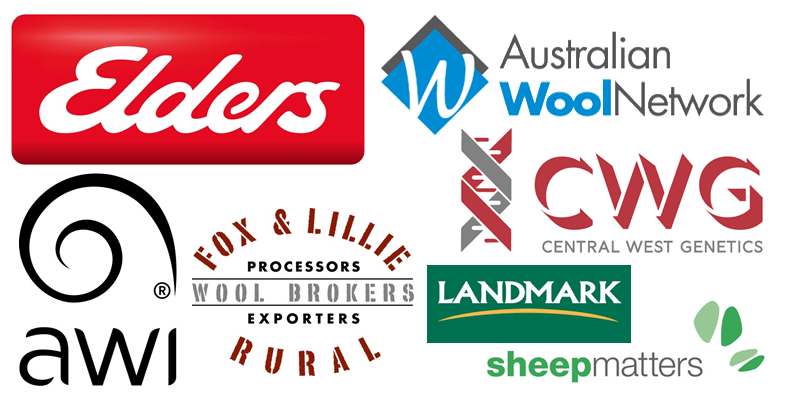 Dohne Marquee Program
FRIDAY 19 JULY
11am – Fleece Competition
12:30pm – Tech Talk (Animal Health)
Dr Ben Linn DVM, BSc (V.B) Veterinary Consultant, The Mackinnon Project
2:30pm – Tech Talk (Farm Management)
Dr Ben Linn DVM, BSc (V.B) Veterinary Consultant, The Mackinnon Project
On Friday there will be an informal dinner at Bunja Thai Restaurant at 7pm, all are welcome.
RSVP: Stephen Reddie 0409 420 452 by Tuesday 16th July no later.
SATURDAY 20 JULY
10am – Tech Talk (Animal Health)
Dr Ben Linn DVM, BSc (V.B) Veterinary Consultant, The Mackinnon Project
10:30am – State of Origin Judging
12noon – Tech Talk (Farm Management)
Dr Ben Linn DVM, BSc (V.B) Veterinary Consultant, The Mackinnon Project
2pm – Tech Talk (Animal Health)
Dr Ben Linn DVM, BSc (V.B) Veterinary Consultant, The Mackinnon Project
2:30pm – National Championship Judging
4pm – Charity Lamb Auction
6:30pm for 7pm – Association AGM

Shamrock Hotel
AWN Guest Speaker – Direct Network Advantage Program
SUNDAY 21 JULY
9am – Sale Registrations
9:30am – Announcements

Guess the Fleece Weight
Guess the Average Charity lamb Weight

10am – Elders Helmsman Ram Sale

Ram Sales
Ram selling season starts this month, upcoming Dohne sales are listed on the Dohne website, if your sale is not listed please email Tanya Barton
Elders Helmsman Ram Sale, Bendigo VIC
10am – Sunday 21st July
12 Dohne Rams – Sale Catalogue
Studs Selling;
Victoria – Glenaroua, West Wail
New South Wales – Kardinia, Macquarie
South Australia – Ulooloo
Sheep Week Report
Photos courtesy of Sheep Week
Day 1 – Monday 17 – Macquarie, Ballimore New South Wales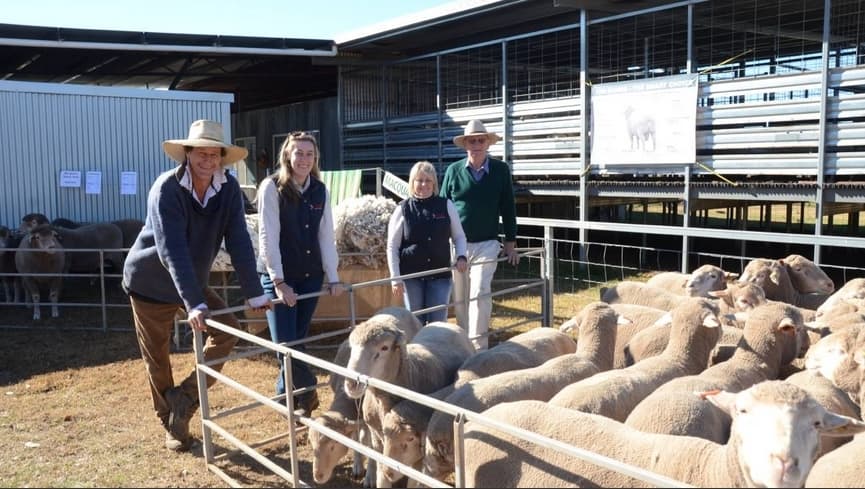 Macquarie: Studmaster John Nadin was snapped discussing this year's sale rams with Central West Genetics' Alicia McConnell and Robyn Tozer, with the Dohne assessor, Allan Clarke of Dubbo.
Day 5 – Friday 21 – Kardinia, Corowa New South Wales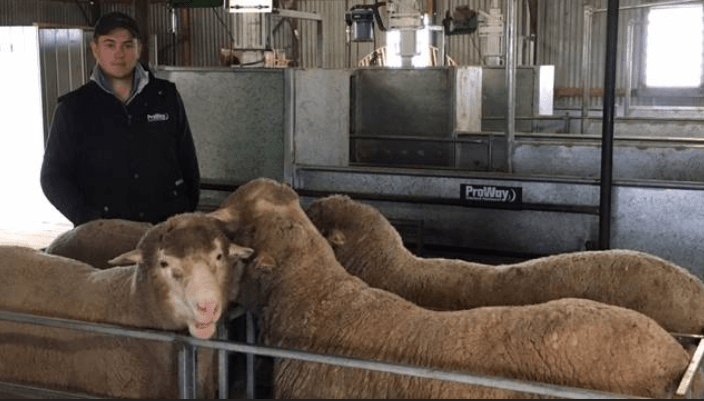 KARDINIA: Matt Mills, Kardinia Dohne stud, Corowa, NSW, had a selection of stud sires on display.
Day 8 – Monday 24 – Glenaroua, Kilmore Victoria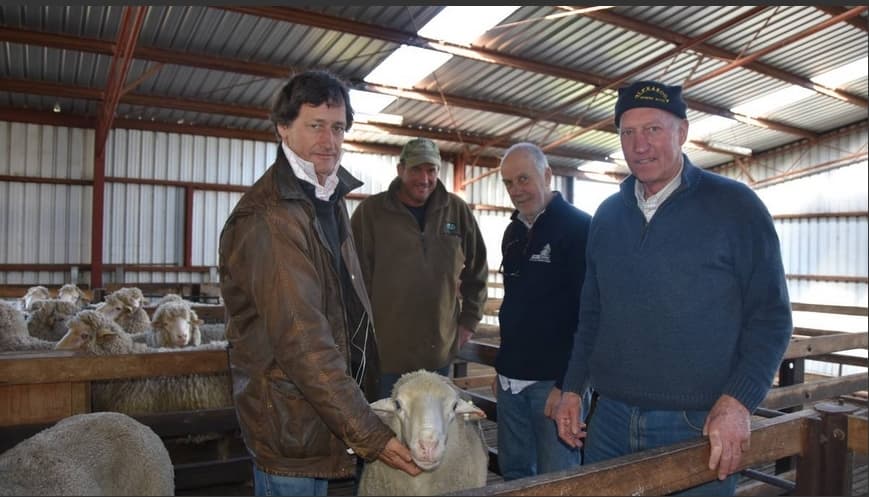 GLENAROUA: Australian Dohne Breeders Association president John Nadin was at Glenaroua with Adam Mumsford, Glenaroua, Techwool Trading's Keith Robertson and stud principal Alistair Greenshields.
Day 8 – Monday 24 – Stirling, Glenthompson Victoria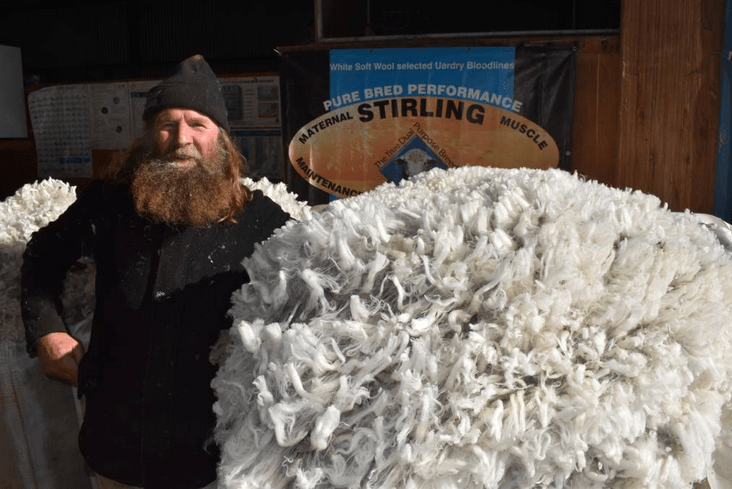 STIRLING: Stud principal Murray Rogerson, Stirling, Glenthompson, with a ram's fleece on show at Sheep Week.

Day 10 – Wednesday 26 – Southern Dohne Breeders Group, Balmoral Victoria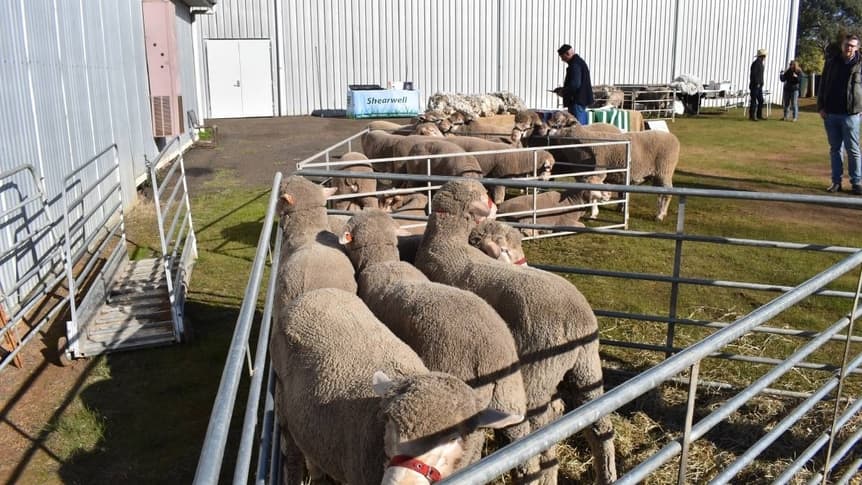 The following Dohne studs displayed at this event, Macquarie, Glenaoura, Stirling and Burnbank. Shearwell Australia, major sponsors of Sheep Week, also displayed at this event.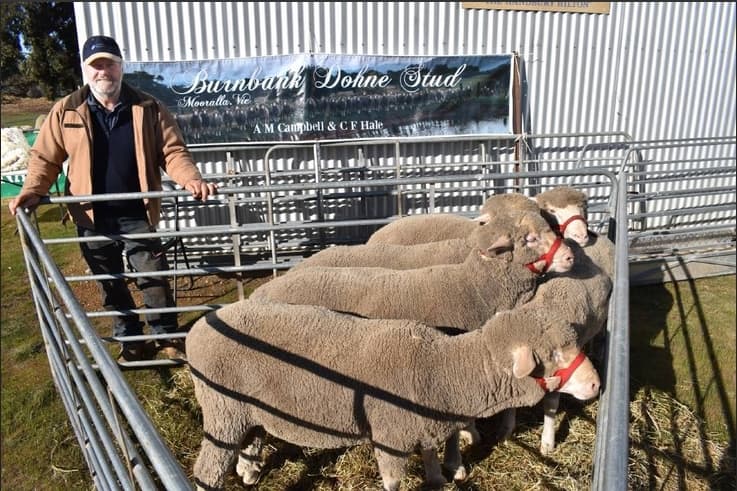 BURNBANK: Stud principal Andrew Campbell, Burnbank Dohne, Mooralla, was displaying for the first time at Sheep Week.
Day 11 – Thursday 27 – Koonik and Hamilton Run, Goroke Victoria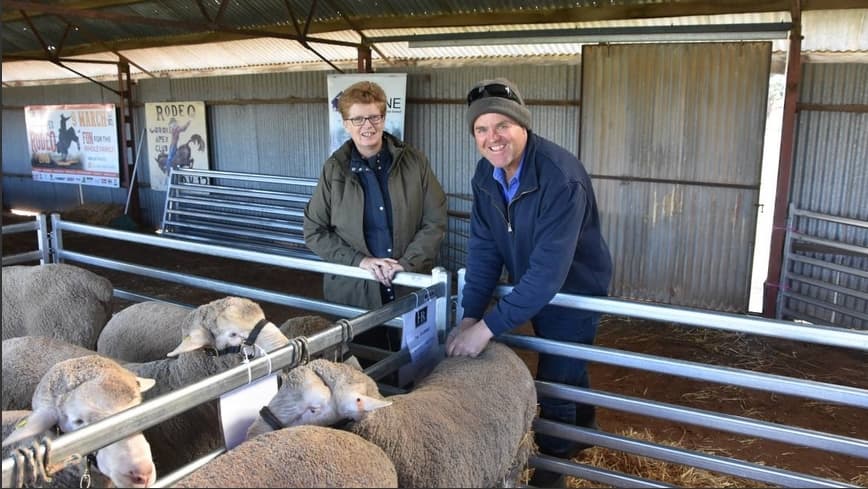 KOONIK, HAMILTON RUN: Fiona Cameron, Koonik, with Goroke farmer Nick Gabbe with some of the new Hamilton Run Dohnes. Mrs Cameron bought the Hamilton Run Dohne stud from the Andrews family at Jamestown, South Australia.