July Newsletter

Sign Up to receive Dohne Newsletters – Click Here
Full Newsletter – PDF Copy
Council Report
Council Roadshows Report
Every four years council conducts a state by state roadshow. The aim is to engage with members, meet new members, and get feedback from members and present issues/suggestions raised by members. The last roadshow was conducted in 2013.
The 2017 roadshow covered;
National Promotions
Communications (Domestic & International)
Genomics
Technical
Breed Standard
Genetic Trends
Trials/Benchmarking
Muresk
Under technical, three motions from council were presented and members were giving the opportunity to express their views and participate in a private Poll.
The three motions presented;
The development of a new index without NLW
Syndicate & Multiplier mating
The use of non Dohne rams within the associations breeding structure
The roadshow kicked off in Western Australia at the Muresk Institute at Northam. A disappointing turnout with only 25% of non-councillor studs being represented.
South Australia however was a different story with 65% of the state's studs represented. A very good day with excellent discussion and ideas.
The NSW leg was held at Sheep Genetics (SG) in Armidale. This day also consisted of a Webinar for those that could not attend any of the roadshows. We had one participant log on from SA. Councillors held a brief fruitful meeting with Caris Jones, Andrew Swan and Clara Collison of SG prior to the commencement.
Caris stayed on for the roadshow presentation which proved extremely useful in answering members questions. All up a good member turnout with good discussion and ideas.
The NSW branch held a meeting after the presentation and it is a pleasure to welcome Dave Berrell as the incoming NSW President and Margie Pye as the secretary.
The Victorian leg was conducted at Moama (on the Vic/NSW border) to cover southern NSW members. A good turnout and once again some very good discussion and ideas. Victoria and NSW had a combined 42% member attendance.
Council would like to thank all the members who attended. A big thank you to the councillors that gave up their time to present and to Tanya Barton, Rachel Browne and Allen Kelly who put the power point presentations together.
Council will inform members in the coming weeks on the results of the Poll and the direction it will now take to the AGM in August.
John Nadin
Australian Sheep and Wool Show
Again this year the show committee has decided to participate in the judging arena at the Australian Sheep and Wool Show, Bendigo VIC, on the 14 to 16 July 2017.
This years judge is Ian Bradtke from South Australia and his associate judge is Daniel Groves from Chile.
For more information contact Murray Rogerson 03 5577 8248 or Don Mills 0427 872 808.
AGM
This years' AGM will be held in Naracoorte South Australia on the Wednesday 9 August and will incorporate a three state sire day (SA, VIC, NSW). This event will follow on from the Hamilton Sheepvention.
The sire day will commence at 12 noon and the AGM at 4pm. A dinner will be held that night.
Expression of interest re Sire Day, contact Allen Kelly 0409 018 943
Accommodation and dinner venue details will be mailed to member with the AGM forms.
Our New SG Contact – Peta Bradley
Peta will work part time in the role until she finishes her degree in October when she will begin full time as the Dohne/MS Development Office.
More Details on Peta Bradley – Click Here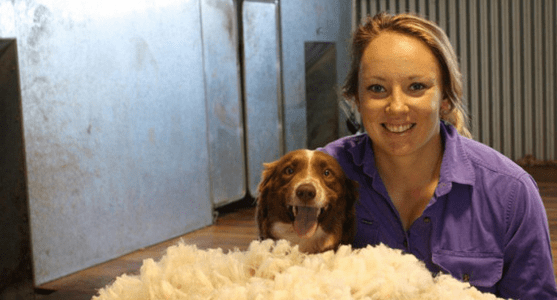 Peta Bradley
Membership Renewals
2017/2018 membership forms have been posted, along with the AGM forms.
2017 Journal
The Dohne Journals will be available for NSW and VIC studs at the Australian Sheep and Wool Show and Hamilton Sheepvention. The SA Dohne Journals will be sent to the Adelaide Showgrounds, contact Tessa Dawes 08 8210 5229 to arrange pickup. The WA Dohne Journals will be a sent to Katanning, contact Rachel Browne 0408 221 576 to arrange pickup.
There will be 35 Dohne Journals per box with a weight of 10kgs.
Promotional Items
With upcoming field days and sales, it is a great idea to have Dohne promotional material on display to promote the breed.
Display Material: Dohne Handbook, Dohne Journal, Dohne Newsletters, A3 Dohne Posters (Set of 8)
Available to purchase are theA3 Posters (set of 8). Laminated $24 plus postage.
For orders contact Tanya Barton
8 Posters – Combined (all 6 traits), ASBV's, Easycare, Fertility, Maternal, Meat, Wool, Ram (Attributes)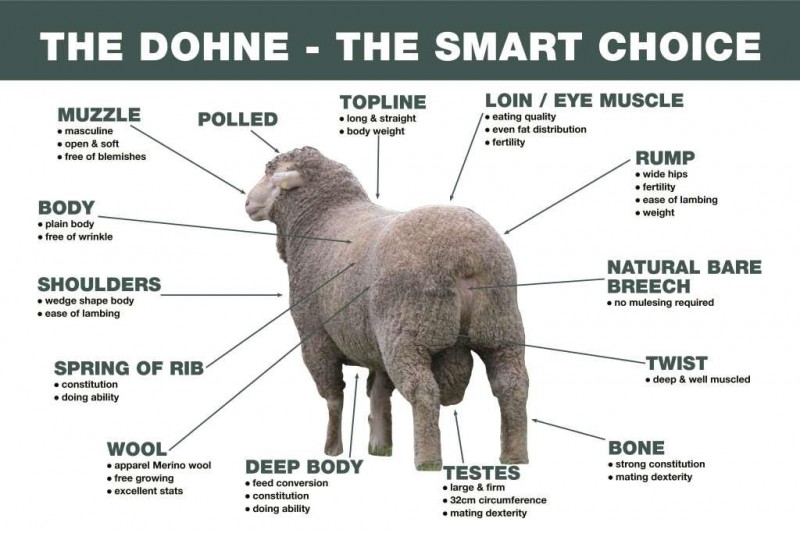 Brett's Blurb (Brett Wilson, Dohne Data Manager)
The Dohne newsletter now includes a monthly article from the Dohne database manager Brett Wilson. These articles are aimed at providing some tips and tricks that might help. To start with there will be a series of articles on getting the most out of your Dohne recording.
Part 3: Data recording (continued)
There is a large amount of data collected every year for your Dohnes and I am often asked about data management.
There are three main options;
Using the Excel template provided by the ADBA. This is a simple file that is set up with two worksheets, the first for recoding mating and birth records and the second for performance data. These sheets have all the essential data headings and are a very simple tool to get your data submitted. Please note you are not restricted to only submitting the data listed in the template, feel free to add additional column headings and extra data. If you have any questions regarding this template please call me.
Free data management software – Pedigree Master and Pedigree Wizard. Master is the latest version of Wizard. These programs are designed to manage your data and get it ready for Sheep Genetics analysis.
Commercial Software packages, there are several these that do the same job as Pedigree Master with additional functions for management and data collection.
The Sheep Genetic Webpage (http://www.sheepgenetics.org.au) under the "Getting Started" heading has a "Software for Managing Data" section with detailed descriptions of each program.
http://www.sheepgenetics.org.au/Getting-started/Software-for-managing-data
Also note on this page in the top right hand corner there is a help section for each software program.