June Newsletter 2019

Sign Up to receive Dohne Newsletters – Click Here
Sign Up to become a Dohne Member – Click Here
Full Newsletter – PDF Copy
Visual Scores Data
Now that it is the beginning of lamb marking season, it is timely to encourage breeders to submit their Visual Scores to Brett Wilson with their lamb pedigree data.
The best value for effort is still to score for Breech cover (BCOV) and Breech wrinkle (BRWR) at marking. Use the Visual Sheep Scores booklet version 2 –  2013 for guidance and follow all the instructions.
Download Visual Sheep Scores Booklet
The other recommended scores to submit include Dag and Urine stain, with Staple length another one that can easily be measured.
Dohnes now have Visual Scores turned on as Research Breeding Values, and some studs have Flock Breeding values already due to their volume of records submitted.
Dohne Journals
Thank you for the overwhelming support again this year.
The 2019 Dohne Journal has been printed and will be available at the Australian Sheep and Wool Show, Bendigo Victoria. Also a number of journals have also been delivered to Western and South Australia. You can contact the following state representatives to arrange pickup.
Victoria – Murray Rogerson (03) 5577 8248
New South Wales – John Nadin 0427 474 610
South Australia – Cameron Hills (08) 8210 5229
Western Australia – Rachel Browne 0408 221 576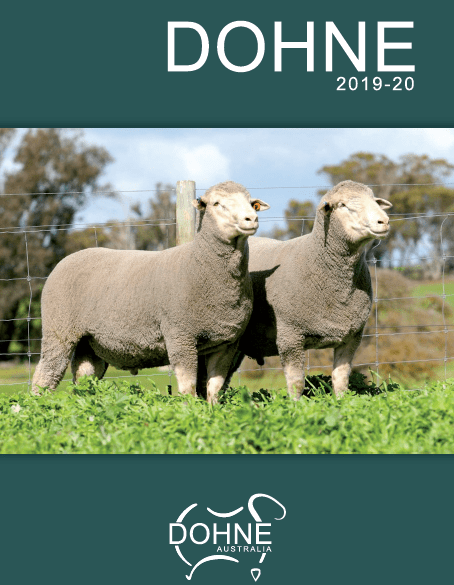 Sheep Genetics Regional Forums
Sheep Genetics staff are keen to discuss content of their 2019 Regional Forums where ADBA members are encouraged to attend;
6th June 2019 – Adelaide South Australia
11th July 2019 – Perth Western Australia
Please refer to the Sheep Genetics website for further details.
Sheep Week – 17 to 27 June
SHEEP Week will be returning for its third year in 2019. This event has expanding to 11 days across Victoria, south-east South Australia, and further north into New South Wales.
Dohnes on Display
Day 1 – Monday 17 – Macquarie, Ballimore New South Wales
Day 5 – Friday 21 – Kardinia, Corowa New South Wales
Day 8 – Monday 24 – Glenaroua, Kilmore Victoria
Day 8 – Monday 24 – Stirling, Glenthompson Victoria
Day 10 – Wednesday 26 – Southern Dohne Breeders Group, Balmoral Victoria
Day 11 – Thursday 27 – Koonik and Hamilton Run, Goroke Victoria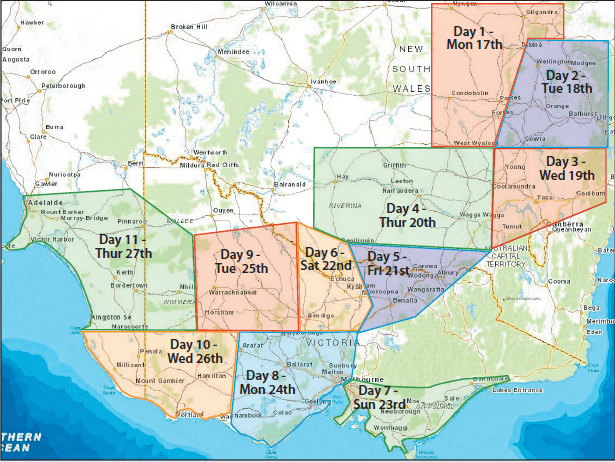 Australian Sheep and Wool Show
The Dohne Marquee will be a buzz of activity for sheep breeders and interested visitors with a big showing of first class Dohne genetics all under the one roof. The benefits of being part of such an event are numerous, with opportunities for professional and social interaction and breed education, with awards for excellence in Dohne breeding. Again studs will keenly participate in the show ring utilising a combination of objective measurement data matched with visual appraisal demonstrating the meat and wool value.
The Australian Sheep and Wool Show is an important business development activity for the ADBA that enables our industry to increase the awareness of the breed showcasing why Dohnes are setting themselves apart from the competition.
FRIDAY 19 JULY 2019
•    11am – Fleece Competition
•    2pm – Ram Pre Show Inspection
SATURDAY 20 JULY 2019
•    10.30am – State of Origin Judging
•    2.30pm – National Championship Judging
•    4pm – Charity Lamb Auction
•    7pm – Association AGM
SUNDAY 21 JULY 2019
•    9am – Competition Winners
•    10am – Helmsman Ram Sale


Timely Data Submission
Brett Wilson needs to check all Dohne data before submitting it to Sheep Genetics on the 7th and 21st of each month. To make sure your data is submitted in the analysis you require, you must have your data to Brett 3 days before the analysis dates, i.e 4th and 18th of each month.