March Newsletter 2018

Sign Up to receive Dohne Newsletters – Click Here
Full Newsletter – PDF Copy
Council Report
Council Face to Face Report
An excellent face to face 'think tank' meeting  was held in Adelaide over three days in February. Results of the meeting will be forwarded to members shortly.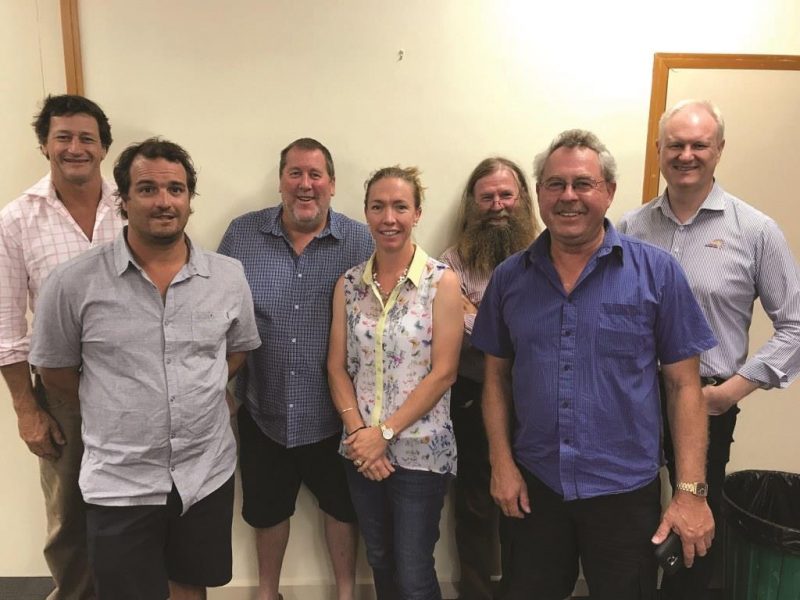 The Australian Dohne Breeders' Association 2018 annual council face to face meeting in
Adelaide, South Australia. Pictured from left to right: John Nadin, Rhys Parsons, Greg Hall, Rachel Browne, Murray Rogerson, Allen Kelly and Cameron Hills.
Balmoral 2018 MLP Field Day
Joy and Allen Kelly in front of the 2016 drop ewes sired by their Dohne ram AJK141077 which was chosen as one of 25 rams  for the Balmoral Sire Evaluation. The progeny performed well across all measured and visual trait scoring, and attracted scores in the top three for Yearling body weight, Yearling EMD and Yearling fat. For visual scoring, these progeny were in the top three for least breech wrinkle and leg coverage. The sire AJK141077 was ranked in the top three for Adjusted Sire Means for WWT, PWT and YEMD and also in the top three for Within-Site & Within-Drop Flock Breeding Values for WWT, PWT, YWT and YEMD.
Well done to Allen and Joy for partaking and featuring well in the trials, especially given that the progeny were out of Merino ewes, so were effectively, only F1s.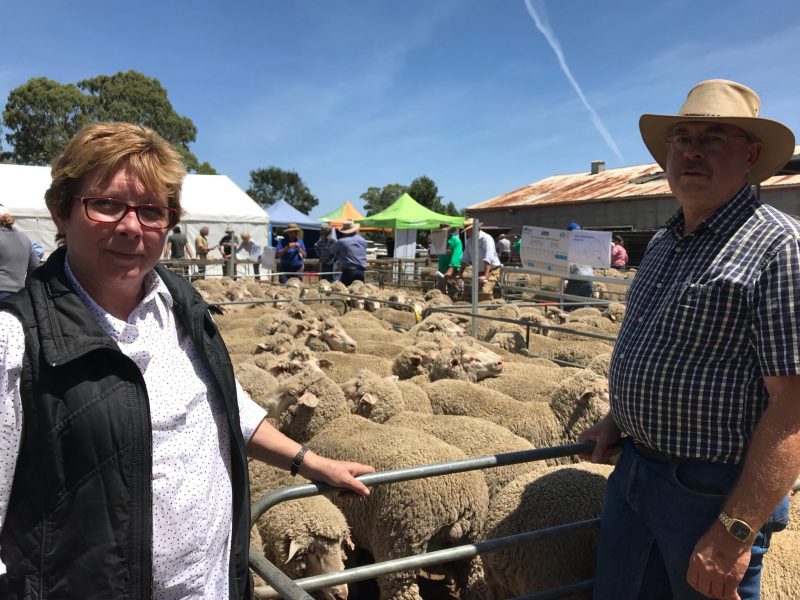 Joy and Allen Kelly in front of the 2016 drop ewes sired by their Dohne ram AJK141077.
Sheep Week – 18 to 27 June
SHEEP Week will be returning for its second year in 2018, after a successful first year, and the event is expanding to nine days across Victoria, south-east South Australia, and further north into New South Wales.
To be a part of this event, fill in the online entry form. http://www.stockandland.com.au/sheepweek/
FINAL ENTRIES MUST BE IN BY 18 MARCH 2018
International National Dohne Merino Ram Sale
Congratulations are extended to our South African counterparts on the results at the National sale on 21 February.
A new world record price of R335 000 (36 000AUD) for a ram was achieved. The ram of Frans and Andries Marx, FEM Dohne Stud was sold to a syndicate of four top South African Dohne Merino Breeders. These breeders include Clark Rattray, Swartberg, Kzn, Dries Pienaar, Molteno, Julius Beukes, LadiSmith, KZN and At Liebenberg, Kroonstad, Freestate.
The remarkably successful sale was marked by a provisional record average of R45 222 (4 872 AUD) for 45 rams sold.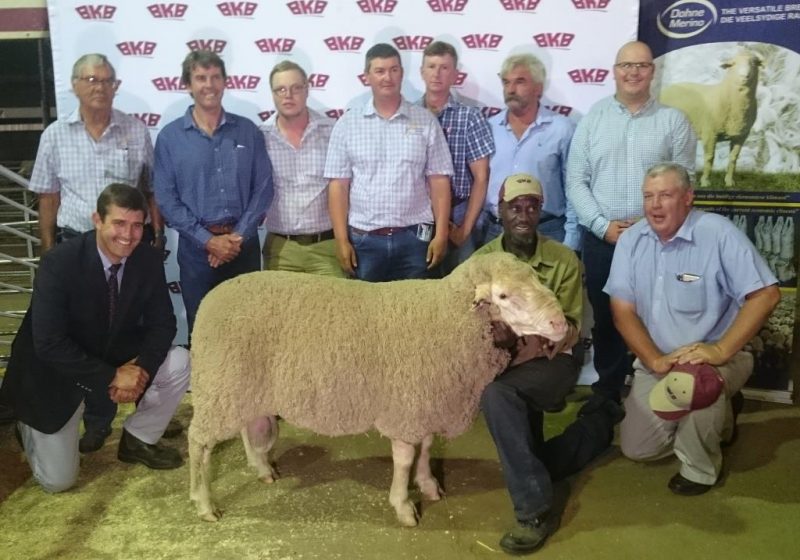 Photo the record priced ram  – R335 000: L/R Standing Mr. Frans Marx (Seller, FEM Dohnes), Mr. Clark Rattray (buyer, CCM Farms), Mr. Gideon Hayward (Farm Manager, FEM Dohnes), Mr. Andries Marx (Seller, FEM Dohnes), Mr Julius Beukes (buyer, Bessiesfontein Dohnes), Mr. At Liebenberg (buyer, Kroonstad), Mr. Dries Pienaar (buyer, White Wools Dohnes);  Front Kneeling: Mr Gert Jordaan, (auctioneer, BKB, Cradock),  Mr. Kokotjie Bodla (FEM Dohnes) holding the ram and Mr. Jan  van der Walt (Sud advisor, BKB, Burgersdorp). 
Brett's Blurb (Brett Wilson, Dohne Data Manager)
Sheep Genetics Reports: Episode 3.
The third report from Sheep Genetics that needs investigating is the Individual Listing report.
This report is complete list of the ASBVs and indexes for the latest drop in the analysis.
The first page has the results for the sires that have been used. This is very useful to monitor sire performance and movements. Also the number of progeny / flocks that the sires have been used in, remember linkage is important and this information quickly shows if the sires you are using are providing linkage.
The next series of pages are like the sire results but for the dams. Like the sires page these results are used to monitor dam performance and should be used to make future breeding decisions.
The next series of pages are the male progeny, followed by the female progeny. The ASBVs and indexes for your progeny are presented in these reports.
Important features of these reports.
Inbreeding, On the left-hand side of the reports the inbreeding percentage for the sires, dams and progeny are listed.
Accuracy, under each ASBV and index there is an accuracy level reported. Sheep Genetics have set certain accuracy levels that need to be achieved before an ASBV can be reported. If you have ASBVs that are not reported, then the accuracy threshold has not been achieved for that trait.
Indexes, there are now two indexes reported "Dohne Plus" and "Dohne Base". You should have received communication regarding these indexes.
Next time will be a close look at the Reproduction Summary report, till then happy data collecting.
Regards Brett