March Newsletter 2020

Sign Up to receive Dohne Newsletters – Click Here
Sign Up to become a Dohne Member – Click Here
Full Newsletter – PDF Copy
Ram Sale Results
Sale reports and photos on behalf of – The Land
Alfoxton Dohne Ram Sale, Armidale NSW
44 rams sold to $2750 and averaged $1370.
Full Sale report – Click Here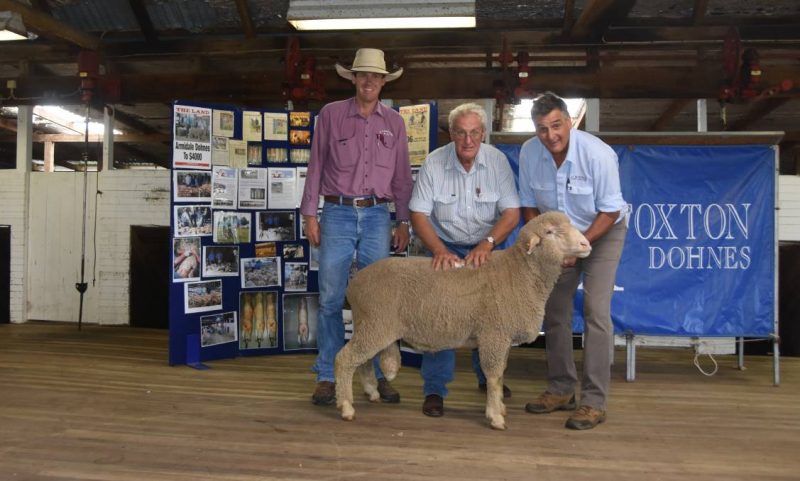 The $2750 ram with Robbie Bloch, CL Squires, purchaser Ian Uebergang and Chris Clonan, Alfoxton.
Balmoral Field Day
The 2019 Balmoral Merino Sire Evaluation trial field day attracted nearly 300 from three states to inspect the sheep in the trial and listen to guest speakers. This year's field day will be held on Friday 13th March 2020.
1-2pm – Commercial displays & Working demonstrations roving discussions with exhibitors.
2-3pm – Industry guest speakers: Anthony Close, 2019 Merino Industry Nuffield Scholar; John Steinfort, breech modification advancements; Ben Swain, emerging trial trends PLUS panel discussion.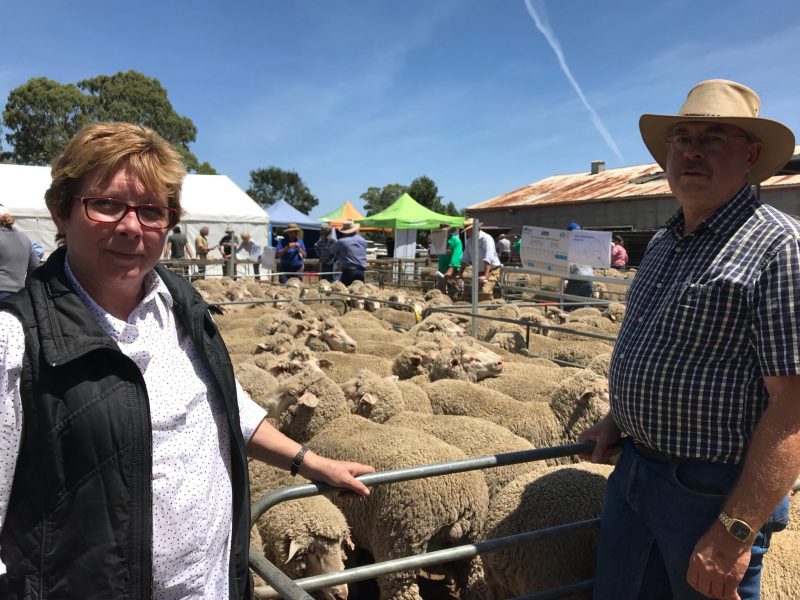 Allen & Joy Kelly looking over the MLP 2016 drop Dohne progeny at the Balmoral MLP field day.
Commercial Stories
The National Promotions Group is always on the lookout for good stories for our annual Dohne Journal. If you know of a commercial breeder that would be invited in telling their story please let Tanya Barton know at .
It is important as a breed to promote all attributes of the Dohne and how they perform against other breeds and in different regions.
Sheep Genetics Search Site
Sheep Genetics have a project to upgrade the search site.
We'd appreciate a few minutes of your time to let us know some of your common tasks on the search site. This will help us design an interface to best suit your needs. Please share this link among your networks as we would like to capture feedback from ram breeders, ram buyers and service providers.
If you have any questions about the survey or the project please contact Peta Bradley on 0419 158 449 or Search Site Survey – Click Here
Livestock Genetics Forum Sheep Genetics
For beef and sheep commercial producers and stud breeders. You will learn practical tips and about useful tools to breed animals that are profitable and ready for our changing climate.
Adelaide Convention Centre: 12:30pm Wednesday 25th until 12:30pm Thursday 26th March
If you have any questions about this event please contact Sheep Genetics on 02 8055 1818 or .
Timely Data Submission
Brett Wilson needs to check all Dohne data before submitting it to Sheep Genetics on the 7th and 21st of each month. To make sure your data is submitted in the analysis you require, you must have your data to Brett 3 days before the analysis dates, i.e 4th and 18th of each month.