March Newsletter 2021

Sign Up to receive Dohne Newsletters – Click Here
Sign Up to become a Dohne Member – Click Here
Full Newsletter – PDF Copy
Councils' Annual Face to Face Report
An excellent face to face 'think tank' meeting was held in Adelaide from Monday 22 to Wednesday 24 February, with the Western Australian councillors attending by using the zoom platform. Zoom has been used regularly over the past year for council and subcommittee meetings.
Councillors welcomed Darren Gurnett to his first Face to Face meeting and looks forward to working with Darren on Council matters.
Thank you to Cameron Hills for once again organising this annual meeting and assisting in the provision of a well run and successful two days.
Results and details from this meeting will be forwarded to members shortly.
Coonong Station Dohne Sire Evaluation Update
The Australian Dohne Breeders' Association (ADBA) is putting a focus on progression this 2021, directing the first sire reproduction evaluation program that will look to put solid figures behind the highly sought after traits the Dohne can claim as a breed.
Beginning 25th of January, the trial is being hosted by Tom and Sophie Holt of 'Coonong Station', Urana, in the southern-eastern Riverina of NSW, one of the biggest commercial Dohne flocks in
Australia. 1241, 3 1/2 year old pure Dohne ewes were artificially inseminated to 15 sires.
The Coonong flock is run under the Responsible Wool Standard (RWS) Animal Welfare program which adheres to the trial's mules-free status of breeding a plain, bare-breeched sheep.
The evaluation is being run under the auspices of the Australian Merino Sire Evaluation Association (AMSEA) and overseen by independent consultant Jim Meckiff of JM Livestock,
Wagga Wagga. Australian Wool Innovation (AWI) has supported the evaluation by funding the link sires.
Ram Sale Results
Tablelands Dohne Ram Sale, Armidale NSW
14 rams sold to $2300 and averaged $1028.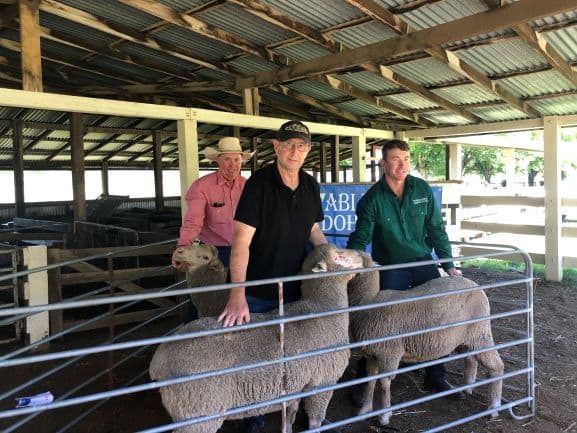 Purchaser Will McClanaghan, with vendor Josh Frazer and Elders agent Wayne Jenkyn in the background.
Sheep Genetics Dohne Top Sire List
Sheep Genetics Dohne current Top Sire List as of the 4 March 2021.
Since the inception Sheep Genetics has displayed a top Dohne sire list. For accuracy and merit, standard requirements (default) are progeny from 2 or more flocks and 15 progeny in the current drop. The search engine enables breeders a wider individual search but the actual top sire list is the default setting.
www.sheepgenetics.org.au/Breeding-services/DOHNE-MERINO-Home