May Newsletter 2019

Sign Up to receive Dohne Newsletters – Click Here
Sign Up to become a Dohne Member – Click Here
Full Newsletter – PDF Copy
How to collect EMD and FAT Data
In the April newsletter I considered if Dohne ram breeders should directly evaluate EMD and Fat? I consider in general the answer is definitely Yes! If you do want to evaluate EMD and Fat how do you go about it?
Definition and evaluation for Dohne breeders.
Subcutaneous fat depth (FAT) and eye muscle depth (EMD) are measured at the C site, that is the 12/13th rib, 45mm from the centre of the spine.
For Dohne breeders FAT and EMD are optional to evaluate however highly recommended at post weaning or yearling age (between 210 and 400 days, preferably under 300 days). A live weight must be obtained at the same time.
In terms of assessment of FAT, variation between sheep in the group is critical. To obtain variation a good rule of thumb is for the group to have an average condition score of 2.5 or greater. While there can be advantages in evaluation at the post weaning age there is no advantage if the group doesn't have an average score of 2.5 or greater. The following link is a great explanation of how to condition score including a video
https://www.agric.wa.gov.au/management-reproduction/condition-scoring-sheep
Many Dohne breeders opt to only measure rams however ewes are also critical to measure if good genetic progress is to be achieved.
An accredited ultra-sound scanner must be used to evaluate FAT and EMD to meet quality assurance requirements. Accredited scanners are independent operators contracted by breeders. A link to the list of accredited scanners is; http://www.sheepgenetics.org.au/Service-providers/Carcase-Scanners
EMD and FAT are both moderately heritable. They are also moderately correlated (r=0.61), such that sheep with increased fat depth will generally also have increased muscle depth.
While higher ASBVs for fat depth have a positive association with higher reproduction performance, this effect explains only minimal variation in reproductive performance and was extremely variable among flocks and years. Selecting on fat or eye muscle depth is definitely not a substitute for selection directly on reproduction.
Allan Casey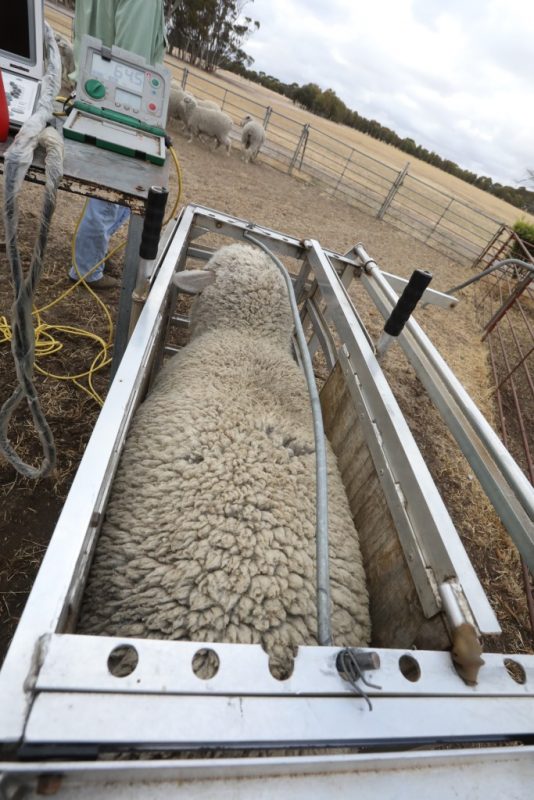 Eye muscle scanning seven month old Dohne ewe lambs.
Sheep Genetics Regional Forums
Sheep Genetics staff are keen to discuss content of their 2019 Regional Forums where ADBA members are encouraged to attend;
16th May 2019 – Glen Innes NSW
23rd May 2019 – Bendigo VIC
30th May 2019 – Wagga Wagga NSW
6th June 2019 – Adelaide SA
11th July 2019 – Perth WA
Please refer to the Sheep Genetics website for further details.
Australian Sheep and Wool Show
Marquee Fleece Competition
Show Ram Judging including a State of Origin Competition
Charity Lamb Auction
People's Choice Judging Competition
Guess the weight of the Wether Lamb/s Competition
Helmsman Sire Sale
Timely Data Submission
Brett Wilson needs to check all Dohne data before submitting it to Sheep Genetics on the 7th and 21st of each month. To make sure your data is submitted in the analysis you require, you must have your data to Brett 3 days before the analysis dates, i.e 4th and 18th of each month.