Meeting wool, lamb markets with Dohnes
WILL MCCLENAGHAN
ARMIDALE, NEW SOUTH WALES
"We can turn off lambs around 50kg at prices up to $160, so considering their ability to sustain weight and wool cut, I'm very happy."
Commercial Dohne breeder, Will McClenaghan has had plenty of exposure to the sheep industry growing up in the New England region but an introduction to the Dohne breed over 15 years ago has changed the way he operates.
2003 marked the change for Mr McClenaghan, forming an association with a local Dohne stud that would point the operation of his 1000 acre property, 'Balaclava', Armidale, NSW, in a new, more versatile direction.
Mr McClenaghan kick-started his involvement with the breed through cooperating with a number of Dohne studs in both the New England area and Western Australia in order to begin building his own flock.
Adjacent to building his Dohne flock, Mr McClenaghan still had a focus on his already established ultra-fine merino operation 'Angel fleece', a joint venture with Tim Robertson.
"The addition of the Dohnes was good timing because we tested all our merino ewes for wool characteristics and joined the broadest to the Dohne rams," said Mr McClenaghan.
"At the same time, we used AI (artificial insemination) and embryo transfer in both breeding enterprises – to breed Dohnes with good frames and excellent wool characteristics and to achieve the best wool possible from the ultra-fine merinos."
When circumstances lead Mr McClenaghan to downsize, his involvement with ultra-fine merinos stopped in 2011. He viewed it as too limited a market which put a focus on what his Dohnes were able to continue providing as a breed.
"I decided to stick to running commercial Dohne ewes at Balaclava as believed this enterprise would provide more room for versatility."
"They allowed me to produce both wool and as well as easily marketable lambs – and as a wool man at heart, being able to achieve the combination is great. The ultra-fine sheep required more work, both with husbandry and particularly wool preparation," said Mr McClenaghan.
As better grazers and more robust, fertile sheep, the Dohne were considered lower-risk, withstanding the New England's particularly bad drought year in 2019, which was better than Mr McClenaghan would have expected of his merinos.
Usually running up to 1,000 ewes, Mr McClenaghan is currently managing 750 and is happy with their results.
"The ewes are sitting at 70 to 80kg live weight and cut about 4kg of 18.5 micron wool that usually sells between 1,000 to 1,200 cents per kilogram. We can turn off lambs around 50kg at prices up to $160, so considering their ability to sustain weight and wool cut, I'm very happy."
Going forward, Mr McClenaghan is looking to trial shearing twice a year to make the most of the Dohne's ability to grow a high-quality, long free staple, hoping that this will result in improvements across the board.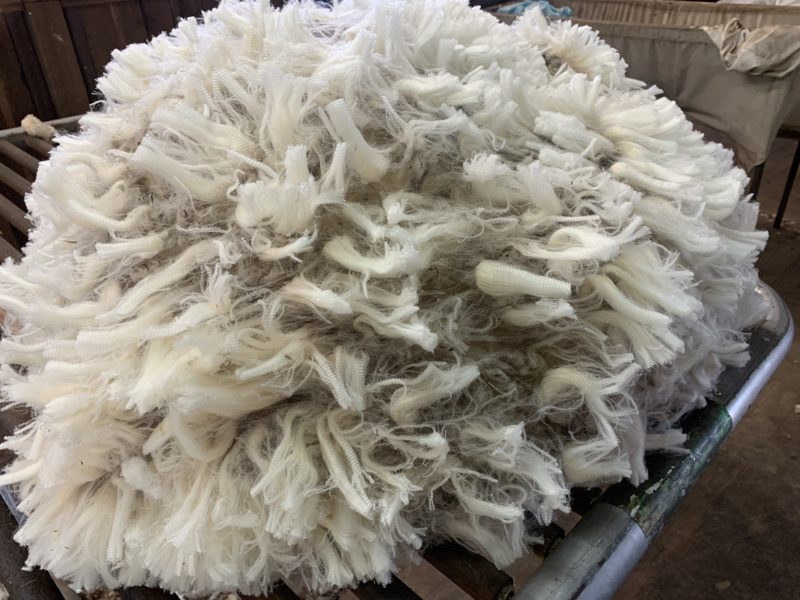 QUALITY WOOL: Will McClenaghan's ewes cut about 4kg of 18.5-micron wool that usually sells between 1000 to 1200 cents per kilogram.
Original article written by Nicola Wood, September 2020. Original photo courtesy of Will McClenaghan.