Merino is Cool Comfort for Cyclists
MARTIN PATTIE & LYN BROWN
MARLBOROUGH, NEW ZEALAND
A MARLBOROUGH sheep farmer is using his extensive knowledge of Merino breeding to provide cool comfort for hundreds of cyclists pedalling the hot tarmac roads over summer.
Martin Pattie has spent a lifetime working towards developing a Merino sheep breed producing high quality meat and fine durable wool in drought-like conditions.
Together with partner Lyn Brown, Pattie grows, processes, manufactures and sells merino cloth and clothing to customers in New Zealand and around the world.
Pattie's parents chanced upon the South African Dohne Merino breed in 1999 after attending a Merino sheep breeders conference in South Africa.
He wanted a breed which could withstand the very dry summer conditions in Marlborough, as well as produce wool under 23 microns.
Pattie's Awatere Valley Glencairn stud already had a long reputation for breeding Lincoln/Merino halfbreds and Poll Merinos for many years.
He was intrigued by the hardiness, constitution and increased lamb production of the Dohne which thrived in the poorest soil types in South Africa.
Pattie imported embryos from Australia and crossed Dohne rams over Lincoln/Merino halfbred ewes, and Dohne rams with his father's Corriedale stud ewes.
The result is Pattie's unique 'homebrand' – the Dollar Maker sheep breed – effectively 50 per cent Dohne, 40 per cent Lincoln/ Merino cross bred and 10 per cent Corriedale.
The dark nosed breed has proved its worth as a meat producer and for growing fine 19-23 micron wool which goes into the manufacture of merino wool socks and clothing for the couple's Mihi Merino clothing brand.
About half the annual wool clip from the June shear is bundled into a 20 tonne container and shipped to Malaysia to be made into a fine yarn.
It is shipped back to a clothing manufacturer in Auckland where it is knitted to make the Mihi Merino brand clothing.
Like a mad scientist toiling away in his remote Awatere Valley woolshed, Pattie is enthusiastic about the dollar-maker breed he has created.
"We bred them to be a dual purpose sheep and they fit the market for meat and apparel," he said.
Pattie also likes the fact the sheep are easy to muster and eat anything in front on their noses.
On average the ewes weigh 55-65 kilograms, while the adult rams come in at 80-100 plus kilograms.
All the ram hoggets over both breeds are run in one mob on native danthonia, with drenching at weaning in January and shearing in late September.
This promotes the hardiness of the breeds, Pattie says.
Those that fail to thrive in challenging conditions are culled.
Currently Pattie has 1600 Dollar-Maker ewes, and 1300 Dohne ewes on the 810 hectare Tetley Brook property, south of Seddon.
Lambing for both breeds is completed between June and September.
The June lamb mob will have three lambing's in 26 months due to their natural ability to breed out of season, Pattie says.
Lambing is completed between July and September, with an average lambing rate of 125 per cent.
The wether lambs are processed in November and December, with a quarter to a third of the first draft weighing around 17-19kgs.
Before leaving the farm the lambs are shorn, producing on average 1.3kg of wool at 18-19 microns.
The lambs wool is not used for the clothing brand, but sold at auction.
Pattie's work with footrot scoring enables rams to be sold to Otago and Southland buyers.
The breed seems to thrive in the challenging winter conditions further south, as much as in Marlborough's dry climate, he says.
In November Pattie takes his natural conditioned Dohne and Dollar-Maker sheep to the Christchurch A and P Show.
In the past he has taken away his fair share of prize ribbons for his Poll Merinos and halfbreds, as well as his father's Corriedales but now only exhibits these breeds.
On the other side of the couple's marquee is the finished product – Mihi Merino clothing range created from these sheep, and which is sold from Lyn's shop at the Vines Village, outside Blenheim, and from the Mihi Merino website.
All the clothing, jerseys, shirts and socks, are made in New Zealand – an important selling factor the couple are keen to retain.
"We are what you could call a vertically integrated business producers, manufacturers, wholesalers and retailers," Lyn says.
"It helps to keep the cost down and we are also able to support NZ manufacturing."
The couple are constantly testing the market with new designs, and colours.
The cycling sock, called the 'Mihi Velo' have been available to all contestants in the annual Marlborough Graperide cycle event.
The couple are currently developing an 'Awatere Merino' brand of traceable yarn and fabric using Merino wool which can be traced back to the grower in the Awatere Valley.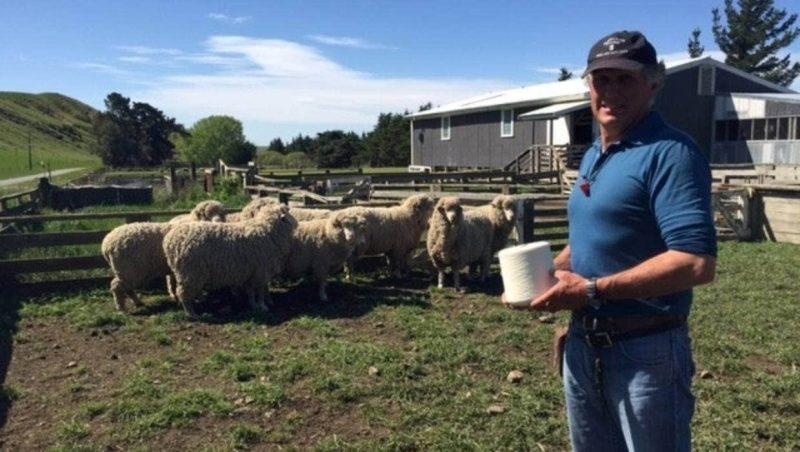 Awatere Valley sheep farmer Martin Pattie with his prize flock of Dohne and Dollar Maker Merino sheep he breeds on the property Martin is holding a one kilogram cone of Merino yarn.
Original article by Mike Watson Fairfax New Zealand