Next Generation Farming
Mercury | Nov 1st, 2013 | by Roger Hanson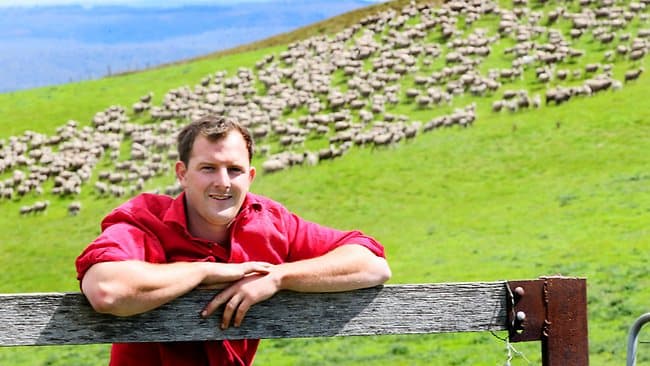 WOOL has been the cornerstone of agriculture since early settlement, but a wave of innovative young farmers are giving the prized Merino a new twist to tailor a sheep that suits country Tasmania.
Boundaries of thinking are being pushed to produce a dual-purpose Merino that retains its fine wool traits but also has the meat of a fat lamb.
Like many forward-thinking wool producers the seventh-generation farmer and tertiary educated Russell Fowler, 25, is exploring sheep genetics to find the right balance to meet changing market demands.
Mr Fowler farms 1000ha with his partner Rosie on their Blackwood property near Ouse and another 700ha of nearby leased land.
The farm grazes 3330 Merino ewes, a small black-face Suffolk stud, Angus beef and grows 40ha of poppies.
His parents John and Dianne are fine-wool farmers on the 1500ha Bendeveron property at Bothwell.
The young farmer is trying out Dohne, a South African sheep breed known for its meat qualities and wool and fine-tuning its traits by joining a Merino ewe with a Dohne ram.
"We are trying to get the traits of the Dohne with the progeny having mothering ability, high fertility, rapid lamb growth rate and fine wool under commercial pastoral conditions," Mr Fowler said, "trying to tailor a sheep to our country to fulfil markets.
"Market demands have shifted even in my father's time.
I am fortunate my father is open-minded and willing to support me to push the boundaries." Mr Fowler says Tasmania has more animal husbandry requirements than interstate, but has a good agricultural future – "The state has a lot to offer a young farmer." For the past two years he has been trying to lift the Blackwood property.
"It's had its moments, but we have access to water with an 80mL on-farm storage dam, and that makes a big difference," he said.
The spring rain was a blessing for his farm, which would get 40mm in a good September but this year's downpours dumped 100mm.
"It filled the dam in two days," he said.
He planted poppies in July and is planning on harvesting in January.
"Conditions have been great for our poppies, similar to when we won the state's top poppy award," he said.