November Newsletter 2018

Sign Up to receive Dohne Newsletters – Click Here
Full Newsletter – PDF Copy
Vale Peter 'Froggy' Holmes 
Sad to say that Peter Holmes better known as Frog or Froggy passed away on the 18/10/18 at the age of 56. Frog and Heather established the Hill View Dohne Stud, Schilpenunda via Streaky Bay, South Australia. Frog was a staunch Dohne breeder always putting the breed first and always using ASBV's to improve his flock and help his clients understand them. All the people that knew Frog will miss him dearly especially his wife Heather and sons Milton, Jethro and Robert and their families.
Paul Webb
Eagle Ridge Dohne Stud, Cowell SA
On behalf of council I extend our sincere condolences to Heather, Milton, Jethro and Robert on the passing of Froggy. Within five minutes of meeting Froggy for the first time I knew that he was a man of integrity. A dedicated husband, father and Dohne breeder that will be greatly missed. Council is willing and able to help out the Holmes family where necessary.
John Nadin
President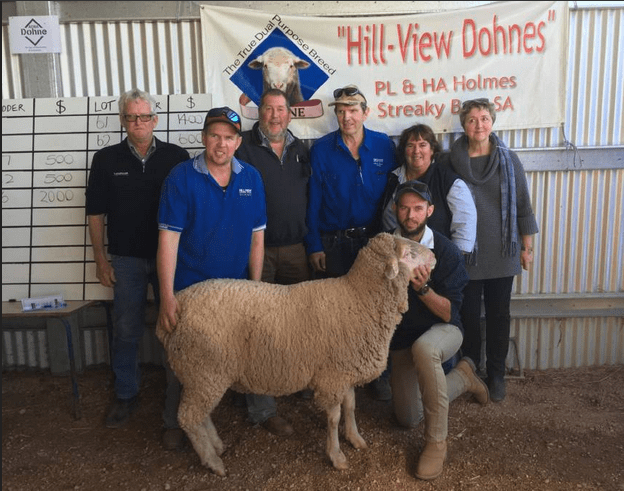 Hill View 2018 Dohne Ram Sale – Landmark's Peter McEvoy, Milton Holmes, buyer Greg Hall, Hallett, Hill-View principals Peter, Heather and Robert Holmes, and  buyer Liz Hall.
Ram Sale Results
Sale photos on behalf of – Stock & Land, Stock Journal and Farm Weekly.
October Sales
Uardry, DD and Calga Ram Sale, Wanganella NSW
105 rams sold to $3400 and averaged $1720.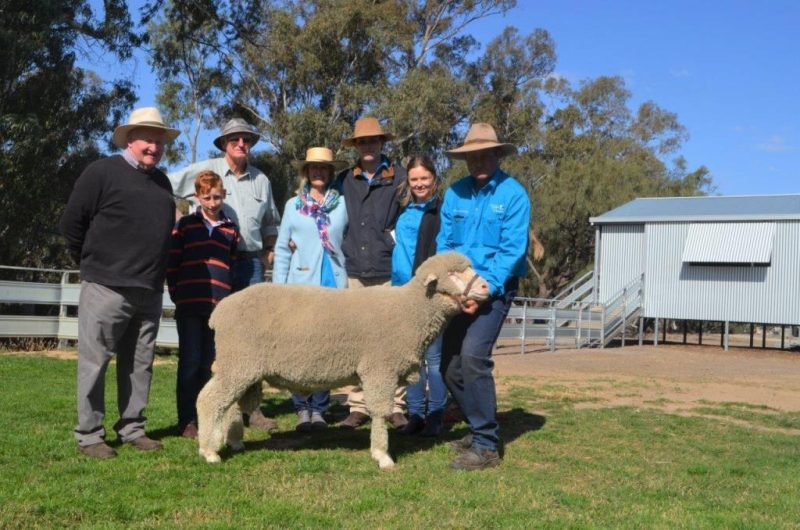 Stud Representative Bill Mildren with purchaser's Bruce Black and grandson Angus, Stud principals Margie, Sandy and Georgie Pye and Studmaster Jason Southwell hold the top priced ram.
Koonik Ram Sale, Nurcoung VIC
70 rams sold to $3600 and averaged $1553.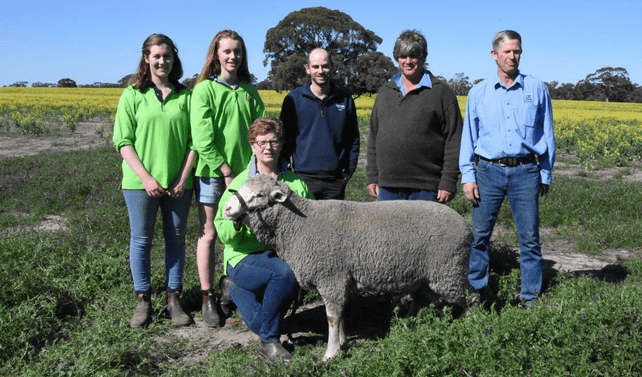 Issy, Lily and Fiona Cameron holding the top priced ram, Agent Jacob Davies – Rodwells Horsham, Purchaser Richard Hobbs – Sunnyside Partnership and  Darren Cameron Koonik Dohne Stud.
West Wail Ram Sale, Pimpinio VIC
34 rams sold to $1700 and averaged $990.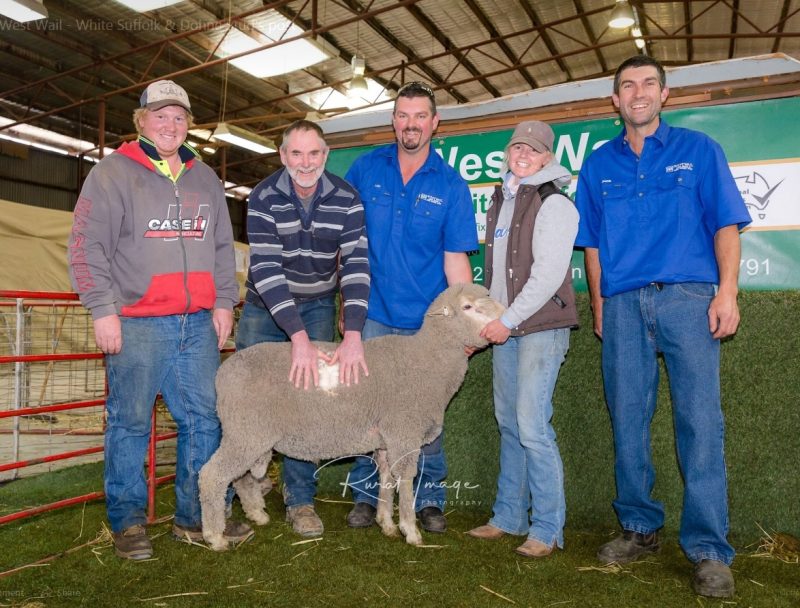 Purchaser's Hugh, Wayne and Tess Caldow holding the top priced ram, with Stud principals Luke and Jason Ellis.
States' Year in Review
South Australia
Overall the South Australian ram sales have been fairly solid considering the many commercial Dohne clients who have been absent from sales due to the ongoing dry. It's is encouraging to see return clients attending sales with confidence in the breed due to past results as well as new buyers keen to increase their productivity using Dohne rams. Sales this year in the State had average of $1,505 at a clearance rate of over 83%.
The current high prices for wool, lamb, mutton and replacement ewes puts the Dohne Merino in a great position in the industry. Hopefully with some rain returning soon to pastoral areas the benefits of a self replacing Dohne Merino flock will become more evident into the future.
Rob Hall, ADBA South Australian President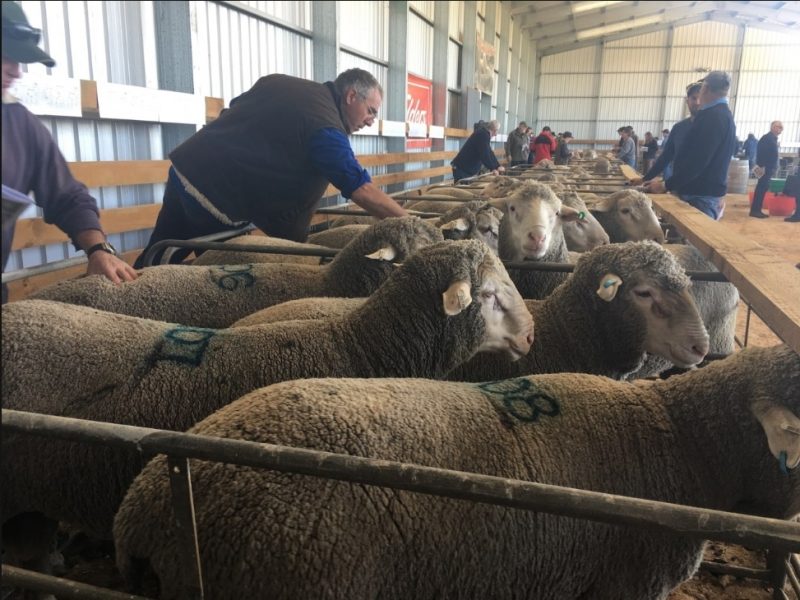 $4800 top price for South Australia  – Mt Alma Dohne Stud.
Western Australia
2018 was another successful year for the Dohne in Western Australia. With the state going through rather varied seasonal conditions dependent on area,  breeders could have been forgiven for being somewhat nervy heading into selling season. 85% clearance rates across the state allayed these fears however and signaled the Dohnes continued rise in the face of higher wool and grain prices.
Record sale yards prices for lamb across the country combined with the aforementioned wool market strength in the lead up to sale season signaled to buyers that they were on the right track with the Dohne and this confidence combined with the ever improving standard of genetics led to a new state ten year top average price for sale rams of $1435 a $73 increase on last seasons mark.
Another ten year mark set last year was broken with a new top total gross mark of $1.25m, a rather impressive achievement given a slight reduction in number of sold animals. The drop of 25 or so animals sold was the only backward trend for the 2018 season and given overall state flock trends, combined with the sell off of sheep in the state due to seasonal conditions is not one to be overly concerned with.
Once again congratulations needs to go to all those involved with promoting this great breed nation wide.
Rhys Parsons, ADBA Western Australian President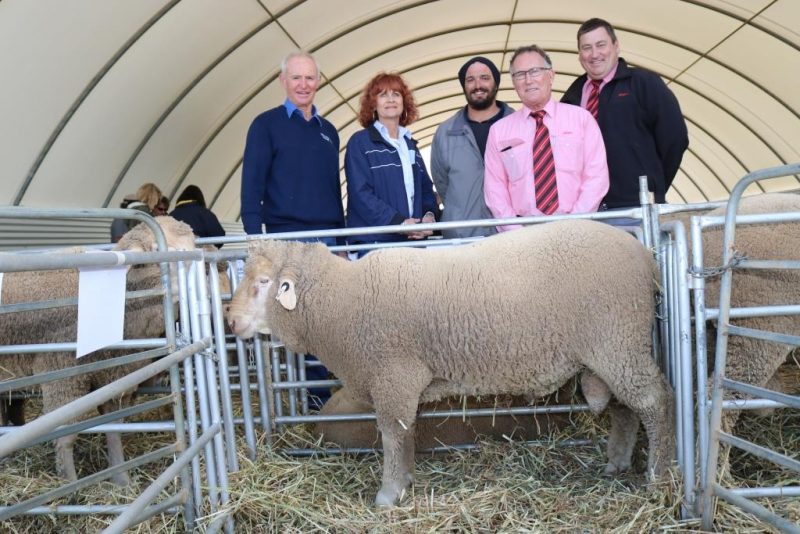 $5000 top price for Western Australia  – Mollerin Rock Dohne Stud.
Commercial Articles
It is important as a breed to promote the attributes of the Dohne and how they perform against other breeds and in different regions.
If you have read an article in your local newspaper or know of a story please let Tanya Barton know so it can be promoted on the ADBA website and social media.
Data Cut Off.
Sheep Genetics (SG) requires all data for analysis to be submitted to them before 5pm on the 7th and 21st of each month, or the Friday before if the 7th or 21st fall on a weekend.
Brett needs the data from Dohne breeders three days prior to the SG cut-off date to guarantee, your data goes into the analysis.