October Newsletter 2020

Sign Up to receive Dohne Newsletters – Click Here
Sign Up to become a Dohne Member – Click Here
Full Newsletter – PDF Copy
Sheep Genetics Dohne Top Sire List
The ADBA would like to advise that the recent error in the Sheep Genetics Dohne top Sire list, due to the new search site, has now been rectified. For updated sire list please visit www.sheepgenetics.org.au/Breeding-services/DOHNE-MERINO-Home
Sheep Genetics Top Dohne Sire list as at October 1, 2020.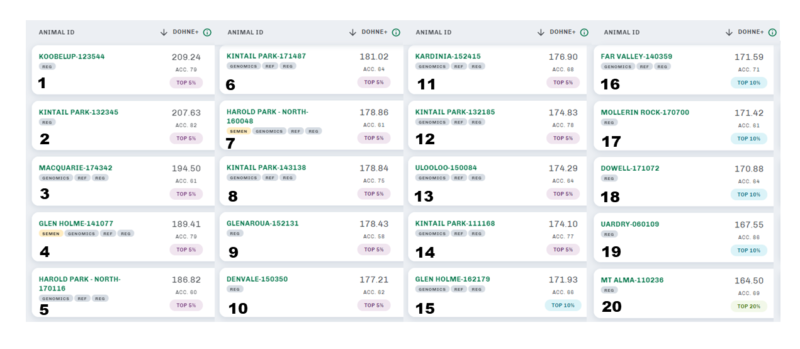 Ram Sale Results
South Australia – Sale photos and reports on behalf of Stock Journal
Goldvale Dohne Ram Sale, Jamestown SA
24 rams sold to $1300 and averaged $642.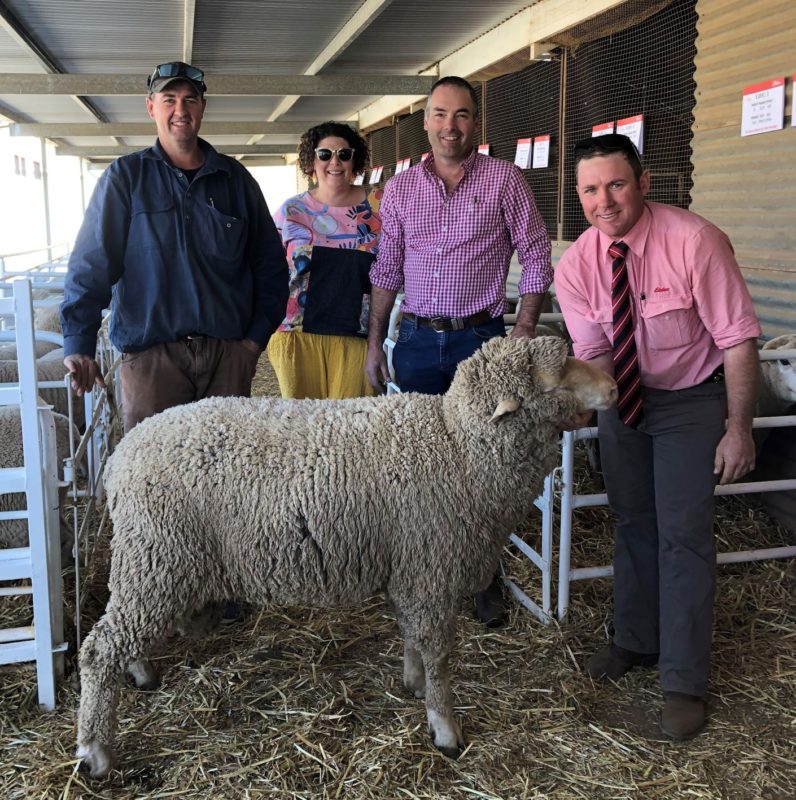 Dane Sommerville – Spalding (purchaser), Jessica Crawford & Warwick Crawford – Crystal Brook (vendor) and Scott Fleetwood  – Elders Jamestown holding the top priced ram.
Glen Holme Ram Sale, Manoora SA
79 rams sold to $3200 (Twice) and averaged $1585.
Full Sales Report – Click Here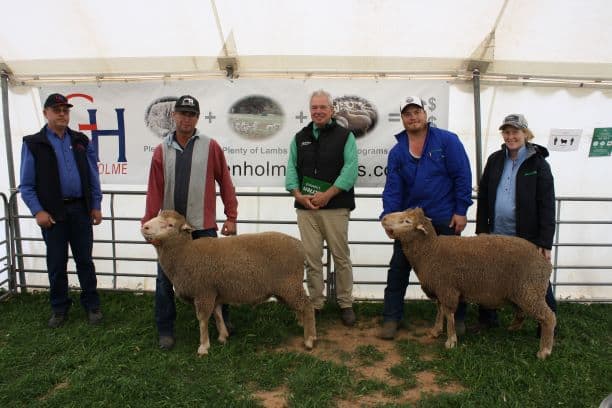 Glen Holme Dohne principal Allen Kelly with the two $3200 rams and Darren O'Brien, Kyancutta, Nutrien auctioneer Leo Redden, Daniel Hansen and Katie Rich, who acted on behalf of D&J Rich, Serviceton, Vic.
Mt Alma Rams Sale, Coonalpyn SA
80 rams sold to $5000 and averaged $2189.
Full Sale report – Click Here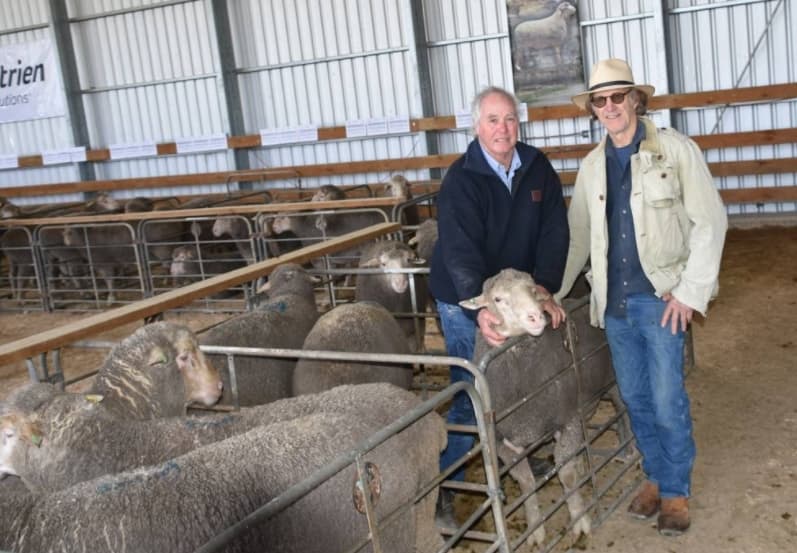 Mt Alma Dohne stud principal Ike Ashby holds the $5000 top price ram with buyer Mitch Harrison, Longwell Station, Broken Hill, NSW.
Western Australia – Sale photos and reports on behalf of  Farm Weekly
C-View Dohnes Ram Sale, Esperance WA
6 rams sold to $600(x3) and averaged $560.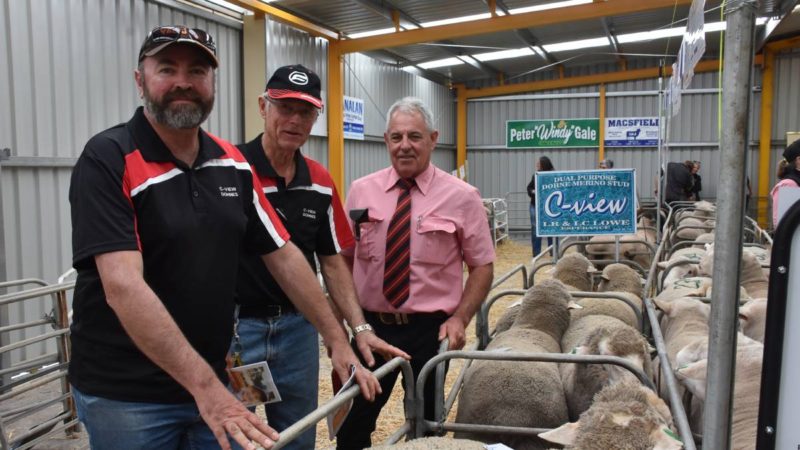 C-View Dohne stud's Jason (left) and Laurie Lowe looked over their rams before the sale with Elders Preston Clarke.
Harold Park North Ram Sale, Carnamah WA
27 rams sold to $1200 (x6) and averaged $1048.
Full Sale report – Click Here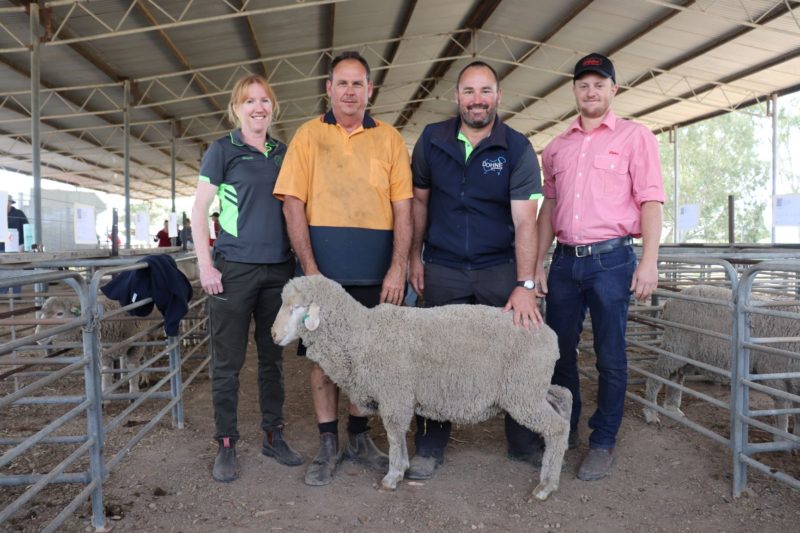 Wesley Benton (second left), JF Benton & Co, Latham, with one of two toppriced Harold Park North Dohne rams he purchased. With him are stud principals Shayne and Charles Wass and Elders' Coorow business manager Jake Comley.
Glenlea Ram Sale, Katanning WA
78 rams sold to $2400 and averaged $839.
Full Sale report – Click Here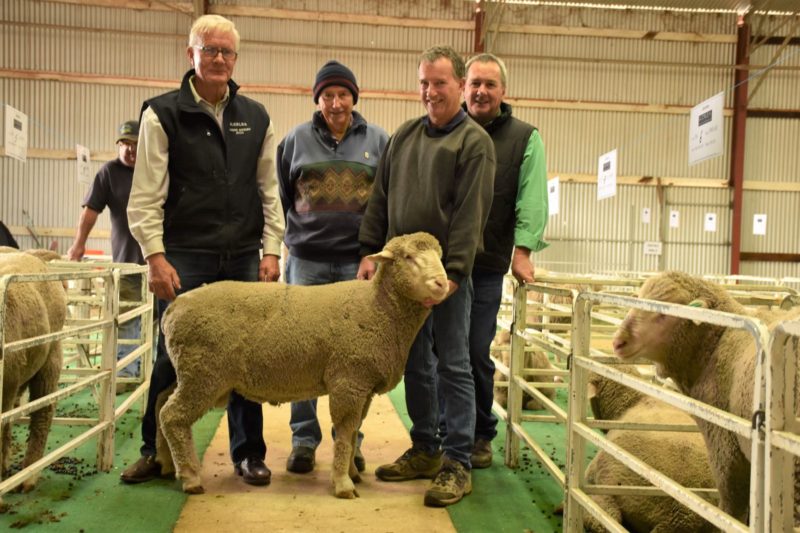 Glenlea Dohne stud principal Alex Leach (left), with $2400 top price buyers Tony and Wayne Littleton, Williams and Nutrien Livestock stud and commercial sheep manager Tom Bowen at last week's ram sale in Katanning.
Mollerin Rock Ram Sale, Cadoux WA
57 rams sold to $2500 and averaged $1016.
Full Sale report – Click Here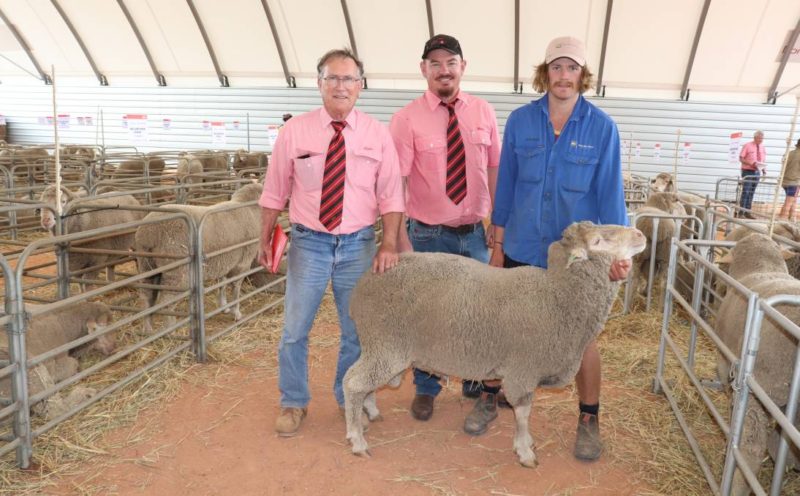 The $2500 top-priced Mollerin Rock Dohne ram sold to an undisclosed buyer. With it are Elders Koorda agent Wayne Maher (left), Aaron Goulden from Elders Wongan Hills and Mollerin Rock Dohnes co-principal Mitchell Applegate.
Chirniminup Ram Sale, Nyabing WA
185 rams sold to $3700 and averaged $1629.
Full Sale report – Click Here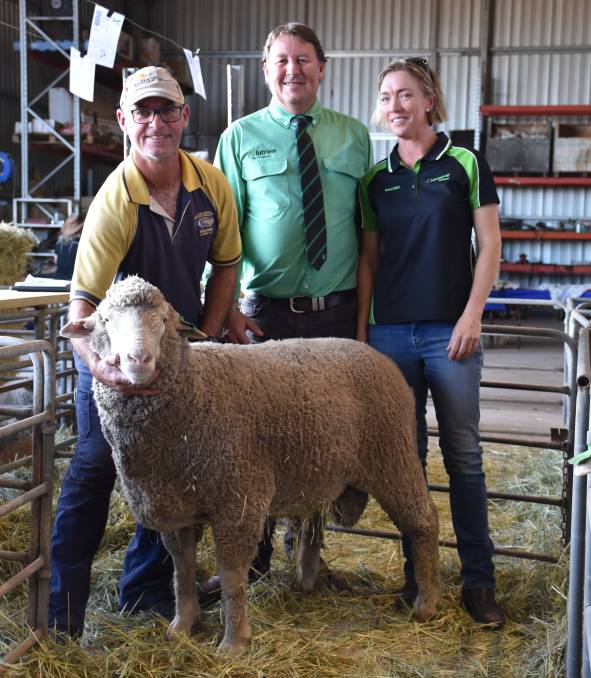 Buyer Tim Adams, Kukerin, holds the $3700 top price ram at Monday's Chirniminup Dohne ram sale at Nyabing. With him is Roy Addis from Nutrien Livestock Breeding representative and stud principal Rachel Browne.
Kintail Park Ram Sale, Jerramungup WA
92 rams sold to $4700 and averaged $1705.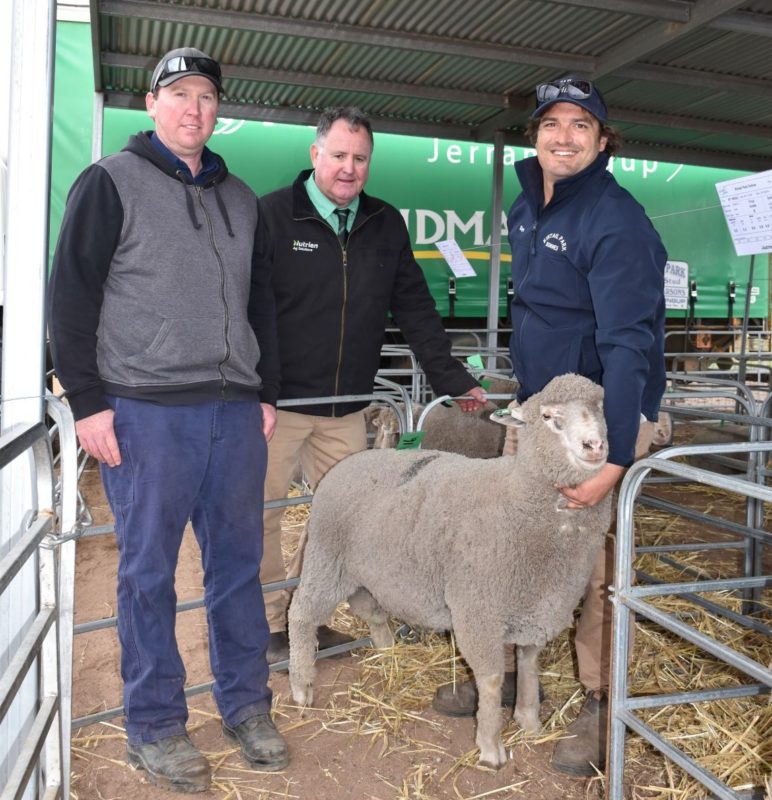 Top price buyer Justin Edwards (left), Ravensthorpe, with Nutrien Livestock auctioneer Mark Bradbury and Kintail Park studmaster Rhys Parsons, holding the $4700 ram at last week's on-property ram sale at Jerramungup.
Far Valley Ram Sale, Arthur River WA
94 rams sold to $3000 and averaged $1326.
Full Sale report – Click Here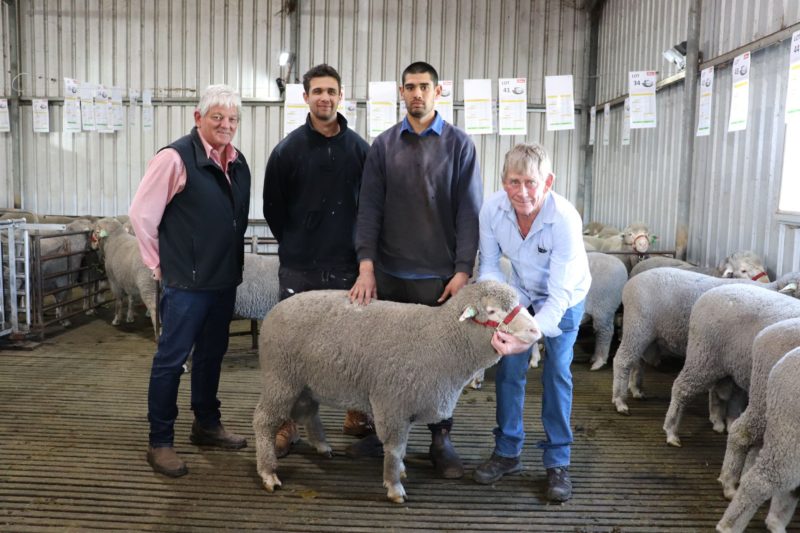 The top-priced ram at the Far Valley Dohne stud, Arthur River, on-property ram sale last week was bought by long-term buyers and neighbours DL & KL Robinson, Arthur River, for $3000. Pictured is Graeme Alexander (left), Elders Williams livestock agent, Daely and Jared Robinson and Far Valley Dohne stud principal David Kain.
Denvale Ram Sale, Mount Barker WA
50 rams sold to $2550 and averaged $1057.
Full Sales Report – Click Here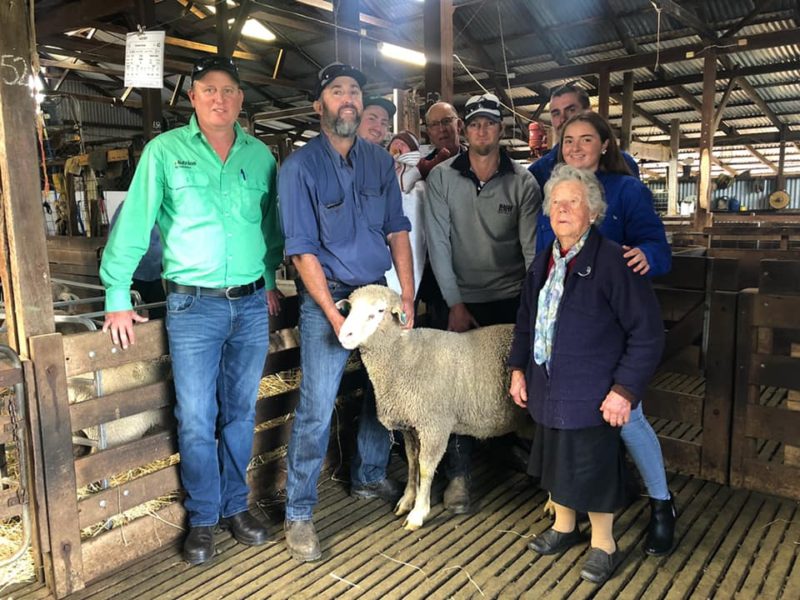 Five generations of the Sounness family were on hand at last week's Denvale Dohne on-property ram sale at Mt Barker where this ram sold for the $2550 top price. With the ram were Nutrien Livestock Mt Barker representative Matt Mullally (left), Denvale's Greg, Jacob holding son Jasper and Robert Sounness, buyer Brendon Watterson, Yuelup Farms, Tenterden and Tyler, Amy and Cecilia Sounness.
New South Wales – Sale photos and reports on behalf of  The Land
Hyland Ram Sale, Geurie NSW
15 rams sold to $2200(Twice) and averaged $1146.
Full Sales Report – Click Here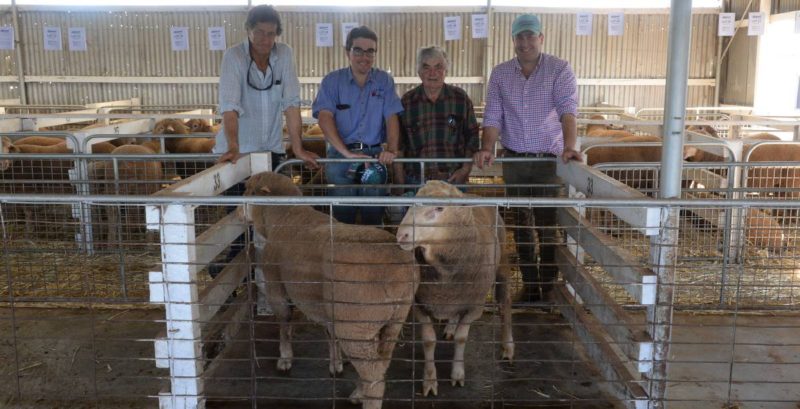 Two rams sold for the top price of $2200 with purchasers John Nadin, Macquarie Dohnes, Dubbo, and Ross and Ian Armour, Wattle Vale, Bookham, with Joe Hyland.
Calga Ram Sale, Coonamble NSW
73 rams sold to $4000(Twice) and averaged $2374.
Full Sales Report – Click Here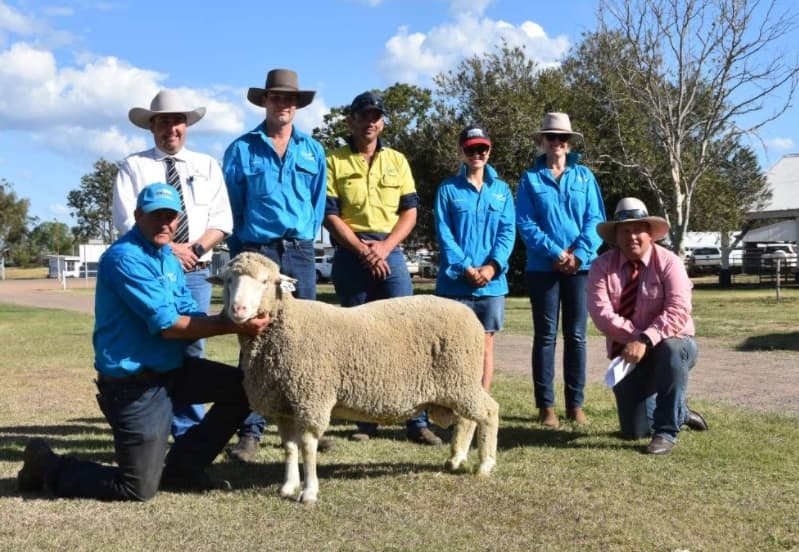 One of the $4000 Calga Dohne sale toppers CA190629 with Jason Southwell, Calga Studmaster, James Brown, GTSM auctioneer, Sandy Pye, Calga stud principal, Shawn Rainbow, on behalf of buyer, Holly Robertson, Calga, Margie Pye, Calga stud principal and Matt Prentice, Elders agent.
Kardinia Ram Sale, Corowa NSW
61 rams sold to $3300 and averaged $1636.
Macquarie Ram Sale, Ballimore NSW
119 rams sold to $5000 (Twice) and averaged $2101.
Full Sales Report – Click Here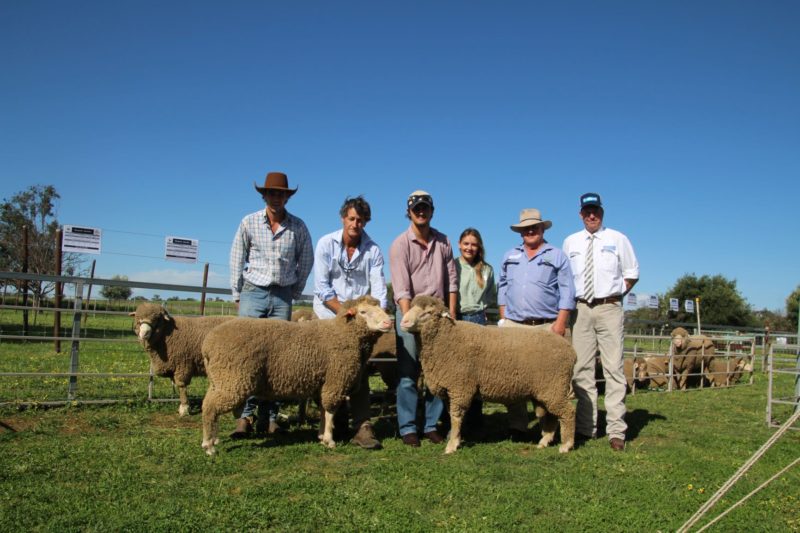 Will, John and James Nadin, Felicity Schiller of Macquaie Dohnes with Chris Clemson, Clemson, Hiscox & Co and auctioneer Paul Dooley and the two top priced rams.
Gullendah Ram Sale, Baldry NSW
100 rams sold to $7500 and averaged $3115.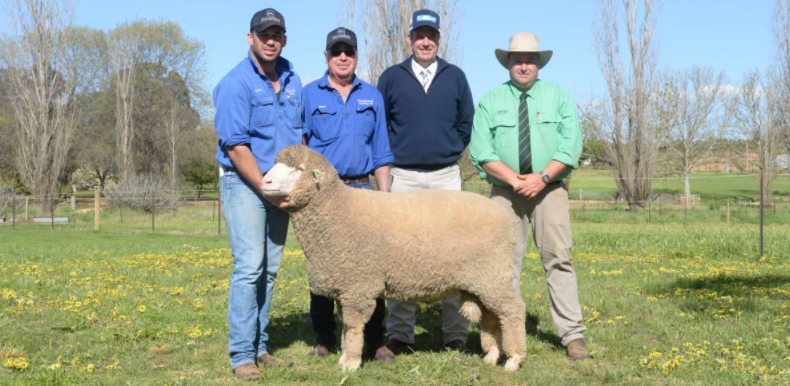 Andrew Hughes holding the top priced Dohne ram, with Peter Hughes, auctioneer Paul Dooley and  Nutrien Stud Stock Agent, Brad Wilson.
General Photos and Videos plus Commercial Stories 
The National Promotions Group is always on the lookout for general Dohne photos and videos plus good stories for our annual Dohne Journal and Social Media content. If you know of any commercial breeder that would be interested in telling their story, please email their contact details to .
It is important as a breed to promote all attributes of the Dohne and how they perform against other breeds and in different regions of Australia.