October Newsletter

Sign Up to receive Dohne Newsletters – Click Here
Full Newsletter – PDF Copy
Council Report
Council Sub Committee
Executive – J Nadin (Pres), R Browne (Vice Pres) , R Parsons
Finance – J Nadin – Convenor, R Browne, R Parsons (WA), E Ashby (SA), M Rogerson (Vic), D Berrell (NSW)
Technical – A Casey – Convenor, R Parsons, D Mills, J Tombs
Genomics– A Kelly – Convenor, R Browne, A Casey, J Tombs
Benchmarking / Trials Committee – R Parsons – Convenor, A Casey, J Nadin, A Kelly
Promotions – J Nadin (NSW) – Convenor, K Mills (Vic), T Barton (Admin), L Hall (SA), R Browne (WA)
Breed standards (Anomalies) – G Hall – Convenor, M Rogerson, R Parsons, B Wilson
Showing / Sales / Events – M Rogerson – Convenor, G Hall, D Mills, J Nadin
Communications – Domestic – T Barton – Convenor, R Browne, J Nadin
Communications – International – A Casey
Sub committee role and procedure
• Deal with relevant issues that come to hand
• Explore areas within their charter that will further enhance the breed and/or the association and its members
• Investigate
• Discuss
• Present recommendations and background to council
• Council discusses and makes final decision
Membership Renewals
2017/2018 membership is now due. A reminder that for stud registration to be renewed a current copy of breeders' Brucellosis Accreditation must accompany the membership form.
Uruguay trip
Don't forget to register your interest for the Dohne tour post WMC in Uruguay.
Uruguay World Merino Conference and Dohne Tour 2018
Merino Conference Monday 9 April to Saturday 14 April
Dohne Tour Monday 16 April to Friday 20 April
Preliminary Program – Click Here
If you have any questions about this, please contact Tessa Dawes 08 8210 5229
Ram Sale Results
February Sales
Alfoxton Ram Sale, Armidale NSW
67 rams sold to $3000 and averaged $1532.
Full Sale report – Click Here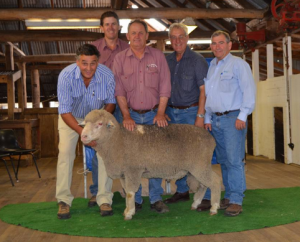 Alfoxton Dohnes stud principal Chris Clonan, selling agents Robbie Bloch and Phil Hurford, CL Squires and Co, Inverell, buyer Ian Uebergang, "Oakhurst", North Star, and buying agent Harold Manttan, AWN, with the $3000 ram.
March Sales
Inaugural Harewood Ram Sale, Armidale NSW
27 rams sold to $2300 and averaged $963.
Full Sale report – Click Here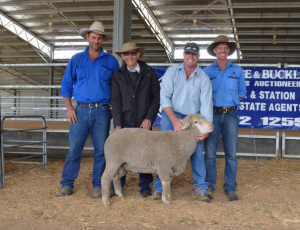 Buyers, Trent and Allan Hall, "Mi-Hi", Gunnedah, stand with Harewood Dohne stud principal Justin Tombs and auctioneer Victor Moar, Armitage and Buckley showcasing the $2300 top-priced ram.
Inaugural Tablelands Ram Sale, Armidale NSW
10 sold to $1700 and averaged $886.
Top price ram was purchased by Macquarie Dohne Stud, Warren NSW.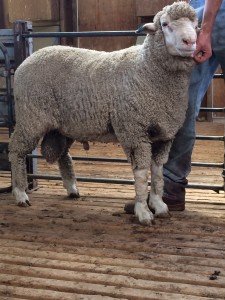 Top priced ram purchased by Macquarie Dohne Stud.
July Sales
O'Brien Ram Sale, Wudinna SA
54 rams sold to $3600 and averaged $1028.
Full Sale Report – Click Here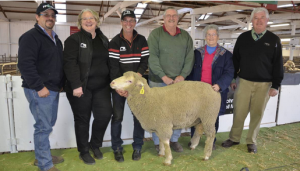 FP Ag's Nigel 'Scrub' O'Brien, O'Brien stud's Jodie and Darren O'Brien, Paul and Helen May, Mayome Pty Ltd, Kyancutta, and Landmark's Bill Sargent.
August Sales
Hill View Ram Sale, Streaky Bay SA
67 rams sold to $2400 twice, averaged $1065.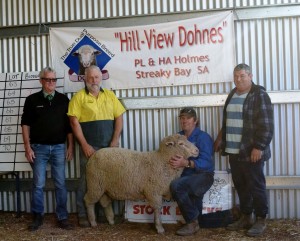 Peter McEvoy Landmark, Phillip Wheaton, Peter Holmes and Stephen Williams.
Babirra Ram Sale, Stansbury SA
FULL CLEARANCE 38 Dohne Rams offered and sold selling to $3800, averaging $2120.
Full Sale report – Click Here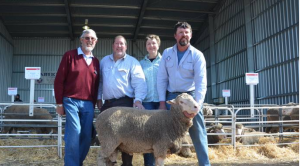 Babirra principal Robert Farrow, buyers Greg and Liz Hall, Ulooloo Dohne Merino stud, Hallett, with the $3800 15-month-old Dohne top price ram and Craig Farrow.
JAG Ram Sale, Hahndorf SA
24 rams sold to $3000, averaged $1200.
JAG160672 purchased by Gary Fitzgerald, Kyancutta SA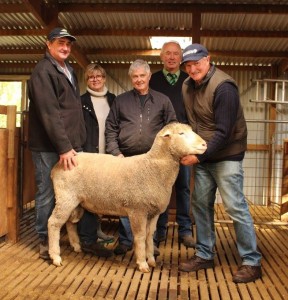 Gary Fitzgerald, Jude Eustice, Greg Petersen, Richard Snosswell, Landmark Strathalbyn and Gary West,Stud Adviser
Eagle Ridge Ram Sale, Cowell SA
FULL CLEARANCE 41 Dohne Rams offered and sold.
Topped at $2400 and averaged $1230.
Full Sale report – Click Here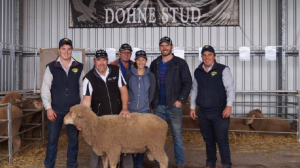 EP Livestock & Real Estate agent Scott Masters, Eagle Ridge principal Paul Webb, buyers Geoff, Jasmin and Wayne Piggott, Cowell, and EP Livestock & Real Estate agent Ben Dickenson with the top price ram.
Harold Park Ram Sale, Carnamah WA
28 rams sold to $2500 and averaged $903.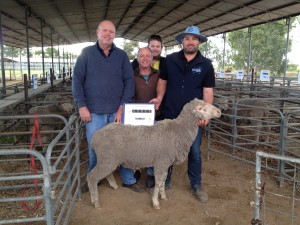 Top priced ram with purchaser David Smith, Carnamah WA, with Terry Allen, Rowan Smith, and Charles Wass.
Mt Alma Ram Sale, Coonalpyn SA
139 ram sold to $6600, averaged $2427.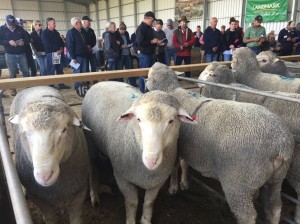 Mt Alma Ram Sale 2017.
Ulooloo Ram Sale, Hallett SA
58 rams sold to $5000 and averaged $1750.
$5000 Goldvale Dohne Stud, $4000 to Hill View Dohne Stud and a third stud sire sold to Koonik Dohne Stud.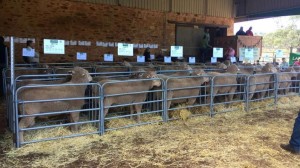 Ulooloo Ram Sale 2017.
Paid advertising on the ADBA website.
• Advertisement size 160 x 150 pixel
• Linked to your website or PDF
• Provide your own GIF advert or we can design one for you.
Book your advertising Click Here or contact Tanya Barton
Commercial Articles
It is important as a breed to promote the attributes of the Dohne and how they perform against other breeds and in different regions.
If you have read an article in your local newspaper or know of a story please let Tanya Barton know so it can be promoted on the ADBA website and social media.
Sheep Genetics
RamSelect – Sheep CRC
Previously when a breeder created a sale catalogue on our website, it was automatically sent to the RamSelect website. As of now there will be an option for Sheep Genetics clients to select whether or not they want it to go on the RamSelect website. Sale catalogues are able to remain on the Sheep Genetics website at no charge. If you have any queries please do not hesitate to contact Sheep Genetics.
Sheep Genetics have now moved to a user pays model. Under this model, there is a charge for listing ram sale catalogues of $3.50/head plus GST. The details of this are available on the Sheep CRC website and in letters posted to you.
We have made a decision to waive the charges for any catalogues that were listed on the site prior to the transition to user pays on Tuesday 19th September.
Council will be discussing this charge at the next meeting.
If you have any concerns over this charge please contact Lu Hogan – Co-ordinator Training and Industry Engagement Phone: 0427 687432 or 02 6773 3597
Brett's Blurb (Brett Wilson, Dohne Data Manager)
Saving on SG costs using CU and CO tags
Sheep Genetics is a not for profit service operating for the benefit of Australian sheep producers. The billing for offering the service is based on an annual subscription fee per flock plus a fee per animal entered into the database.
An animal achieves billable status when it has yearling measurement entered into the analysis (Dohne). This means that once an animal is entered into the database, data can continue to be entered on that animal throughout its life at no additional cost.
The fees outlined below cover the Sheep Genetics analysis and reporting of data.

The annual "Flock Subscription" fee needs to be paid by all flocks that have more than 50 animals.
The "Animal Charge" is paid per animal with stage 2 data in the analysis.
It is an option for a stud to report "No" in the Pay column of the Dohne data template or use "No Pay" in the comments section on any data management software if the stud does not require ASBVs and index values to be reported. For example, all Cull / Commercial lambs or lambs that will become UR Grade.
In this case, the lambs 16-digit ID can be altered to include "CU" or "CO" (Cull or Commercial), for example, 5109992016CU0001.
Why would you do this?
Remember data is power and the more data in the analysis the more powerful it is and the better the results will be. But if a flock needs to reduce costs and has no interest in the results for lambs that will never make the stud then using the CU or CO in the ID means these lambs data will be included in the analysis but will avoid the $2:10 per animal charge. A stud with 200 Ram lambs that culls 50% of them will save $210 by using CU in the 100 lambs that are culls.
Disadvantages
• You will not get results for the CU and CO lambs, Data is power and maybe getting the results for all lambs would help with future decisions.
• The SG website will not display any CU or CO lambs. In the above example it will look like a stud only had 100 ram lambs and all of them are registered.
The reason I explain this is I love data and believe "more data = more power" and would like to see as much information collected and submitted as possible. Maybe there are studs not submitting data to avoid this fee but using this method means the data can be entered and still avoid the fee.
Till next month Happy data collecting.