Performing In High Rainfall Zone
WAYNE CULVERSON
ORANGE, NEW SOUTH WALES
WAYNE CULVERSON was a third generation NSW Merino wool producer and among those who scoffed at the idea of meat sheep producing wool on par with the mighty Merino.
But thanks to a push by his wife Lynette, the Orange district graziers are enjoying the increased survivability, fertility and yield of Dohnes at "Heatherdale."
A numbers man, Mr Culverson needs proof on paper before he'll jump into a major production decision and after several years of strategic testing, got all the proof he needed to breed further towards a purebred self-replacing Dohne flock.
The Culversons were among the first commercial operators in the Orange district to try Dohnes when in 2003 they spent time assessing sheep and comparing Dohne and Merino fleeces.
"We were asked to pick which was Dohne and which was Merino and we couldn't pick the difference," Mr Culverson said.
"It was my wife who gave me the push. I'm a third generation fine wool Merino producer so it took a bit to push me over the line just because I was concerned about the wool on the Dohnes, but I'm so glad my wife convinced me."
"When we went to buy the rams I still tended to always put the wool first rather than the meat side of it." He started as the main selector in the first two years, but Mrs Culverson pointed out that the flock needed more body, so she chooses for body size first, before her husband selects for wool.
They have compared wool tests since 2004, providing figures that cemented their breed changeover.
"What we found in the first year was a 46 cents a kilogram difference in price in favour of Dohnes, a 255c/kg difference again in favour of the Dohnes in 2005, and in 2006 it was back to 130c/kg in favour of the Dohnes, and the top price for the Dohne wool was 970c/kg compared to the Merino at 840c/kg," Mr Culverson said.
He said the Dohne wool was 16.2 micron, just 0.6 micron higher than the Merinos' 15.6 micron fleece, and the Dohne wool yielded slightly better each year. "The big difference was in the staple length," he said.
"In the first year it was 73mm for the Dohnes and 63mm for the Merino. Our two-tooth Dohne hoggets were 68mm and the Merino hoggets didn't even make length, so their wool had to be sold in a lamb's line."
"A critical point was in all testing years, both the Dohnes and Merinos were run as one mob under equal conditions."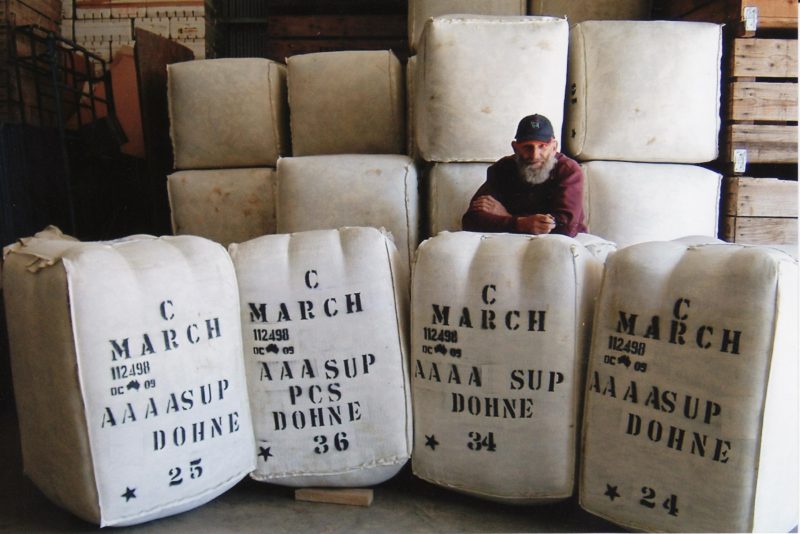 Wayne Culverson with his 2007 wool bales.