Producer seeks the best of both worlds
Vanessa Binks, 22 Sept 2016, Stock & Land
After a steady climb from a small flock of Dohne breeders to more than 1000, a Larras Lee producer is confident the dual-purpose breed could be the one to watch, as more producers look to gain maximum use out of their sheep.
Chris Reiss with partner Wendy Crockett, "Iona", Larras Lee, near Molong, operates a mixed farming operation, including 1400 Dohne breeding ewes.
Running three properties in the Larras Lee district, "Iona", "Bonnie Doon" and "Gunya", Chris Reiss, a psychiatric nurse, delved into sheep production 16 years ago.
With his partner Wendy Crockett as the fourth generation on the Larras Lee properties, the decision to enter the industry was helped by her family's decades of industry knowledge.
Mr Reiss said he began with just 294 Dohne ewes which were purchased at a Narromine sheep sale, and steadily grew his breeder numbers to 1400.
"After researching, we decided to shoot for Dohne's – who knows if you are right or wrong but it's definitely working for us," he said.
"We began looking, we initially thought cross-bred ewes were the way to go but it dawned on us that what we needed, was a good all-round breed."
Aiming for the best of both worlds, a quality meat and wool producing breed, Mr Reiss was pointed in the Dohne direction and didn't look back.
Selecting rams annually from Peter Hyland, Hyland Dohne stud, Geurie, only twin rams are selected, with a focus on fast growing attributes, temperament and quality wool production.
With 1200 lambs on the ground, joining begins in mid October for six weeks, to have a March lambing.
Hitting lambing percentages of 180 per cent, Mr Reiss believes this is a reflection of the Dohne genetics.
"The ewes are quite large and very fertile, in a flock of 300 we can have ewes lamb four or five at a time," Mr Reiss said.
"They have great mothering ability and protect their offspring – they are very strong.
"We find from the moment lambs hit the ground, they really want to live."
Once lambs reach about 56 kilograms live-weight, they are sold from November to January through multiple domestic markets.
"We don't have a set market – this year we sold more than 300 lambs at an average of 27kg carcase weight direct to the abattoir," Mr Reiss said.
Believing the Dohne sheep is one of the true dual-purpose breeds, Mr Reiss said there is added benefit to selecting the spirited Dohne.
He said the major catalyst of selecting the breed was the bare breach area and how this supports the industry trend to steer away from mulesed wool.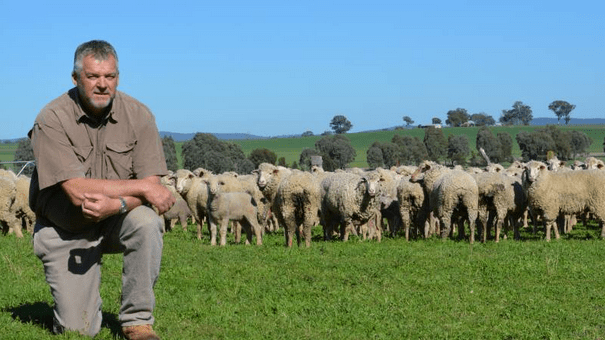 Chris Reiss with partner Wendy Crockett, "Iona", Larras Lee, operates a mixed farming operation, including 1400 Dohne breeding ewes and is reaching lambing percentages of 180 percent.