Proven High Performers in Feedlot
Original article written by Xanthe Gregory, March 2019. Original photo courtesy of Shayne Willmott.
SHAYNE WILLMOTT
MANOORA, SOUTH AUSTRALIA
"We've gone to the Dohne breed to get the maternal instincts of the ewe and obviously still get a good wool cut."
IT'S NOT just traditional grazing operators that swear by the Dohne, feedlotters are hopping on board the dual-purpose sheep too. South Australia's Shayne Willmott and his family run a mixed farming operation and a feedlot on 3,000 acres in Manoora, marketing their own Dunira Prime Lamb brand to butchers locally and internationally.
Shayne, a life-long farmer, along with his brother Tyson and dad Dean have been breeding their own line of Dohne second-cross lambs by running half Dohne cross ewes and the other half pure Merino ewes.
At the beginning of his 15 years of running a feedlot, Shayne had a line of Border Leicester ewes in conjunction with Merinos which he has now phased out for the benefits of the Dohne.
Today, Shayne buys in Merino and Dohne ewes and crosses them with Dohne rams as hoggets.
"We've gone to the Dohne breed to get the maternal instincts of the ewe and obviously still get a good wool cut from it," Shayne said.
A large percentage of his lambs that are dropped in March and April are finished on autumn and winter feed (season pending) with the balance put through his feedlot finishing system where around 10,000 lambs are traded each year through his ten pen, 250 lambs per pen system.
The Dohne cross perform very well in Shayne's operation, which feedlots the lambs for six weeks on average.
When comparing the traditional Merino's growth in the feedlot to the Dohne, he has witnessed a rise in net figures per head.
Shayne has found the Merino's feed conversion rate to be lower, meaning they'll need more feed to put on a kilogram of meat.
"Their growth rate and dress percentages don't do quite as well."
Buying in Dohne breeders has a been a key factor in producing better lambs to finish in the feedlot, particularly for holding better feed conversion ratios.
Shayne puts this down to the importance of their start to life.
"There's that more maternal mother and she's pushing the lamb a lot better from the start."
Six to eight month old lambs are mostly traded through the Manoora feedlot where a ratio of 4.5 – 5 kilograms of feed to one kilogram of live weight is gained.
The Dohne lambs make up a large percentage of lambs traded. On average, a Dohne lamb will eat 14 kilograms of feed weekly, ideally trading the lamb with a 16-18 kilogram weight gain in a six week period, which is hitting his target weight.
"If we can get him to put on 2.5 to 3 kilos a week, that's what I want, and I hope to put 15-18 kilos on them."
"The dressing percentages coming out of those lambs is quite good and their feed conversion in a feedlot is as good as any."
Last month Shayne tested his five year-old Merino ewes for fat score. They were at 2.5, whereas the five year-old Dohne ewes tested at 3.5.
"We're just finding the Dohnes are maintaining themselves better."
In the lambs he's breeding, Shayne focuses on producing a high eye muscle and lower fat score, at two to five millimetres of fat, to get the best prime lamb possible.
Not only is Dunira Prime Lamb exported, a reasonable share is sold to local and domestic markets. Shayne frequently visits his local butcher to get feedback on the meat, and so far it's been nothing but positive.
"The butchers I deal with, we're in communication the whole time about the quality of our meat and I've had some fantastic feedback."
This year a reduction in feed due to dry conditions on the Mid-North property has pushed the property to destock their Merino ewes set for autumn drop, but look forward to a good result from the Dohnes they have retained. For the meantime the Dohne line has replaced a second cross and Shayne finds it to be a great system that works well for the feedlot.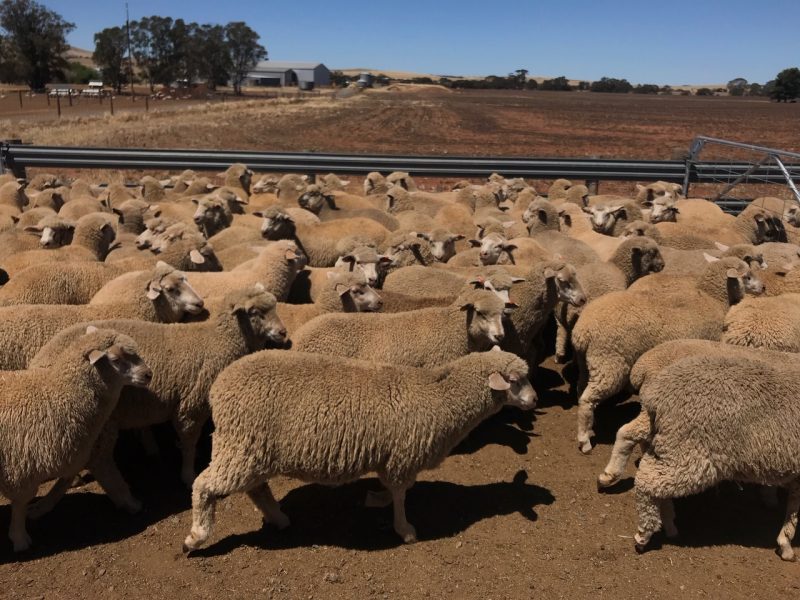 These Willmott Farm lambs about to go into the feedlot.