September Newsletter 2018

Sign Up to receive Dohne Newsletters – Click Here
Full Newsletter – PDF Copy
Council Report
LambEx Report
LambEx was held in Perth Western Australia in early August; a showcase of everything for the sheep industry.
WA Dohne studs Mollerin Rock, Kintail Park and Chirniminup were in attendance for the event spanning 3 days.
In conjunction with a generic Dohne Business Hub for phone charging by delegates and visitors, a very impressive frontage of 12 meters at sites 1 through to 4 gave our breed great exposure.
Conveniently located near the lunch bar, we had many people using the facilities in between the speaker program throughout the days.
A very interesting line up of speakers delivered on a variety of topics; Choosing the Right Genetics, The Ewes of the Future, Practical On-farm Reality,
Future Feeds…why diverse diets for grazing livestock is important, Traceability, Meat Eating Quality….. just to name a few.
Trade displays involving EID tags, sheep handling equipment and animal health products were all on display and keen to show their products.
Never thought lamb would feature on a dessert menu………. but…..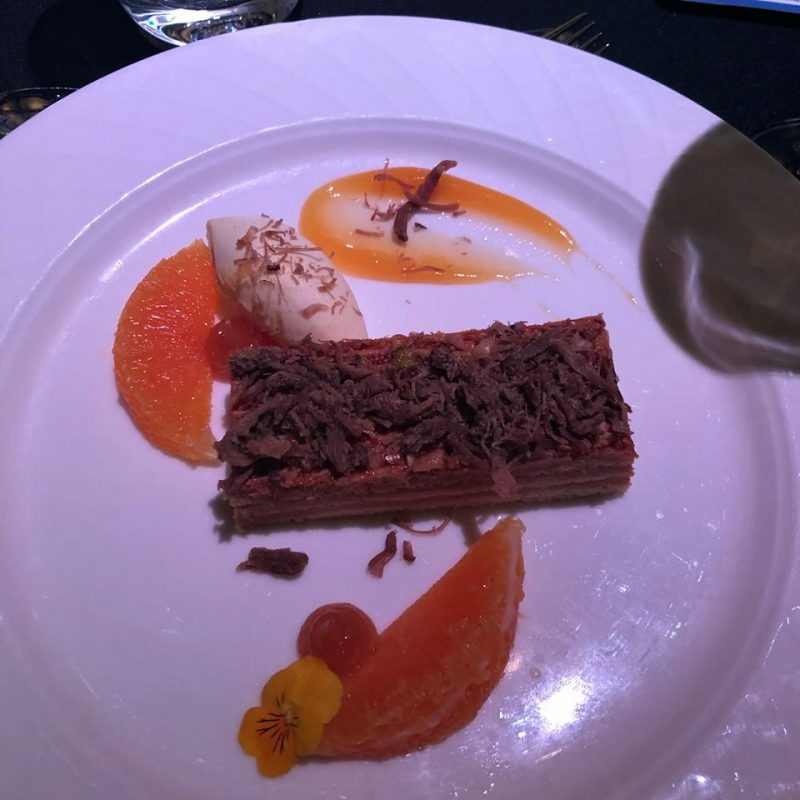 This is honey cake, cinnamon WAMMCO lamb floss, layered caramel and vanilla sponge, marinated oranges and hazelnut crunch.
………and it was delicious!!!!!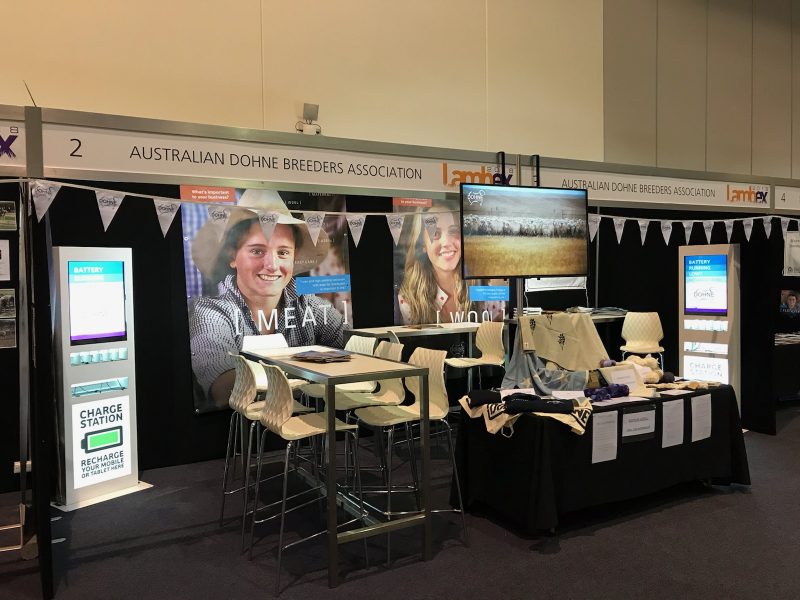 Australian Dohne Breeders' Association LambEx display.
Hamilton Sheepvention Report
Hamilton didn't disappoint with wet and cold weather for the two days. The breed was well represented with seven studs displaying a great lineup of Dohne rams and ewes.
Interest was received from all corners of the sheep industry especially the composite breeders looking for a 'micron reducer' while maintaining growth rates and fertility.
The annual Victorian AGM was conducted with all registered Victorian studs represented. Stephen Reddie of Aero Dohne Stud was elected the new President and Carol Hale of Burnbank Dohne Stud was re elected the secretary. A big thank you is extended to outgoing president Murray Rogerson for his hard work and dedication over the last two years.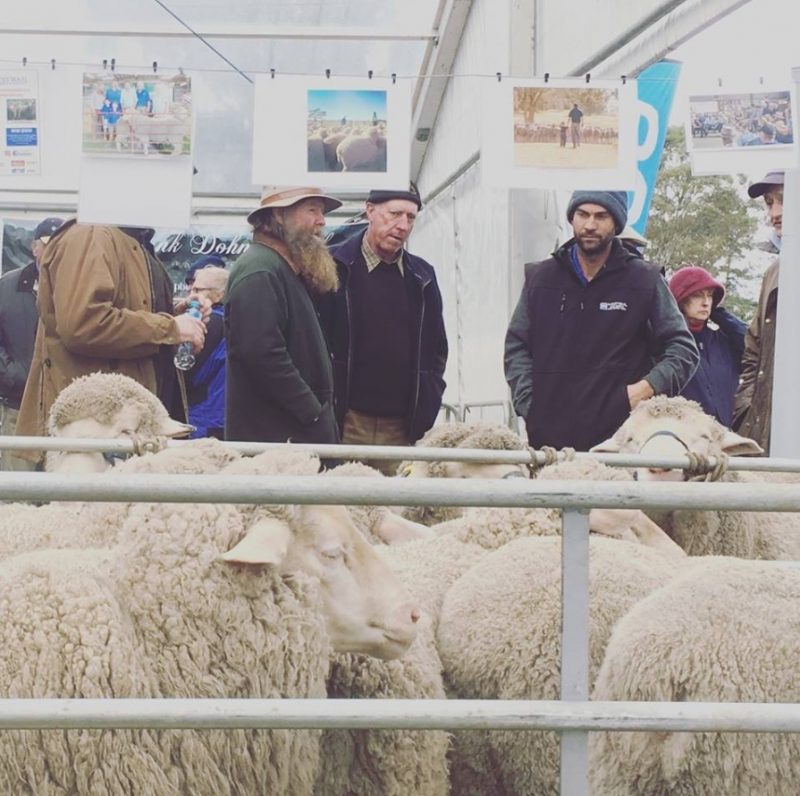 Hamilton Sheepvention Dohne Marquee.
Ram Sale Results
Sale reports and photos on behalf of the Stock Journal.
August Sales
O'Brien Ram Sale, Wudinna SA
32 rams sold to $2000 and averaged $878.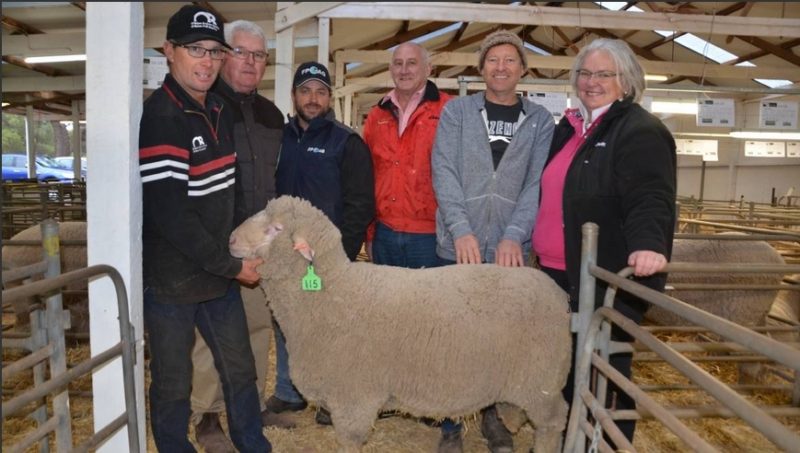 Stud principal – Darren O'Brien, Landmark Wudinna -Bill Sargent, FP Ag EP livestock agent – Nigel 'O'Brien, Elders Streaky Bay livestock agent Neil Kirk, buyer Simon Patterson, Streaky Bay and stud principal Jodie O'Brien.
Hill View  Ram Sale, Streaky Bay SA
59 rams sold to $4000 and averaged $1322.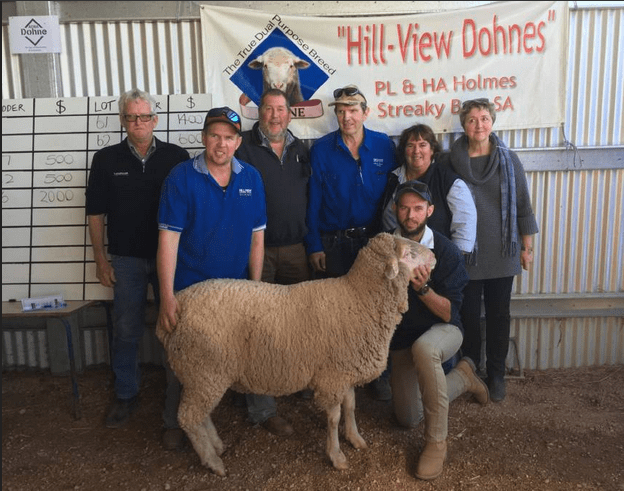 Landmark's Peter McEvoy, Milton Holmes, buyer Greg Hall, Hallett, Hill-View principals Peter, Heather and Robert Holmes, and  buyer Liz Hall.
Babirra Dohne Ram Sale, Stansbury SA
26 rams sold to $4000 and averaged $1654.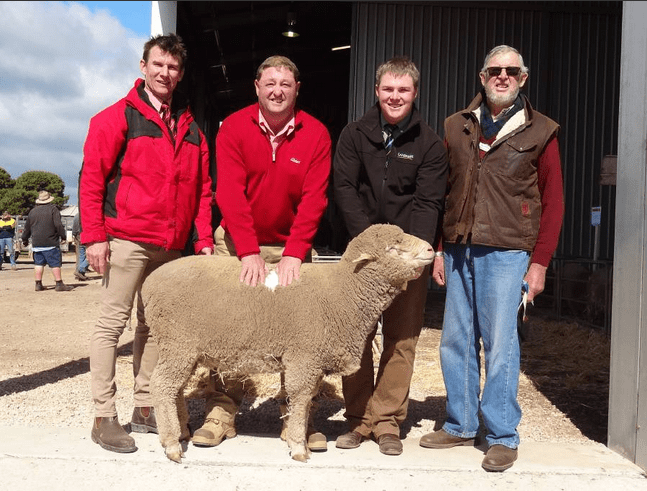 Elders agents – Adam Pitt and Matt Ward, buyer Brendan Ebsary, Barunga Gap, and  stud principal Robert Farrow.
JAG Ram Sale, Hahndorf SA
24 rams sold to $1700 and averaged $1100.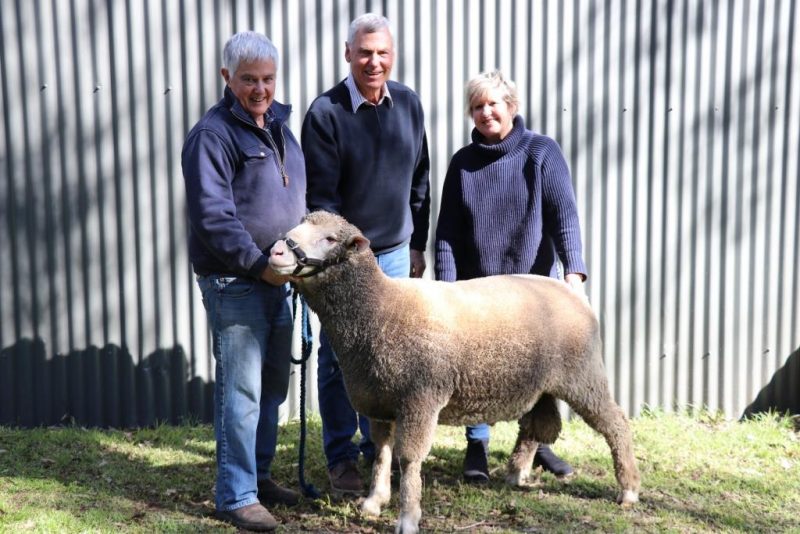 Stud principals Greg Petersen and Jude Eustice with buyer Philip Reid in the middle.
Eagle Ridge Ram Sale, Cowell SA
23 rams sold to $2300 and averaged $1090.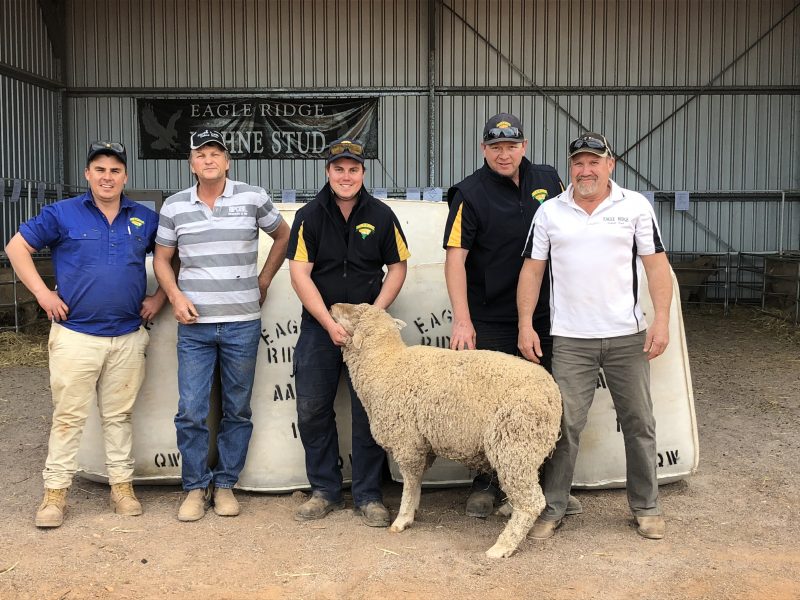 EP Livestock Agent – Ben Dickenson, buyer Howard Lee, EP Livestock Agents – Scott Masters and Richard Hill and stud principal Paul Webb.
Mt Alma Rams Sale, Coonalpyn SA
122 rams sold to $4800 and averaged $2004.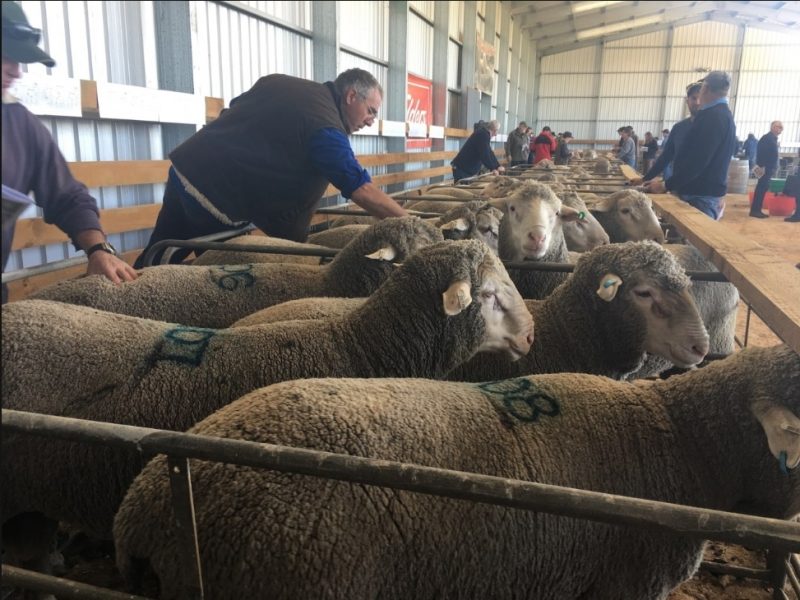 Mt Alma Sale
Hamilton Run Ram Sale, Jamestown SA
52 rams sold to $3500 and averaged $1545.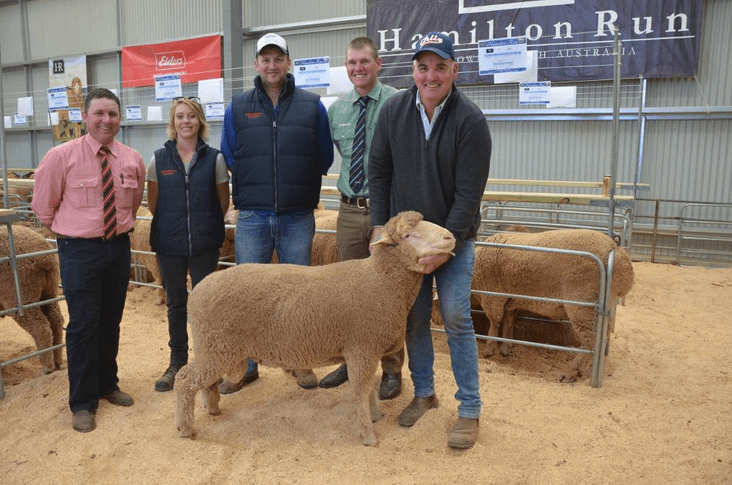 Elders agent Scott Fleetwood, Merngenia Station's Evynn Roberts and Michael Burford, Landmark agent Shannon Jaeschke and stud principal Greg Andrews.
Ulooloo Ram Sale, Hallett SA
47 rams sold to $3000 and averaged $1272.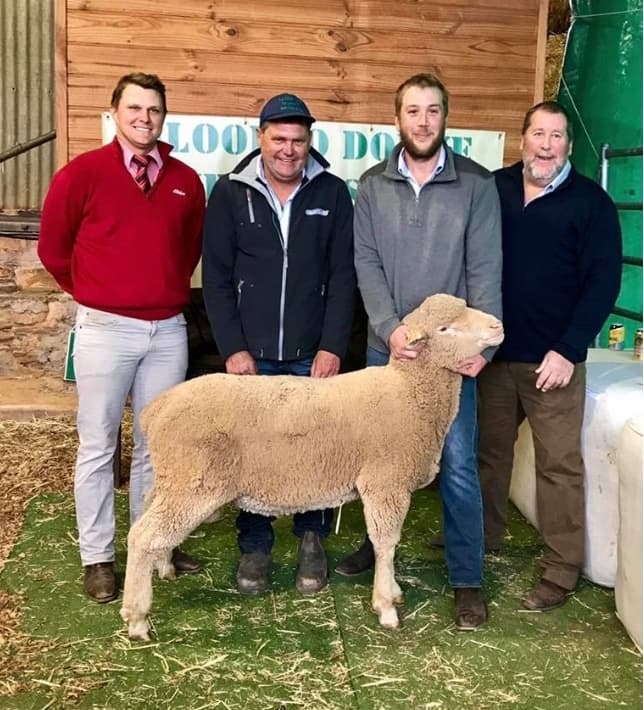 Elders Agents Jack Coleman with Nick Schoenbery, Kilderry Park, and stud principals Rob and Greg Hall.
Promotional Items
With upcoming field days and sales, it is a great idea to have Dohne promotional material on display to promote the breed.
Display Material: Dohne Handbook, Dohne Journal, Dohne Newsletters, A3 Dohne Posters (Set of 8)
Available to purchase are the A3 Posters (set of 8). Laminated $30 plus postage.
For orders contact Tanya Barton
8 Posters – Combined (all 6 traits), ASBV's, Easycare, Fertility, Maternal, Meat, Wool, Ram (Attributes)
Ram Sales
Display this Diamond registered logo in sale catalogues and pencards.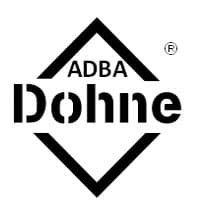 The sign of registration and compliance
Data Cut Off.
Sheep Genetics (SG) requires all data for analysis to be submitted to them before 5pm on the 7th and 21st of each month, or the Friday before if the 7th or 21st fall on a weekend.
Brett needs the data from Dohne breeders three days prior to the SG cut-off date to guarantee, your data goes into the analysis.